Gerald Nomlala battles poverty every day as founder of South African nonprofit Kasi Angels Foundation, which serves both young and old — and most notably puts shoes on children's feet hundreds of times over, the Daily Voice reported.
But the 48-year-old found himself in a different kind of fight after 2 a.m. Wednesday when an intruder stabbed him as he slept in the Cape Town home he shares with his girlfriend and three children, the outlet said.
"I just felt this stab or pinching feeling in my chest," he told the Daily Voice.
What's more, the attacker — who had an accomplice with a gun, the outlet said — demanded keys to a safe before dragging his entire family into the bedroom.
"He had the knife in his hand, and he kept asking where the safe was, and when I said, 'I don't have a safe,' he continued to stab me," Nomlala told the Daily Voice, adding that before long he'd also been stabbed in the head, leg, and shoulder.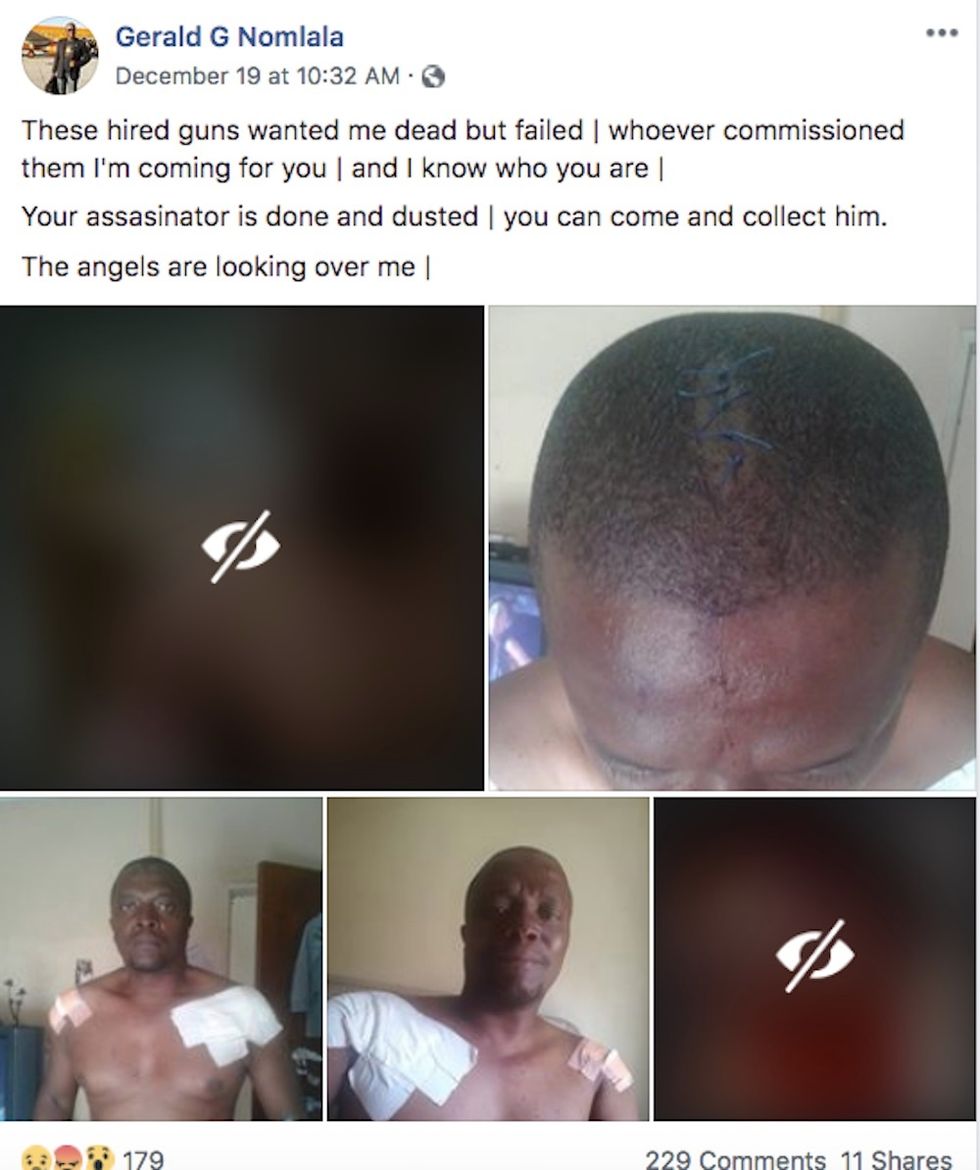 Image source: Facebook
He knew he had to fight back — but how?
Here's how

"I noticed that the knife was already bent, and his friend was not in the bedroom," Nomlala told the outlet, noting that he made the decision to dive at his attacker "but I was so weak, and we were in a struggle."
He added to the Daily Voice that his attacker then "shouted for his friend to come and shoot me, but I decided I am going to use this one's body as a human shield should he decide to open fire."
By then Nomlala's 16-year-old son was shouting for help to neighbors through a window, the outlet said.
'Daddy, don't give up! You're Superman!'

But someone else was yelling, too — Nomlala's 6-year-old son.
Nomlala told the Daily Voice his youngest boy wasn't about to let him stop battling back and yelled, "Daddy, don't give up! You're Superman!"

With that, Nomlala told the outlet he put a stranglehold on his attacker, using up every last ounce of his strength before help came.
"When the neighbors arrived, the [accomplice] ran away, and they beat up [my attacker]," he recalled to the Daily Voice. "The next thing I remember was waking up in hospital."
While the accomplice apparently got away with a couple of laptops, two hard drives, and 20 pairs of school shoes, Nomlala's attacker wasn't so fortunate; he landed in the hospital, too — under heavy guard, the outlet said.
Here's a clip of Nomlala in less dire circumstances, discussing the work of Kasi Angels Foundation: