© 2023 Blaze Media LLC. All rights reserved.
'Gays rule': Openly gay soccer star Megan Rapinoe adds 'science is science' following US women's World Cup title victory
'You can't win a championship without gays on your team'
Openly gay soccer star Megan Rapinoe tweeted that "gays rule" and "science is science" after the U.S. women's soccer team beat the Netherlands on Sunday to take its second straight World Cup title.
After the U.S. women's World Cup title victory, the team's official Twitter account said "told ya," accompanied by a photo of Rapinoe with teammates Ali Krieger and Ashlyn Harris — who are engaged and planning a December wedding. Rapinoe's tweet piggybacked on the USWNT tweet.
What's the background?
After the U.S. women's quarterfinal victory over France on June 28, the Guardian said Rapinoe was asked if her team's title run occurring during Pride month made things more meaningful for her.
"Go gays!" she replied, according to the paper. "You can't win a championship without gays on your team — it's never been done before, ever. That's science, right there! I'm motivated by people who like me, who are fighting for the same things. I take more energy from that than from trying to prove anyone wrong. That's draining on yourself. But for me, to be gay and fabulous, during Pride month at the World Cup, is nice."
With that, the USWNT repeated Rapinoe's "that's science right there" quote along with the hashtag "pride" and a rainbow flag.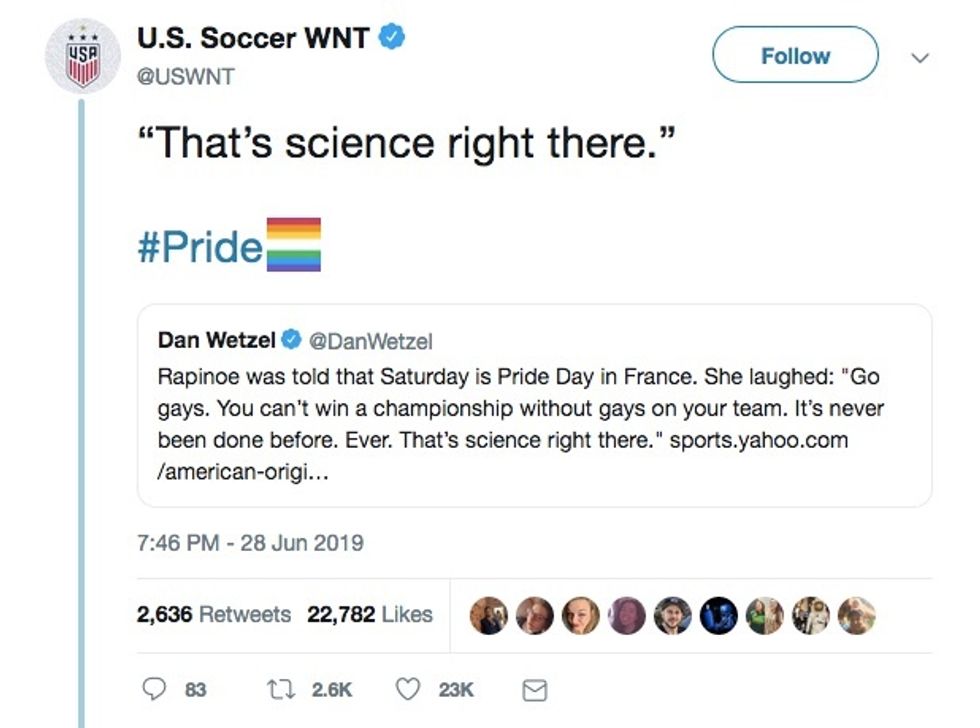 Image source: Twitter
The team's Twitter account followed up the latter post after the World Cup title victory with its "told ya" tweet featuring the photo of Rapinoe, Krieger, and Harris.
Anything else?
After the team's 2-0 World Cup title victory, Rapinoe was seen on video next to teammate Allie Long who dropped an American flag between her legs after which the pair — along with fellow star Alex Morgan — did a choreographed dance.
Rapinoe recently made good on a promise to ignore the national anthem before games as an "f-you" to President Donald Trump and later said she's "not going to the f***ing White House" if the team wins the Cup.
Amid the controversy, Rapinoe told reporters that she stands "for honesty and for truth and for wanting to have the conversation" about making America better.
"If we want to talk about the ideals that we stand for ... all the songs and the anthem and sort of what we were founded on ... I think I'm extremely American," she also said.
Want to leave a tip?
We answer to you. Help keep our content free of advertisers and big tech censorship by leaving a tip today.
Sr. Editor, News
Dave Urbanski is a senior editor for Blaze News.
DaveVUrbanski
more stories
Sign up for the Blaze newsletter
By signing up, you agree to our
Privacy Policy
and
Terms of Use
, and agree to receive content that may sometimes include advertisements. You may opt out at any time.