Surveillance video shows an Orthodox Jewish man being punched in the head from behind on a sidewalk, which police told the New York Post was the second suspected Brooklyn hate crime attack in three days.
The 39-year-old victim was dressed in traditional religious garb in Williamsburg when the attacker ran up to him around 7 p.m. Tuesday, the paper said.
The clip shows the attacker punching the victim in the head and knocking off his hat and yarmulke, the Post noted.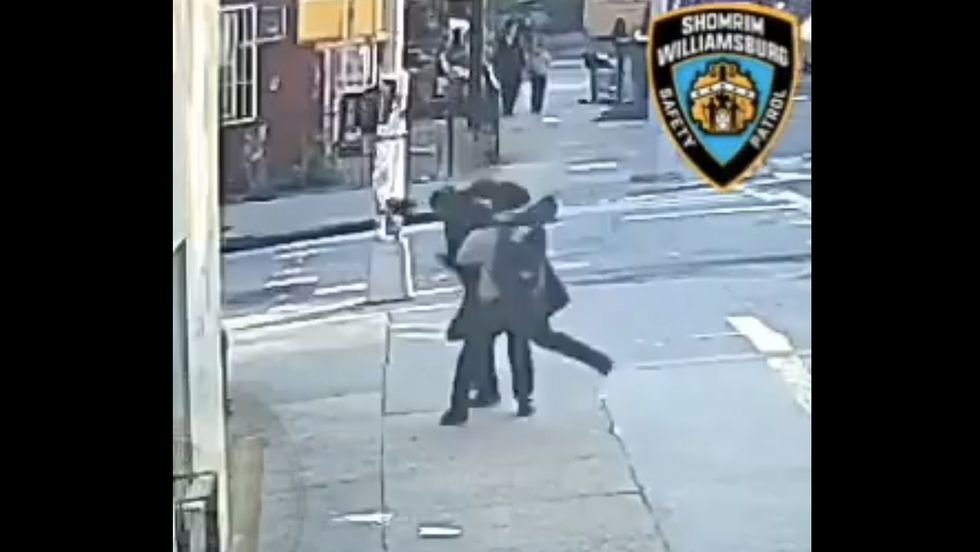 Image source: Twitter video screenshot
The attacker then turns around and runs off.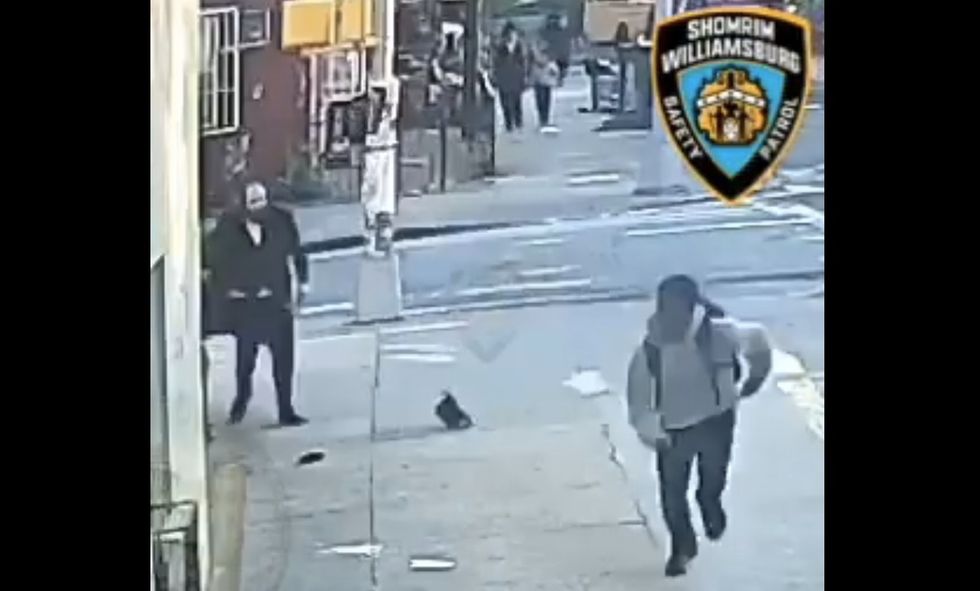 Image source: Twitter video screenshot
The victim is seen stumbling but then grabs his belongings and chases after the attacker.
Man assaulted in Williamsburg if you have any information please call 911 or Shomrim https://t.co/b2Qm4bOQdM

— Williamsburg Shomrim (@Williamsburg Shomrim) 1557330398.0
The man was treated at the scene for pain to his head and face, ringing in his ears, and a bruise on his hand, authorities told the paper.
Police provided a second video of the suspect, the Post said, adding that he's still on the loose:
Gov. Cuomo ramps up investigation into anti Semitic attack in Williamsburgyoutu.be
What did a former state assemblyman have to say?
Dov Hikind, a former state assemblyman and Democrat, posted on Twitter of the attack that it's "shocking but not surprising that such violent hate crimes are being committed against Jews (yesterday in Bklyn) just as antisemitism is being mainstreamed. This attack resembles Nazi Germany where antisemites attacked Jews with glee. We won't tolerate it!"

What about the other attack?
Police also released surveillance footage from a different Williamsburg attack three days before one man in a group punched a 42-year-old in the face and called him a "f***ing Jew," the Post reported, citing police sources. The victim was wearing traditional religious attire, the paper said.
The NYPD's Hate Crimes Task Force is investigating both incidents, police added to the Post.
Here's a WCBS-TV report on the spike in anti-Semitic incidents in the city:
Caught On Video: Jewish Hasidic Man Assaulted In Williamsburgyoutu.be