A mother of a white student from a Las Vegas high school said a gang of black male students has been beating up white students on school property — and told KSNV-TV the reason is because the black students view the white students as "weak."
The mother — who went by Sherry for the station, as she didn't want to be fully identified — told KSNV that Centennial High School suspended her 16-year-old son in January over a fight in a school bathroom. But she added to the station that she soon learned a gang of 15 to 20 black male students had been targeting him for a week.
Her son told KSNV the gang forced him to fight three times. The fights were recorded on cellphone video, the station added.
"The kid throws my son on the floor and is stomping him all in the head," his mother remarked to KSNV, adding that "his good friend told me that they target white kids only because they feel that they're weak."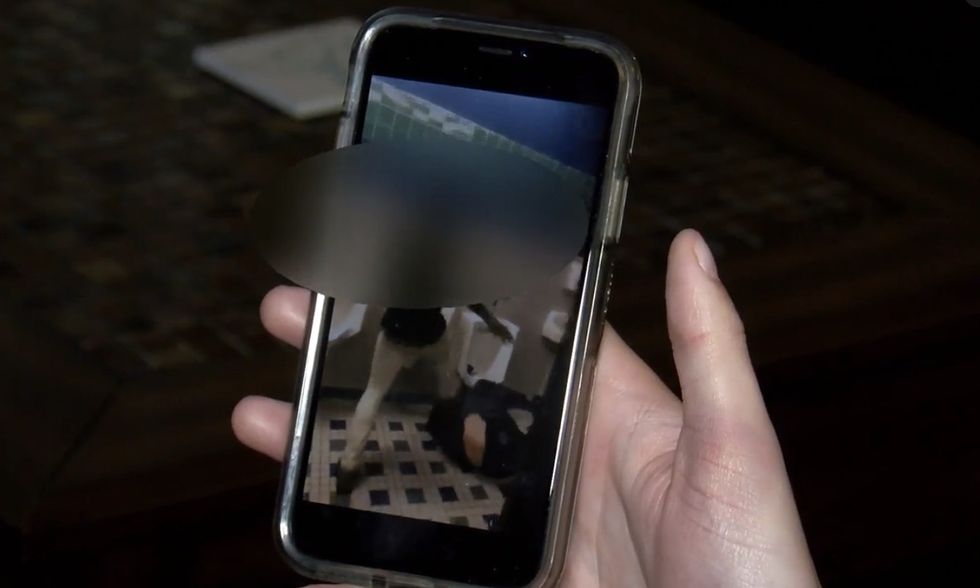 Image source: KSNV-TV video screenshot
Her son also didn't want to be identified and added to the station that the gang members "haven't fought anybody that's not white. They haven't fought any African-Americans or Mexicans. It's all been white people."
How did the trouble start for her son?
Sherry's son told KSNV his problem with the gang began after they attacked one of his friends.
"My friend got jumped by them, and they took his shoes," he told the station.
With that, Sherry's son discussed the attack on social media and told KSNV the very next day several members of the gang circled him in the locker room before gym class.
"They said we're gonna give you an option, you can go out and fight us in the hallway, or we can just jump you and get you right here in the locker room," he recalled to the station.
The day after that he told KSNV the gang again forced him to fight. A final video was recorded in the school bathroom, the station said, which shows Sherry's son fighting yet another gang member.
"I felt very angry and helpless," she told the station, her voice breaking. "He got hurt, and nobody was there to help him."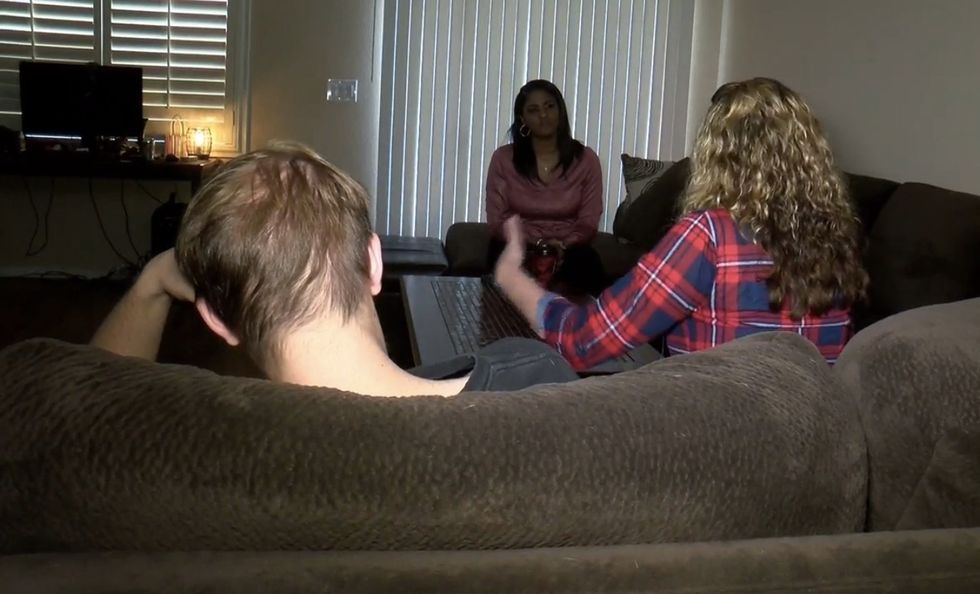 Image source: KSNV-TV video screenshot
What did school officials have to say?
Clark County School District officials told KSNV they were aware of the alleged bullies and offered the following statement:
"School administration and school police are aware of the matter and appropriate action will be taken. CCSD investigates every reported case of bullying and takes appropriate action. We are unable to discuss individual student disciplinary matters due to privacy laws. However, in general, students can face administrative disciplinary action at school or be referred to law enforcement for possible criminal prosecution depending on the severity of the matter. Law enforcement has been involved, and as they investigate the matter, we strongly encourage students and members of the community not to share footage of this incident or any other student fights. Showing this video serves no purpose other than to further ridicule and embarrass the victim and embolden bullies. Additionally, per state law, students can face discipline for knowingly and willfully transmitting or distributing video/images of bullying with the intent to encourage, further, or promote bullying. Any student who captures photos or video of an assault on-campus, off-campus, on a bus, or during a school activity should immediately turn the footage over to a teacher, school administrator, or police. We investigate and address all concerns of bullying."
What else did the mother have to say?
Sherry added to the station that she hopes telling her son's story will encourage others who've been attack to let authorities know as well.
"I would like anybody that [has] been victimized by them to please come forward," she told KSNV. "Because if we don't get them, they're going to continue on doing what they're doing, and it's not right."
What happened to the alleged attackers?

CCSD police told the station they issued criminal citations to several of the students involved in the incidents, which means they'll have to appear in juvenile court.
The school has seen its share of other kinds of trouble lately
Clark County School District Police in August arrested a 16-year-old student for bringing a gun into Centennial High School, KVVU-TV reported. He was booked into the juvenile detention center for possession of a dangerous weapon on school property, the station said.
Police in September arrested five people — two adult women, one female juvenile, and two male juveniles — who refused to leave the school parking lot, KLAS-TV reported. Cops grabbed and restrained one of the females on a car after she confronted an officer, the station said, adding that when the officer let her go and told her to leave, she ran toward the officer and was pepper sprayed. Officers also told KLAS that a Centennial High student told them one of the males in the group robbed him before officers arrived — and while cops searched the five people, a knife was found on one of them.
In late 2018, Principal Trent Day wrote a letter that's posted the school's website regarding guns being brought on campus: "I want to insure that Centennial takes school safety very serious[ly]. CCSD Superintendent Dr. Jara held a press conference on October 19th, and he announced a new program to deter students from bringing weapons on campus. We will conduct periodic searches of random students. Remember: No weapons are allowed on campus. Every morning, please check your children's backpacks or anything that they can conceal a weapon in."
(H/T: EAGNews)