Right-leaning comedians Alex Stein, a BlazeTV contributor, and Gavin McInnes, the founder of the Proud Boys, were recently invited to Penn State University to speak at an event billed as a "provocative comedy night" on campus. However, the event was canceled before it ever really began when hundreds of angry protesters quickly resorted to violence to prevent Stein and McInnes from speaking.
On Monday, Stein and McInnes arrived in Happy Valley, Pennsylvania, to appear at the event arranged by a PSU student group and sponsored by Uncensored America, a "non-partisan organization dedicated to fighting for freedom of speech," according to its website.
However, a mob of angry protesters awaited their appearance and immediately began hurling invectives, insults, and, in one case, even projectile saliva to prevent the event from proceeding.
Ever the provocateur, Stein entered the heated fray and began mocking and insulting protesters to their faces, a move that prompted even more hostility.
When Stein zeroed in on one particular female protester, she lashed out harshly.
"I f***ing hate you!" the unnamed woman repeated as she gave him the middle finger. "I hope you f***ing die!"
When Stein then filmed himself with her and insisted he "loved" her because she was "a very nice woman," she responded by spitting substantively on his suit jacket.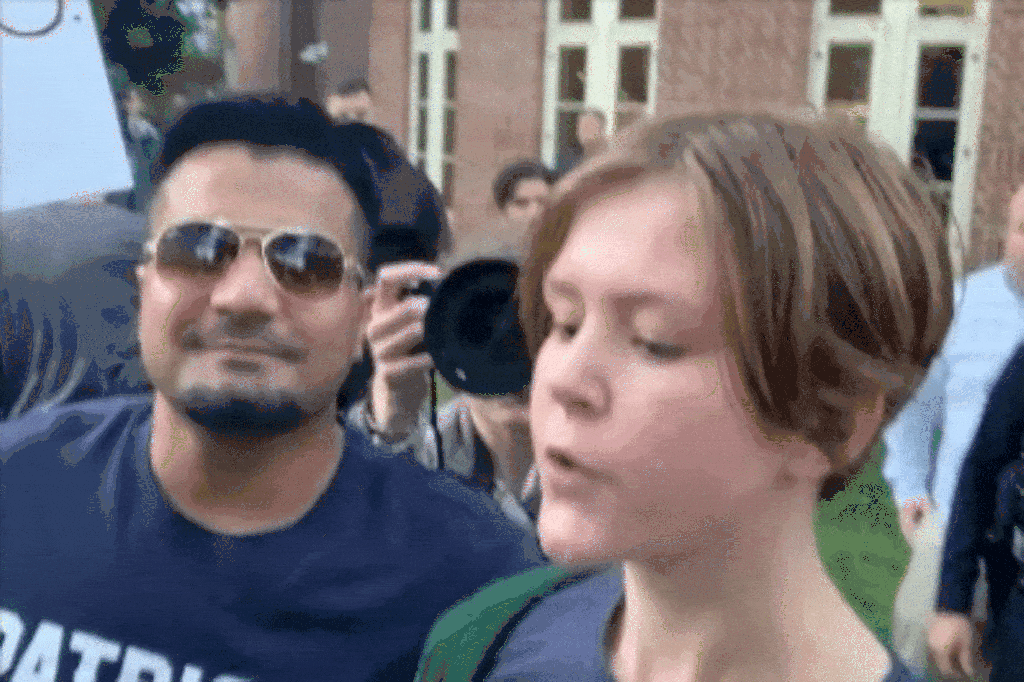 New York Post video
Stein himself tweeted another video of the incident. The spitting moment occurs at about the 1:40 mark:
Police on horseback attempted to quell the unrest but were ultimately unsuccessful. People began using pepper spray on one another and at police, prompting the school to cancel the event.

Both the school and the university president issued statements that condemned Stein and McInnes for "hateful" and "abhorrent" opinions, but that also lamented that student protests had devolved into violence.
"From the start, Penn State's administration firmly denounced the two speakers," university president Neeli Bendapudi reminded students in her statement.
However, Bendapudi continued, PSU administrators also "support the fundamental constitutional right of free speech and free expression of all members of our community."
She then blamed both sides — Stein and McInnes for contributing "to the very violence that compromised their ability to speak," the rioters for restricting "speech by escalating protest to violence" — and then expressed gratitude that no one had been seriously hurt.
In its statement to cancel the event, the school reiterated many of Bendapudi's sentiments.
"The University has been clear that the views and speech of the two speakers at tonight's student-organization-hosted event are abhorrent and do not align with the values of Penn State. We have encouraged peaceful protest, and, while protest is an acceptable means of expression, it becomes unacceptable when it obstructs the basic exchange of ideas. Such obstruction is a form of censorship, no matter who initiates it or for what reasons. The University expects that people engaging in expressive activity will demonstrate civility, concern for the safety of persons and property, respect for University activities and for those who may disagree with their message, and will comply with University rules.
"The climate in our nation has been polarized for quite some time. On campuses across the country, violence is proliferating and individuals are being intimidated and even harmed. This must stop."
The event was scheduled to begin by 8 p.m., but had been formally canceled by 7:15. It is unclear whether there had been any arrests or whether any of the students will face repercussions from the school for participating in the disturbance.