Last Wednesday, Alyssa Burks shared a photo on her Facebook page of her husband Jared — a doctor in residency at a hospital — giving a high-five to their 1-year-old son Zeke through a glass door at their home in Jonesboro, Arkansas.
Jared Burks was quarantining himself from his family to protect them from the coronavirus since he's in such close proximity to those who might be infected.
"Look who we finally got to see today! Not going to pretend that I didn't bawl like a baby when he left to go back to work. We miss him, but we are doing what we have to do," Alyssa Burks wrote in her post. "Count your blessings. That's what's getting us through this!"
She added to KATV-TV that her husband's rotation "has him all over the hospital, including the ER, and he just felt like it would be responsible for us to quarantine from each other."
In fact, the station said Burks has been away from his family for more than two weeks — and that through that glass door he saw his son crawl for the first time.
"As soon as he saw his dad he just raced to the door," Alyssa Burks added to KATV. "He got up on the glass because I think he wanted him to hold him, so it was sad, it was cute, but it was really heartbreaking because it's hard."
But things have gotten much harder for the young family.
'Oh God, I don't want to die'
On Saturday, a tornado ripped through the area and destroyed the Burks' home, KATV reported in a follow-up story.
Jared Burks was inside alone when his wife called from her parents' residence to warn him about the tornado, the station said.
"I was a little scared," he told KATV later. "I was thinking, 'Oh God, I don't want to die.'"
Burks added to the station that he actually saw the tornado coming toward his house.
"I was like, 'Oh it's probably time for me to get to the closet.' So by the time I got in the closet it was about 30 seconds, and I just started hearing glass breaking, the walls started shaking, my ears started popping, and the house if felt like it lifted up and fell back down."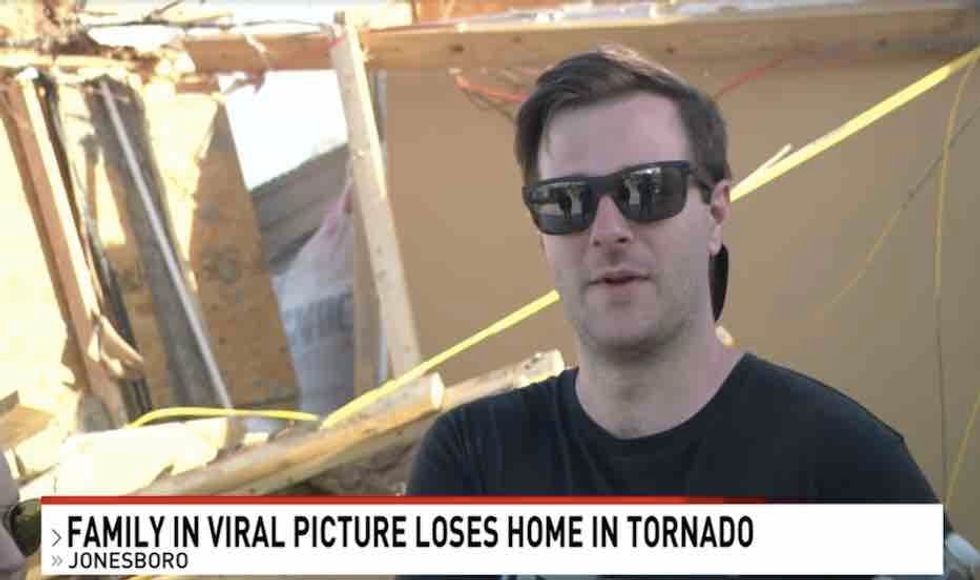 Image source: KATV-TV video screenshot
Afterward, he emerged from the closet to find his home in rubble, KATV said.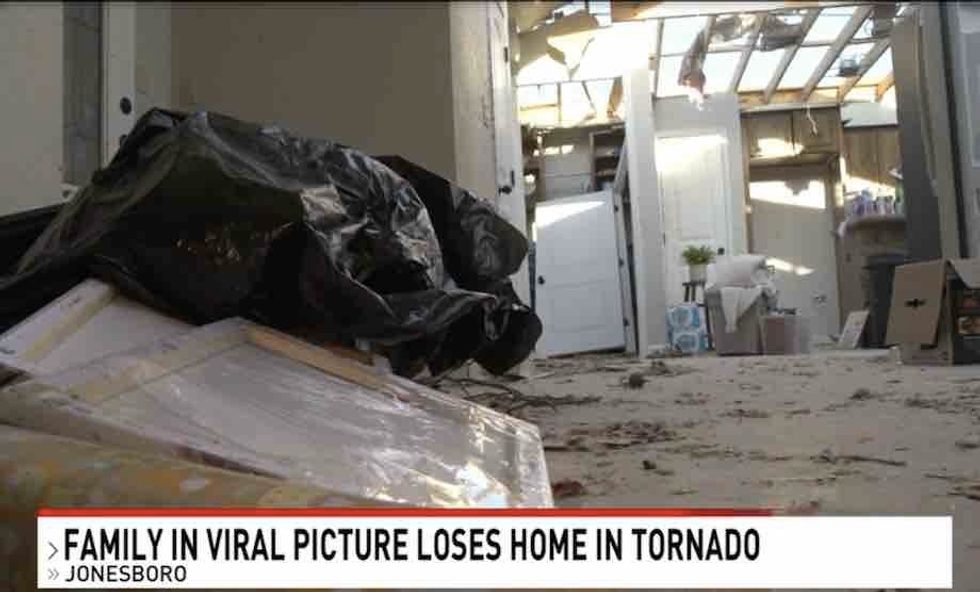 Image source: KATV-TV video screenshot
The couple later surveyed the damage as a station camera rolled, and Alyssa Burks pointed to a spot where their son's crib once stood.
"Thank God he wasn't here," she said.

KATV noted a balloon from Zeke's first birthday survived the tornado: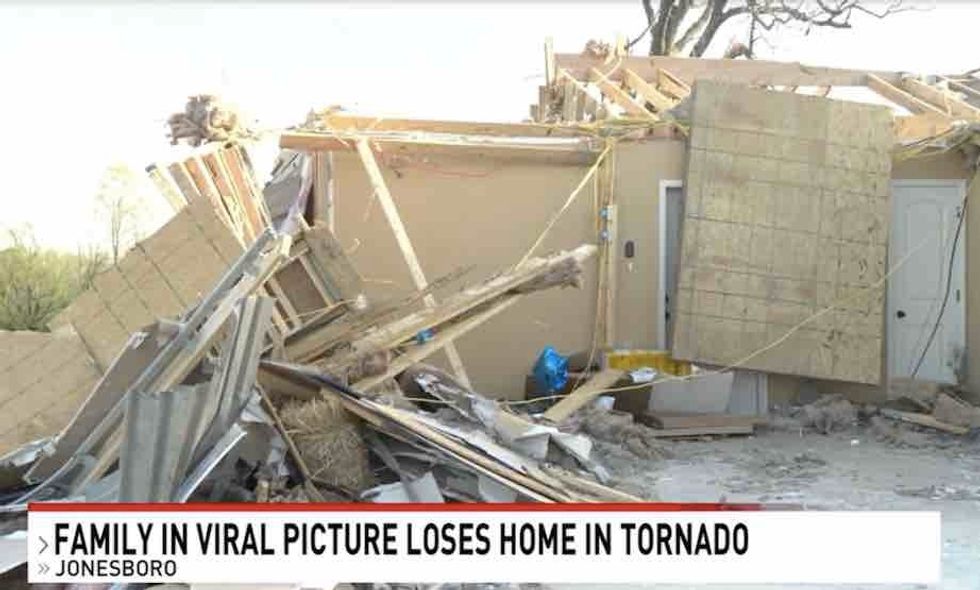 Image source: KATV-TV video screenshot
The couple also found a pair of Zeke's shoes: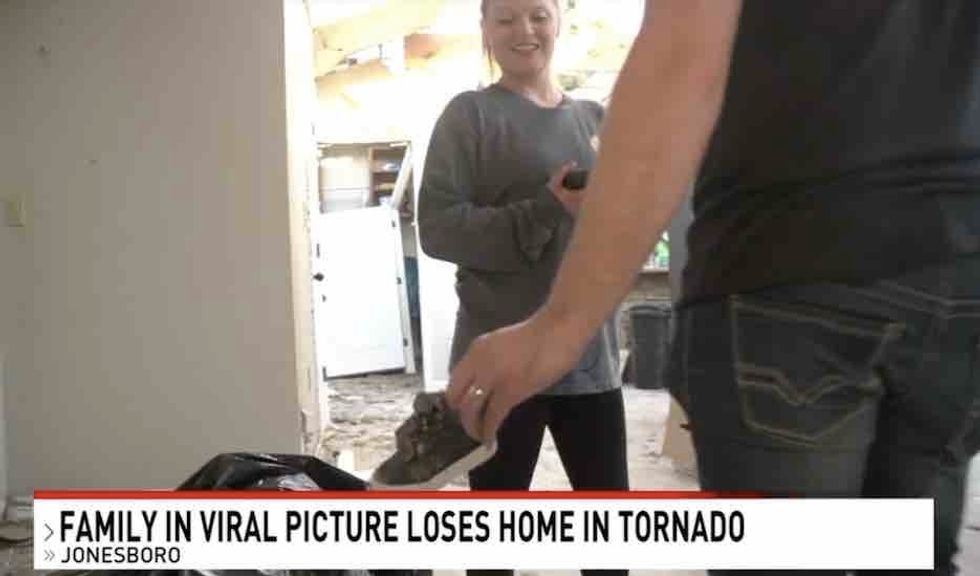 Image source: KATV-TV video screenshot
"We'll get through it," Jared Burks told the station. "Just going to take it one day at a time."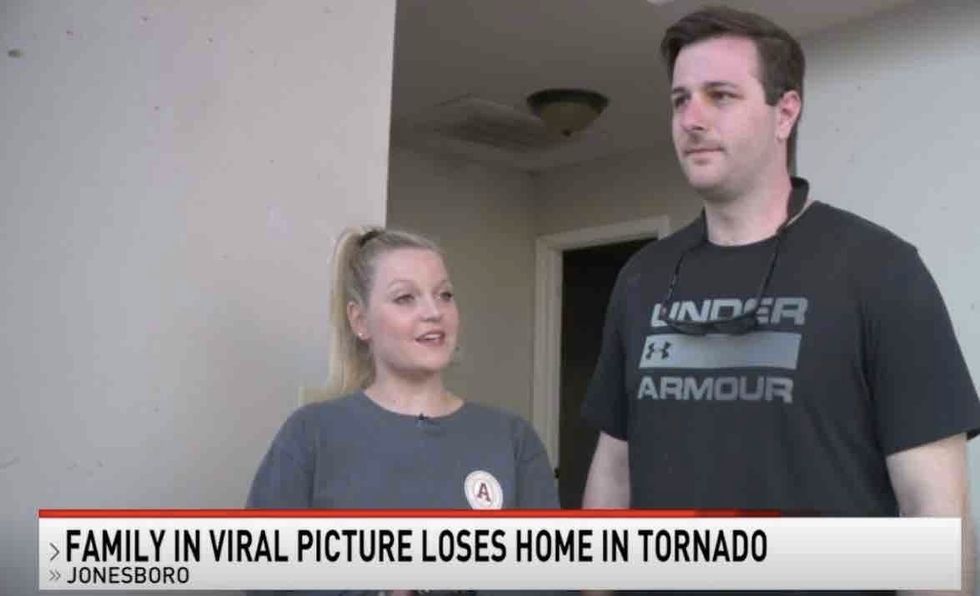 Image source: KATV-TV video screenshot
A GoFundMe page was set up by a friend of the Burks family, KATV said. As of Monday morning, the pledged money is above $82,000 — far exceeding the $2,500 initial goal.