Plant-based meat sales took a nose dive in 2022 because consumers simply cannot stomach the product's overwhelmingly meat-like characteristics, experts cited by the Washington Post suggest.
After a brief boon at the zenith of the pandemic, the two mainstays of plant-based meat, Beyond Meat and Impossible Foods, are now struggling to stay alive. Stock prices bit the big one for Beyond Meat in 2022, and Impossible hit its workers with two rounds of layoffs, the outlet also reported.
Meat alternatives' Achilles' heel is attributed to their alleged success at making the product look, feel, taste, smell, and act just like animal meat. Unfortunately, consumers who are drawn to plant-based meats are apparently no longer as keen on products that convincingly "bleed" as they were initially.

Love it or hate it, the irony of plant-based meats' failure hinging on achieving its goal to be virtually identical to meat is impossible to ignore.
Billionaire philanthropist Bill Gates, for his part, is undeterred by the industry's apparent decline. In fact, Gates said in a recent Reddit "Ask Me Anything" session, he "has backed a number of innovators in this space" and he thinks "eventually these products will be very good even though their share is small today."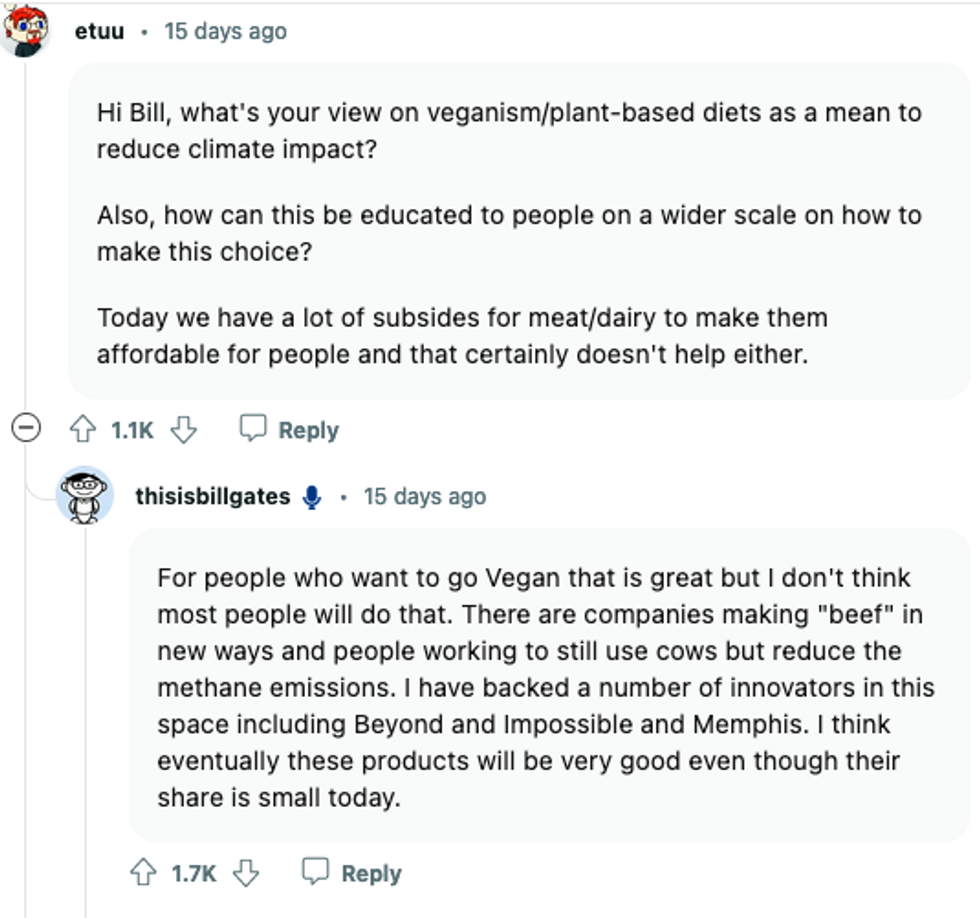 Despite Gates' optimism, even the prospect of plant-based meats helping offset greenhouse gas emissions attributed to animal agriculture is not enough to sway today's would-be purchasers.
At close of business on Thursday, Beyond Meat's stock price was 16.11, down 71.52% from a 52-week high of 68.06.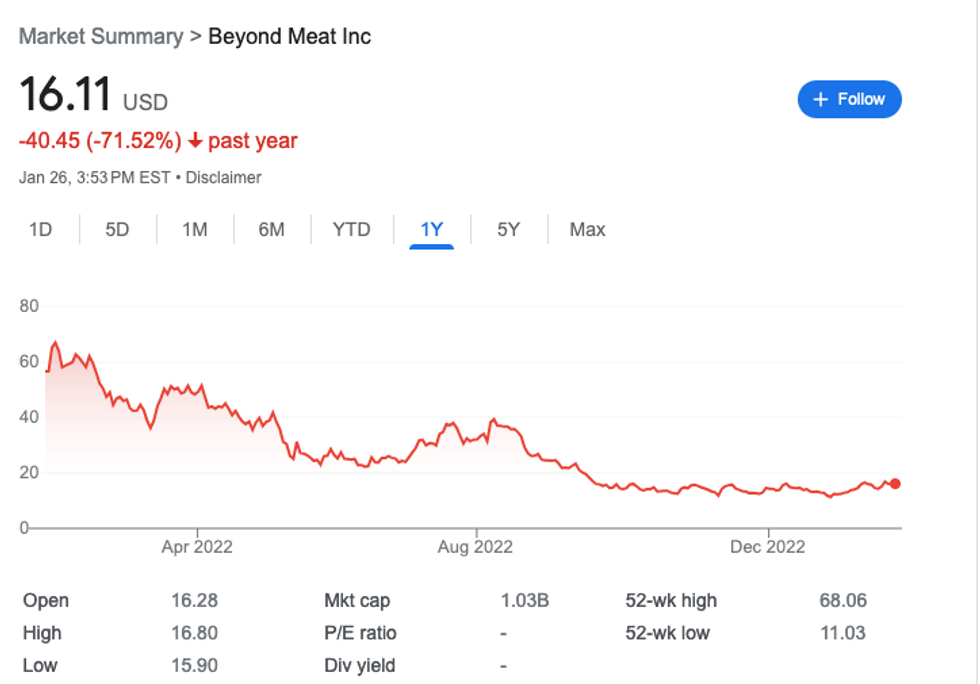 On January 19, Bloomberg Businessweek published an unflattering characterization of plant-based meats as "just another fad." Impossible Foods' rebuttal appeared on its website on January 22.
Impossible Foods said an "unappealing image" accompanying the piece coupled with "one-sided anecdotes and editorialized framing" left an "instantly negative association in the reader's subconscious mind."
The company took out a full-page ad in the New York Times in an effort to cook Bloomberg's goose. The ad features screenshots of Reddit users' posts responding to the piece. One post by an unidentified Reddit user says, "I suspect it's coming from a news outlet paid money to write a[sic] article by people who make money from meat sales."
It remains to be seen whether the spat between Bloomberg and Impossible Foods will whet buyers' appetites or leave a bad taste in their mouths.
Like Blaze News? Bypass the censors, sign up for our newsletters, and get stories like this direct to your inbox. Sign up here!