Last Sunday, Dan Davidson briefly stepped out of his role as caretaker of Cincinnati's Mount Auburn Presbyterian Church and became "Sparkle Leigh" — dressed in drag with tons of makeup and glitter — to read a story to children during the service about LGBTQ icon Harvey Milk, the assassinated San Francisco politician who was openly gay, the Cincinnati Enquirer reported.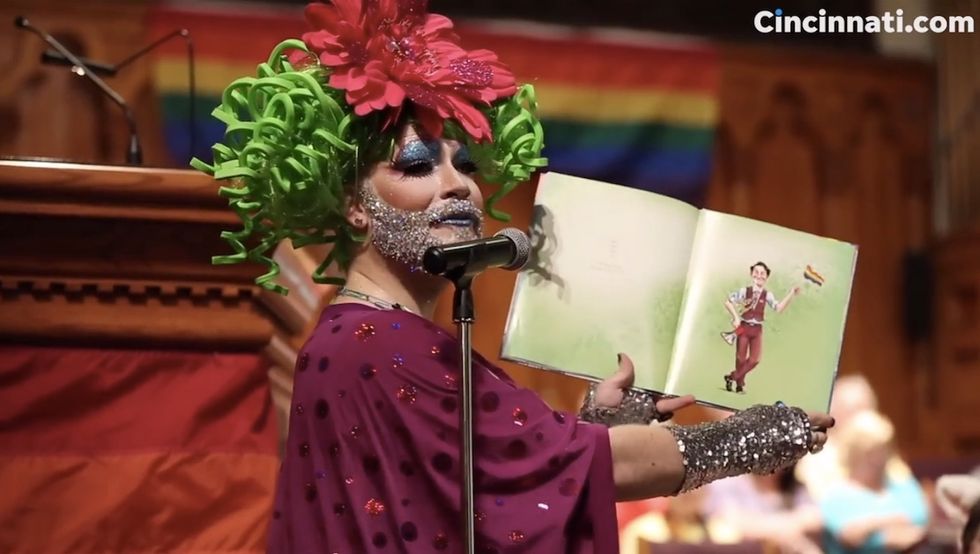 Image source: Cincinnati Enquirer video screenshot
Davidson wore a pink, flowing dress and a green curly wig, the outlet said, adding that the congregation clapped during "exciting parts of the tale."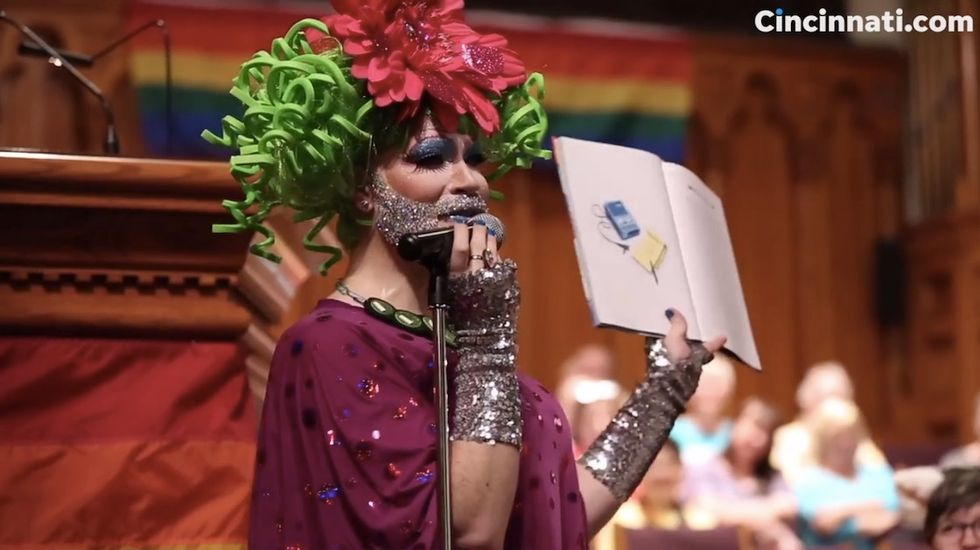 Image source: Cincinnati Enquirer video screenshot
Mount Auburn is celebrating Pride month throughout June, the Enquirer said, adding that the sanctuary featured Pride flags on the front walls and rainbow candles onstage.
Pastor Stacey Midge told the outlet the service's offshoot of the Drag Queen Story Hour — typically held in public libraries — fits with the church's beliefs that God loves everyone.
Indeed, a man shared his coming story during the service as well, the Enquirer added.
What else do we know about Sparkle Leigh?

Sparkle Leigh performed as a drag queen in Seattle but looked for a different backdrop after experiencing a hate crime and being hit by a car while in full makeup, the outlet said.
In addition, Sparkle Leigh was drawn to partaking in Drag Queen Story Hour phenomenon to give children support, the Enquirer said: "I'm excited just to be able to point to diversity and help kids not be afraid of people that are different but to embrace them and be able to learn from them and find out more about them."

More from the outlet:
Sparkle estimated that about half of the people who come to the storytimes are members of the LGBT community, while the other half are allies. She mainly reads stories with LGBT themes or books featuring or written by people of color because children aren't often exposed to these types of stories.

Sparkle's own story on that Sunday in Mount Auburn had a particular kind of poignancy for her: Her conversion therapy sessions had taken place down the street from the church. The fresh message of acceptance resonated with her, as she hopes LGBT people can find a place in this and similar churches and that they won't let negative past experiences turn them away from religion.
"Love more, love better," Sparkle told the Enquirer. "It's literally that simple."
This story has been updated.