Disney+ cartoon "The Proud Family," a reboot of a 2001 fan favorite, launched into a lengthy diatribe about slavery, reparations, and white privilege in a 2023 episode entitled "Juneteenth."
In the episode, a character named Maya discovers that her fictional town of Smithville was founded by a slave owner.
Maya is described as a "14-year-old activist" who was adopted by two men, and "never hesitates to shut anyone down with her honesty and wisdom."
In one scene, Maya organizes a child protest near a statue of the founder, coming face to face with riot police. The children chant about the town's founder, Richard A. Smith, saying they are taught incorrect history, chanting the phrase "Richard A. Smith, his legacy is a myth!"
As a man requests the officers to "please put these kids in cuffs," the riot police begin to approach the children. As the police get closer, the children chant, "Why are you in riot gear? We don't see no riot here!"
A father of one of the children, a black man, tells a white man "they're going to arrest our babies" and asks him to "do something with your white privilege."
According to Florida Jolt, the town topples the statue of the founder, renaming the town Emilyville, after a slave who worked on the founder's plantation.
Another episode of the show has the students performing a play about slavery, telling the audience that "slaves built this country."
The performance includes sentiments that say President Lincoln did not free the slaves, America was founded on "white supremacy," and additional themes about "illuminati and new world order."
An excerpt of the scene reads as follows:
"We, the descendants of slaves in America, have earned reparations for their suffering … and continue to earn reparations every moment we spend submerged in a systemic prejudice, racism, and white supremacy that America was founded with and still has not atoned for."
The scene, which also pushes the "hands up, don't shoot" narrative, shows shocked women who appear to be judging the performance, ending with the audience giving an uproar of applause in approval.
"This is made to divide and make people angry," says Eric Butler, political commentator and writer for the Tatum Report.
"It manipulates children; if they're not angry about other narratives, at least they'll be angry about racism," he added.
The "Proud Family" reboot is in its second season, with the original production consisting of 52 episodes in two seasons spanning four years.
Like Blaze News? Bypass the censors, sign up for our newsletters, and get stories like this direct to your inbox. Sign up here!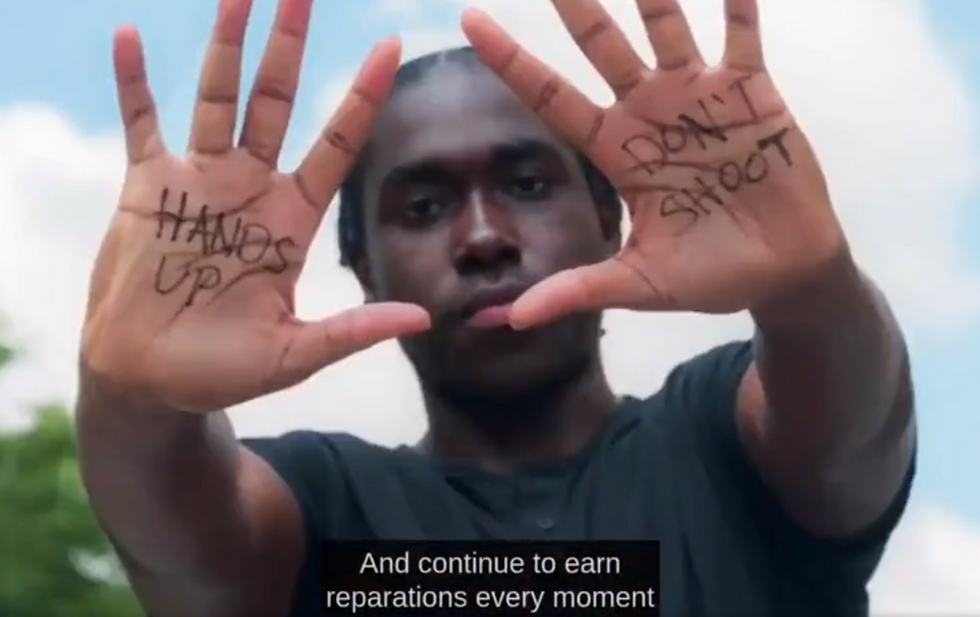 Image via EndWokeness / Twitter (screenshot)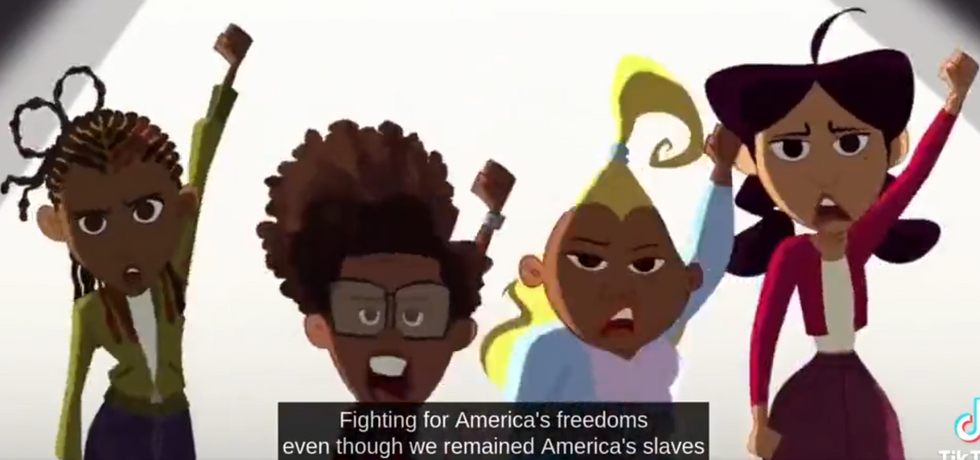 Image via EndWokeness / Twitter (screenshot)