© 2023 Blaze Media LLC. All rights reserved.
Real-life Batman? San Francisco business owner dons dark disguise, patrols streets with fake gun to scare off thieves who brazenly break into cars
A San Francisco business owner who's lived in the city for over 20 years has taken it upon himself to dress in a dark disguise and carry a fake gun as he patrols the streets around Fisherman's Wharf, KGO-TV reported.
What are the details?
His goal? To stem the tide of rampant thefts from vehicles, the station said; more than 20,000 such thefts were reported last year. The mysterious fellow told KGO he battles back by spotting crooks in the act and scaring them away.
"Every day is a small victory," he told the station. "You chase them off from one corner. You chase them off from this street."
Image source: YouTube screenshot
You might call him Batman — but KGO said local folks know him as Boots.
The station said that for years he's captured videos of car break-ins and that his frustration led him to take matters into his own hands.
He added to KGO that he's doing it to save the area in which he lives and owns a business.
"The tourists aren't going to come here," Boots told the station, adding that it ultimately hurts "the business of some people that have lived here and have been here their entire lives, and it's not fair."
Police incident stats indicate there are an average of 67 thefts from vehicles every day, KGO said. Indeed, outside Eight AM — a brunch spot on Columbus Avenue — employees see car break-ins on a daily basis, the station said.
"They just leave all their stuff in there, and then boom shakalaka, in less than five seconds they grab your stuff, and they are gone," Eight AM employee Kenny Nguyen told KGO.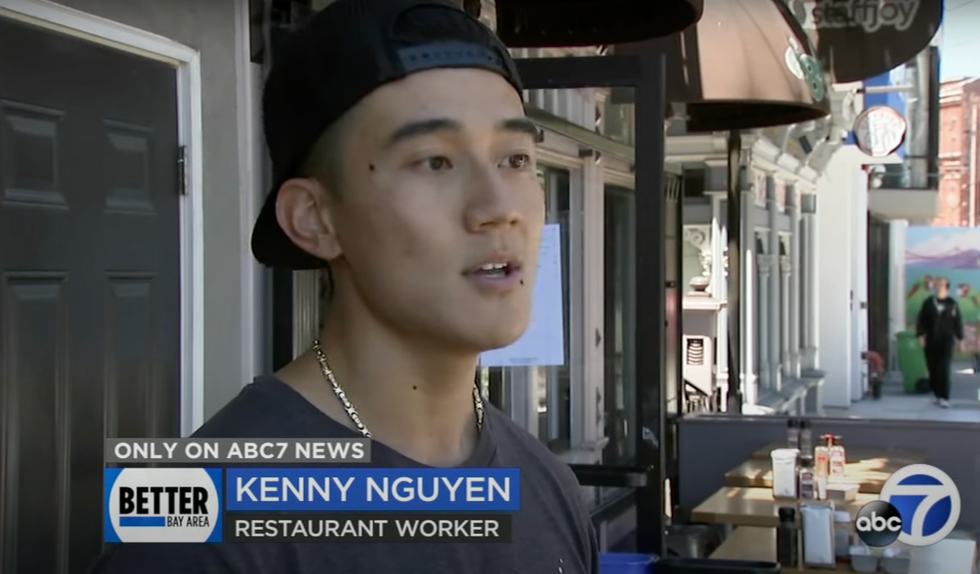 Image source: YouTube screenshot
The station said many who work at the cafe share a sense of helplessness: "I'm frustrated too. You can't do anything," Nguyen added to KGO.
Boots arrested
As it turns out, while Boots was patrolling the area Wednesday, police arrested him for brandishing an imitation firearm, which is a misdemeanor, the station said, adding that Boots could face charges.
"We don't recommend anyone doing that," SFPD Officer Robert Rueca told KGO. "We understand everyone's frustration. Officers are frustrated ... however, there is a system in place ..."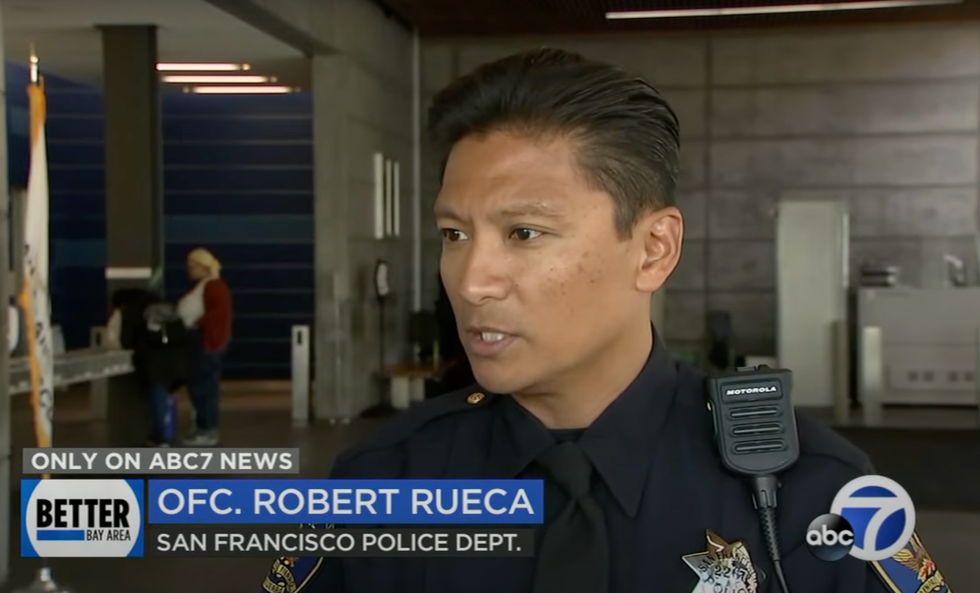 Image source: YouTube screenshot
Believe it or not, Boots told the station that his arrest is actually another victory.
"While police were there, nobody was getting their car broken into for that half hour," he noted to KGO.
Moving out?
Police acknowledged they can't respond to every car break-in; they're 570 officers short, the station said, and that's keeping the department from having dedicated officers available to handle these crimes.

Boots also told KGO that he's aware of the dangers and is considering moving out of San Francisco: "I'm probably going to end up shot. I'm probably going to end up hit and run over. Killed or something if I stay here."
SF man patrols neighborhood with imitation gun, ski mask to scare off thieves - EXCLUSIVEyoutu.be
Like Blaze News? Bypass the censors, sign up for our newsletters, and get stories like this direct to your inbox. Sign up here!
Want to leave a tip?
We answer to you. Help keep our content free of advertisers and big tech censorship by leaving a tip today.
Sr. Editor, News
Dave Urbanski is a senior editor for Blaze News.
DaveVUrbanski
more stories
Sign up for the Blaze newsletter
By signing up, you agree to our
Privacy Policy
and
Terms of Use
, and agree to receive content that may sometimes include advertisements. You may opt out at any time.