UPDATE, 3:11 p.m. EST: Robert Reich on Thursday afternoon said on Twitter he deleted his "backs of their hands" tweet the night before "because it was widely misinterpreted and distorted by conservative media. 'Back of the hand' is an idiom for rebuke. I wholeheartedly condemn violence against women."
But not everyone appears to be buying Reich's explanation:
"Hate to tell you this, tough guy, but the comments I read before you deleted the tweet weren't coming from 'conservative media.' It was women, many of them progressives, who didn't appreciate your 'idiom' with its origins squarely tied to physical violence," editor JD Rucker wrote. "Delete your account."
A pair of commenters posted the following observations:
And apparently prior to Reich posting his follow-up tweet, one Twitter user shared a prediction about it: "He'll issue a retraction attacking conservatives for not being smart enough to recognize irony, an exaggeration, something something — but he hates that a woman got in his way."
Original story below
Far-left activist Robert Reich — who was secretary of labor under former President Bill Clinton — apparently posted and then deleted a tweet saying Democrats should have given U.S. Sen. Kyrsten Sinema (D-Arizona) the "backs of their hands" over her support for the filibuster.
Sinema — along with Democrat Joe Manchin of West Virginia — voted against a rule change that would have lowered the Senate's 60-vote threshold to 50 so that Democrats could avoid the filibuster and push through voting rights legislation. Democrats and Republicans are tied 50-50 in the Senate, and Vice President Kamala Harris is poised to break voting ties to push through Democratic legislation.
What did the tweet say?
The tweet attributed to Reich stated: "Tonight, Republican senators lined up to shake Kyrsten Sinema's hand. Democratic senators should have given her the backs of their hands."
While the tweet was not on Reich's timeline Thursday morning, scores of users have been posting images of it:
A Google search Thursday morning for "robert reich twitter" showed the tweet in the search results: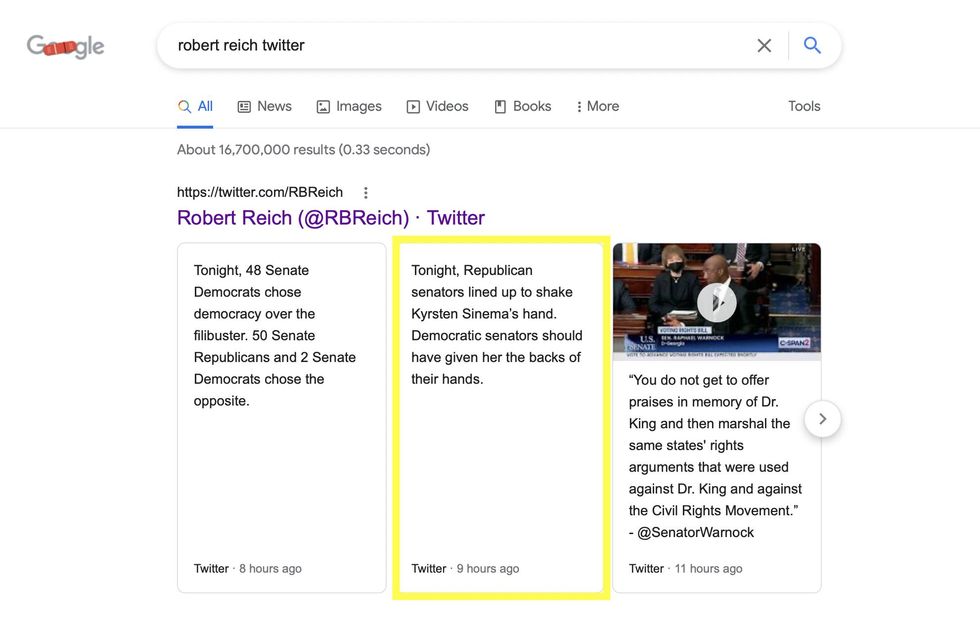 Image source: Google
But the resulting message after clicking on the displayed tweet indicates the "page doesn't exist."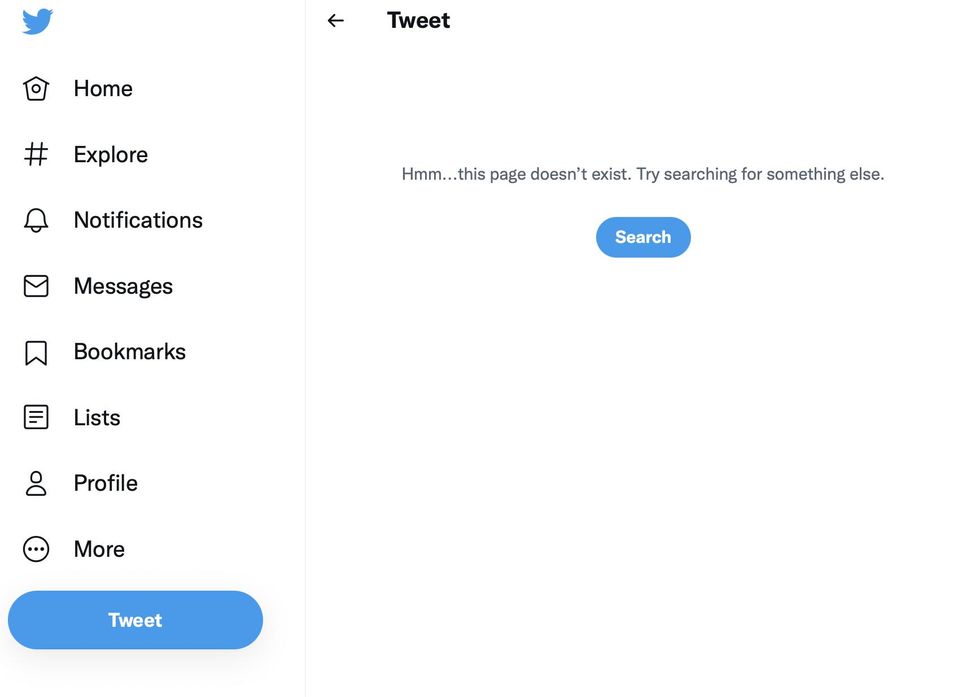 Image source: Twitter
Reich as of Thursday morning does not appear to have offered an explanation on Twitter for the post about Sinema.
Neither Reich nor Sinema by early Thursday afternoon replied to requests for comment from TheBlaze regarding the tweet.
How have folks reacted to the tweet?
It's quite apparent from glancing at tweets directed to Reich that many users are unhappy with him over words that seem to advocate violence toward Sinema.
Conservative commentator and radio host Jason Rantz told Reich "and yet the only one you recommended people physically abuse was the one female Democrat."
Author and comedian Tim Young called Reich a "very tiny 'man'" who "supports violence against women... not shocking at all."
Others were equally appalled:
Attacks against Sinema
Sinema has been repeatedly attacked for going against the Democratic Party line. Late-night TV host Stephen Colbert this week blasted Sinema as an "anti-Democratic tool." And leftist protesters have confronted her everywhere from inside a bathroom to aboard an airplane — and even at a wedding she was officiating.
Anything else?
Less than a year ago, Reich accused the Republican Party of becoming a "white supremacist cult" and said in a YouTube video that there's "no compromising with the GOP cult" and that the party has become "conspiracy-fueled" and "hate-filled."
In October 2020, he called for a post-election "Truth and Reconciliation Commission" to censor speech and name and shame every public figure who supported then-President Donald Trump.