ABC News' Robin Roberts revealed Monday that she saw "red flags" before her interview last month with "Empire" actor Jussie Smollett — a high-profile one-on-one that aired prior to his arrest on a felony charge that he filed a false police report in connection to his headline-grabbing claim that he was the victim of a racist, homophobic attack in January.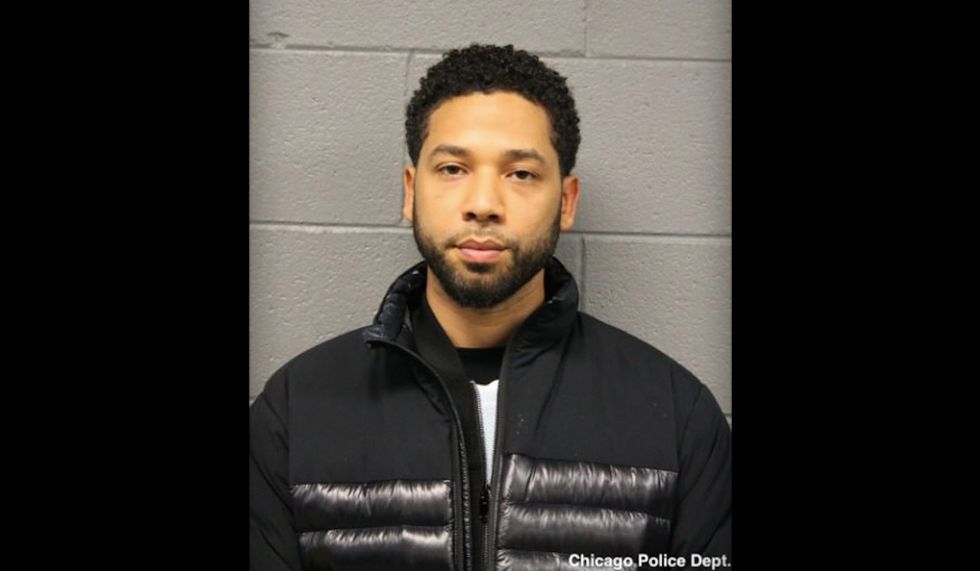 Image source: Chicago Police Department
In his interview with Roberts, Smollett said he was "pissed off" at assertions his claims were a hoax — but that's exactly what Chicago Police Superintendent Eddie Johnson said they were the day Smollett was arrested about a week later.

Roberts discussed what led to her agreeing to interview Smollett and if she believed him during a panel discussion at an event titled, "How I Get It Done," the Hollywood Reporter said.
She said she consciously worked to be as neutral as possible, the outlet said — and was aware of her identity as a gay black woman and how it would come across as she interviewed Smollett, who's also black and gay.
"He's saying that it was a hate crime," Roberts said, according to the outlet. "So if I'm too hard on him, then people in my LGBTQ community are going, 'Oh, you don't believe him.' If I'm too light on him, then it's like, 'Oh, because you are in the community, you're giving him a pass.' So ... it was a no-win situation for me."
More from The Hollywood Reporter:

Responding to criticisms to her Smollett interview, including that she was too soft on the actor, Roberts admitted that she would have gone farther with her questioning of the actor if she'd had more of the details that eventually came to light before the segment aired. "It was hurtful, some of the things that were said. I'll be honest," said Roberts. "Because I pride myself on being fair. I know how much work went into being balanced about what to ask, to challenge him on certain things."
Eventually, brothers Olabinjo and Abimbola Osundairo told police Smollett paid them to stage the attack — which the actor said involved two masked men who punched and kicked him, put a noose around his neck, poured a liquid on him that smelled like bleach, and yelled "This is MAGA country" at him, which is a reference to President Donald Trump's 2016 campaign slogan, "Make America Great Again."
Smollett has continued to deny the allegations.
"Had I had that information or what the brothers were alleging — heck, yeah, I would have asked that," Roberts said, according to the outlet. "But it aired that morning [and] we taped it two days ahead of time."
Reluctance
Roberts also said she was reluctant to conduct the interview amid speculation that Smollett wasn't telling the truth.
"I'll be completely honest, I said, 'I don't know if I'm going to do the interview or not,'" she said, according to The Hollywood Reporter. "Let's just wait and see, let's see if more information comes in."
She added to the outlet that doing the interview was contingent upon Smollett sharing new details: "If there wasn't going to be anything new, I didn't really want to do it."
"All I wanted was to get to the truth," Roberts added, the Hollywood Reporter said. "All I wanted was to give the truth."
After Smollett agreed to be candid and share new details, Roberts told the outlet she agreed to conduct the interview.
"I'm like — as a journalist and as a newsperson, this is his right," she said, according to the Hollywood Reporter. "He's going on the record for the first time. Yes, I'll do the interview."
Here's Roberts' interview with Smollett in its entirety: