World famous liberal actor and comedian Russell Brand is calling out Big Tech, the mainstream media, and the Democratic Party for conspiring to kill the Hunter Biden laptop scandal in order to manipulate the presidential election and get President Donald Trump out of office.
What happened?
Just weeks before the 2020 election, the New York Post dropped its Hunter Biden laptop scandal bombshell revealing communications between then-presidential candidate Joe Biden's son and foreign business interests, including Ukrainian gas company Burisma and China's biggest private energy company.
The damning report also raised serious questions about Joe Biden's ties to his son's ventures — but only for readers of non-left-wing media outlets.
The Post's story didn't sit well with the Democratic Party, the mainstream media, and Big Tech — so they did what they could to suppress the story.
Left-wing outlets ignored it or tried to explain it away.
Facebook limited distribution of the report pending a so-called "fact-checker review."
Most famously, Twitter completely censored the story and locked the New York Post out of its own account.
What is Brand saying?
Now, Brand, a famously left-wing celebrity with a massive platform, is ripping into Big Tech and the media for working with Democrats to kill a story that voters should have been aware of.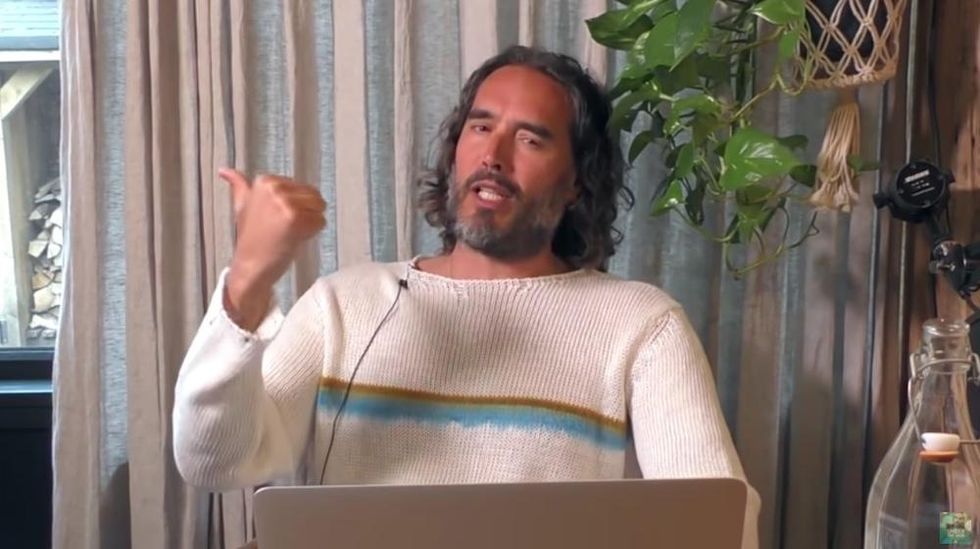 Image source: YouTube/Russell Brand video screenshot
In a recent episode of his podcast, "Under the Skin," Brand interviewed investigative journalist Glenn Greenwald about the Post's Hunter Biden story as well as Greenwald's own reporting on Joe Biden's connections to Chinese business interests, which led to Greenwald being fired by the media company he founded.

Greenwald noted that there was a trove of documents that allowed journalists to investigate not just Hunter Biden's activities, but also Joe Biden's connections. But most journalists were not interested.
If you don't want to dig into that kind of material as a journalist, Greenwald said, "go do anything else."
"There were a lot documents that raised serious questions about whether Joe Biden, the person at the time running for president and likely to become the most powerful politician on earth, was intervening in Ukraine for the benefit of the company that was paying his son $50,000 a month for absolutely no reason other than to have influence with Joe Biden," Greenwald said.
He went on to remind Brand that "information monopolies" Twitter and Facebook "banned" and "censored" the story, "like you were in China."
"This is like three weeks before the election," Greenwald added. "Silicon Valley monopolies that were supporting one of the candidates were censoring authentic reporting about the candidate they were supporting."
In a followup video about the Greenwald interview, Brand raised a number of questions and concerns.
"Look I'm not a pro-Republican person," he began. "I don't see myself that way. I don't see myself as conservative ... or the kind of media establishments that were reporting on these [Biden] revelations. They are not my culture, social, or political allies."
However, Brand added, it seems worth asking, "What reason is Hunter Biden sat on the board of an energy company in Ukraine? What reason is James Biden sat on the board, or receiving payments from an energy company, in China?"
"For me, revelations that there are financial connections between energy companies in Ukraine, energy companies in China, and the Biden family are troubling," he continued. "That should be public knowledge."
Yet, those questions were censored by the media and Big Tech.
"It's even more troubling that Twitter and Facebook and the media at large deliberately kept it out of the news because they didn't want it to influence the election," Brand said.
"What is democracy, then?" he asked. "It suggests to me that democracy is, 'We want you to vote for this person. We don't want you to vote for that person.'"
Then Brand called out the fact that the national media, Twitter, Facebook, and other members of Big Tech "conspired" to kill the Hunter Biden story, which he called the "manipulation of elections."
"I'm sad to realize that I can no longer even claim to believe Joe Biden or the Democratic Party might be the answer, because look at how they behave," he said. "And look at the relationships between media, social media, and that party. They conspired to keep information away from you because it was not convenient to their agenda. How does that make you feel?
"The fact is that this information was stymied, stifled, controlled because it didn't suit the shared agenda of these three pillars of power," Brand continued. "That almost concerns me more than the nature of the revelations themselves.
"The idea that information is being controlled — that's not democracy, that's not freedom, that's manipulation of elections," he said. "If it were the other side doing that, the companies that are here implicated would be ecstatically propagating and proliferating that data."
Brand lamented that the U.S. is going to resemble the former Soviet Union when it comes to information suppression, saying "our depiction of places like communist Russia, the Soviet Union, as these draconian, malevolent places where you're not free ... it is also true here. The same thing is happening."
Content warning: rough language:
Did Media CENSOR Joe/Hunter Biden Corruption Report?www.youtube.com