The New Orleans Saints deleted a tweet showing quarterback Drew Brees wearing a #SayHerName shirt before Sunday's playoff game against the Chicago Bears — which he and other players have worn all season to draw attention to the Breonna Taylor shooting — over complaints Brees actually wore it for Ashli Babbitt, a supporter of President Donald Trump who was fatally shot by police during last week's Capitol siege, USA Today's For the Win reported.
What's the background?
Brees apparently is having a tough time living down off-season controversy in which he stood against NFL players kneeling during national anthem and said he'll "never agree with anybody disrespecting the flag of the United States of America."
Teammate Malcolm Jenkins ripped Brees for his stance, saying in a now-deleted video that "we're done talking, Drew. And people who share your sentiments, who express those and push them throughout the world, the airwaves, are the problem ... it's unfortunate because I considered you a friend. I looked up to you. You're somebody who I had a great deal of respect for. But sometimes you should shut the f*** up."
The next day Brees apologized: "I would like to apologize to my friends, teammates, the City of New Orleans, the black community, NFL community and anyone I hurt with my comments yesterday," he wrote in a lengthy post. "In speaking with some of you, it breaks my heart to know the pain I have caused."
Then after Trump argued that Brees shouldn't have backed down, Brees pushed back with a message to the president, saying "we can no longer use the flag to turn people away or distract them from the real issues that face our black communities."
Twitter mob triumphs again
So even after Brees' massive mea culpa, the Twitter mob apparently didn't take kindly to the Saints' tweet showing Brees in the #SayHerName warm-up shirt — and For the Win said "fans speculated in the Saints' mentions that Brees was possibly co-opting the Breonna Taylor social justice hashtag for Ashli Babbitt."
Here's what other woke detractors had to say:
With that, the tweet was deleted — but as you no doubt know by now, all things tend to survive on the Internet: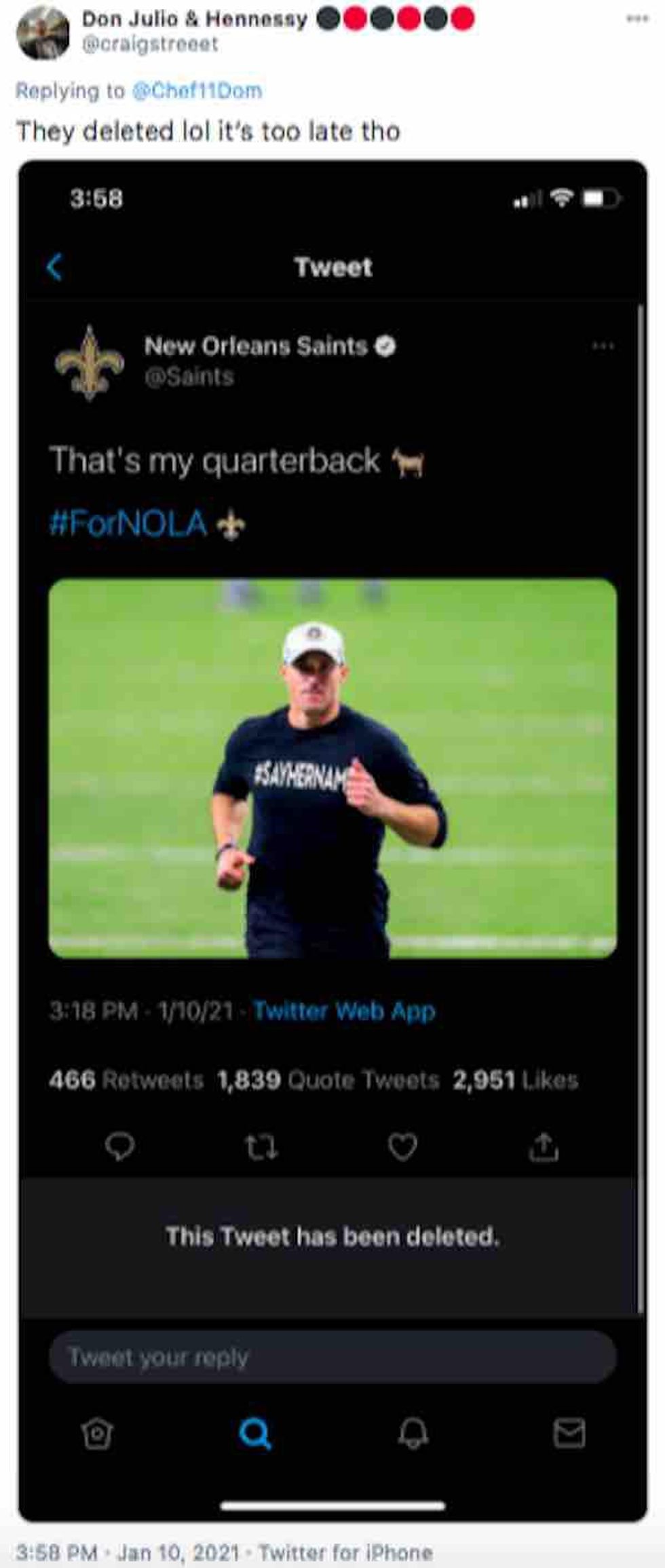 Image source: Twitter
The Saints soon tweeted another photo — without Brees as the visual focal point — noting that the shirt "is for the Saints Players Coalition initiative to amplify the voices and experiences of black women."
#SayHerName shirt is for the Saints Players Coalition initiative to amplify the voices and experiences of black wom… https://t.co/bXBjLdRHKk

— New Orleans Saints (@New Orleans Saints) 1610311435.0
Oh, and the Saints failed to lose by 10, as the aforementioned Twitter user predicted — rather they won by 12, with Brees tossing two touchdown passes in a 21-9 victory over the Bears.