Scott Adams — famed "Dilbert" cartoon creator and more recent political commentator — absolutely nailed liberal hypocrisy Monday during his daily video rundown of the news.
What's the background?
Adams elicited quite a number of headlines a few years back after he predicted that then-candidate Donald Trump would handily defeat Hillary Clinton for president based on Trump's persuasion skills — and despite endless polls to the contrary:
Real Time with Bill Maher: Dilbert Creator Scott Adams (HBO) youtu.be
Despite being clear soon after that he wasn't endorsing Trump, Adams still felt the wrath of the once-friendly left, and his lucrative speaking engagements quickly evaporated.

Fortunately Adams is still cartooning and apparently has socked away enough cash that being a victim of cancel culture didn't leave much of a monetary mark on him. And more than that, Adams has become a full-fledged Trump fan and severe critic of the left — akin somewhat to commentator Dave Rubin's sociopolitical evolution.
What did Adams say about liberals?
On his Monday video rundown of the news, Adams discussed Democratic presidential frontrunner Joe Biden's possible choice for a vice presidential running mate and noted a poll saying former presidential candidate Sen. Kamala Harris of California came in first and former candidate and entrepreneur Andrew Yang came in second.
Meanwhile Biden in recent days has promised to nominate a woman to be his vice presidential running mate — and a black woman for Supreme Court if he wins the White House.
With that, Adams humorously lamented Yang's lack of female gender as well as the fact that he doesn't check off the correct minority status box, either.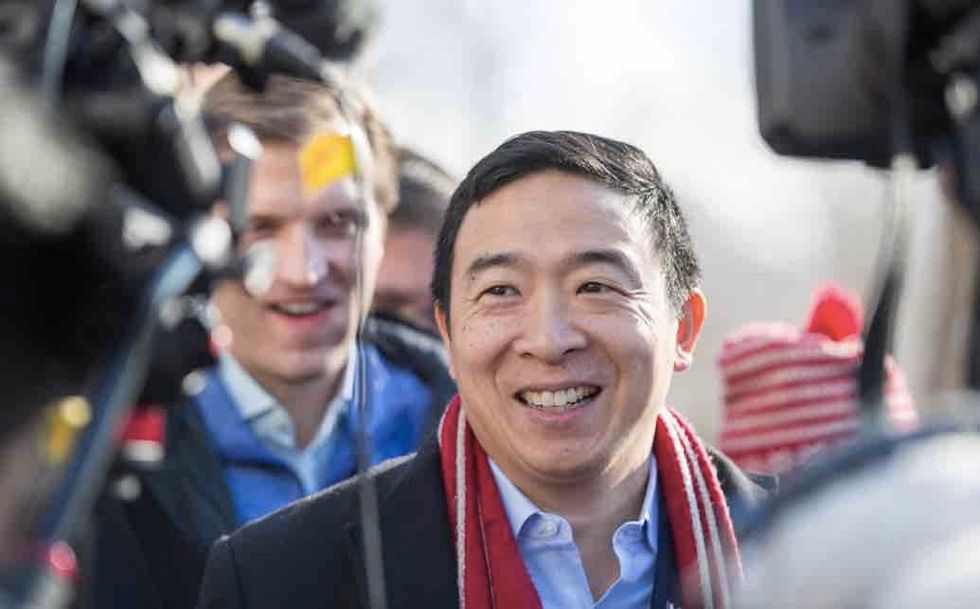 Democratic presidential candidate Andrew YangPhoto by Scott Eisen/Getty Images
"How would you like to be Andrew Yang, and you joined a team — Team Democrat — you fought for months and months, you lost sleep, you worked hard, you fought and fought for your team, and then your team said, 'Thank you very much, Andrew Yang, thanks for being part of the process. Now we're gonna pick a vice president, but we're only gonna choose from among people who do not have a penis,'" Adams said.

Adams also lamented that Yang — who's also an attorney — doesn't appear to be on Biden's Supreme Court nominee radar, either, since he's Asian and not black.
'Until somebody comes for your stuff'
"The thing about being liberal is that it's a great idea — until somebody comes for your stuff," Adams continued. "Until somebody comes for your stuff, it's easy to be liberal because you're giving away other people's stuff."
Adams continued, hypothetically speaking to Yang: "But Andrew Yang — they just came for your stuff. How's it feel? And while I don't think you're ready to be a Republican, the Democrats did throw you under a bus, ran over you, and then backed up over you to make sure the job was done. Because it's not enough that you have a penis — you also have the wrong ethnicity for your own party. Sorry."
Here's the clip, which starts at the mark:
Episode 853 Scott Adams: Simultaneous Sipping, #Coronavirus, The Nursing Home Pillow Fight youtu.be