A quick stop at Starbucks cost one Oklahoma man more than he bargained for when an error caused him to be charged almost $4,500 for two coffees, and he and his wife had to cancel an upcoming family vacation as a result.
On January 7, Jesse O'Dell went through the drive-thru of a nearby Starbucks in Tulsa, Oklahoma. For almost 16 years, Jesse made that trip almost every day, ordering an iced Americano for his wife, Deedee, and a caramel frappuccino for himself, which usually cost him just over $11. But on that day, a mysterious $4,444.44 gratuity was somehow added to the bill, bringing the total charged to his credit card to a staggering $4,456.27.
At first, Jesse did not notice the issue, but a few days later, Deedee attempted to use the same card when shopping at the mall with their four children, and the card was declined. Jesse then immediately contacted the Starbucks district manager, who gave him a copy of his receipt, showing the exorbitant gratuity.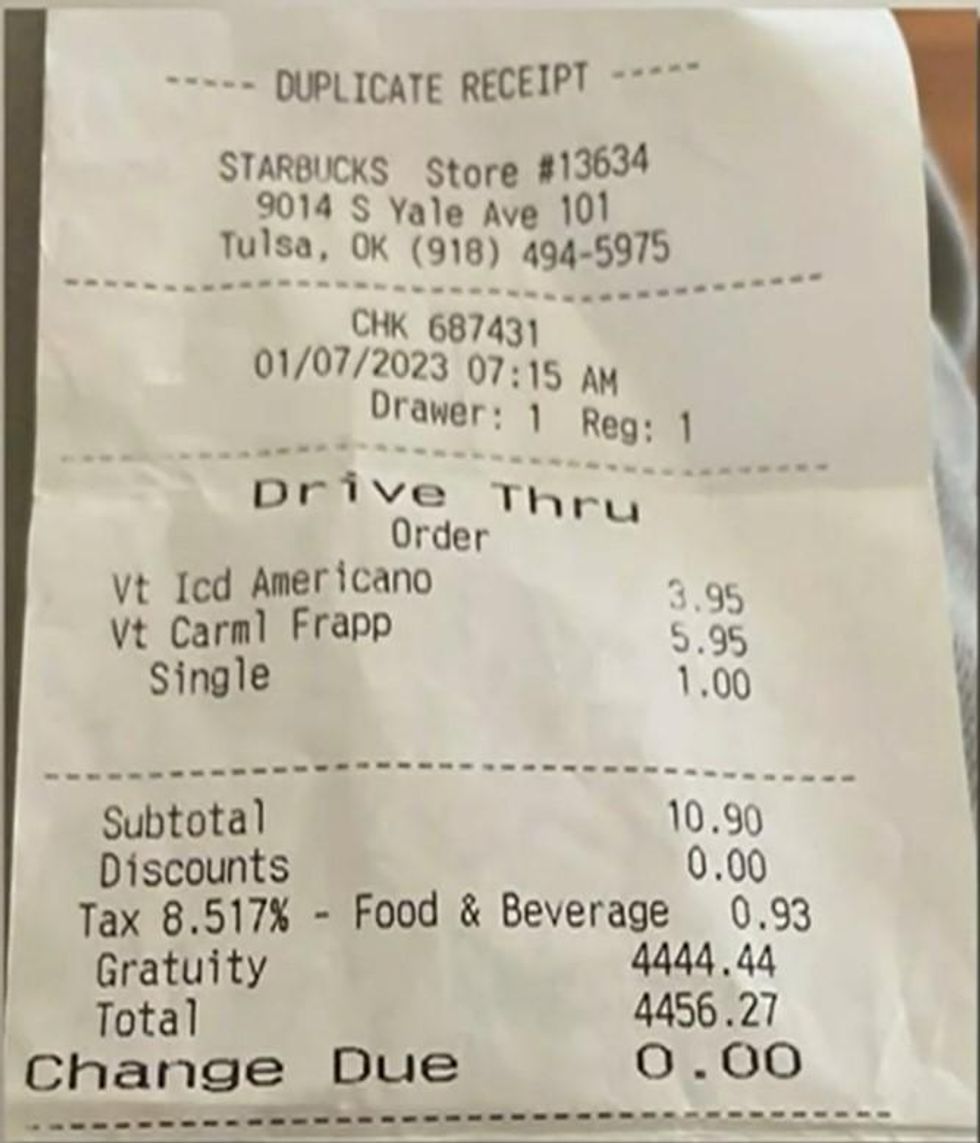 Screenshot of KOKI-TV video
Starbucks then also promised to correct the error by issuing the couple two checks that would cover the cost. Sure enough, they received the two checks in short order and went to the bank to deposit them. However, both of those checks bounced, leaving the couple angry and frustrated.
"We contacted their consumer service helpline probably 30-40 times that day," Jesse said.
A Starbucks spokesperson later claimed that the checks bounced because of a typo and that the family has since received two new, valid checks, which have been cashed.
Unfortunately, that second round of checks came too late for the O'Dells, who had a "once in a lifetime" vacation to Thailand planned. Deedee, who was born in Thailand but adopted and raised in the United States, has not seen her sisters in nearly two decades. The family was scheduled to make the trip on January 27, but had to cancel because of the missing funds.

"These tickets are non-refundable," Jesse lamented.
The O'Dells did file a formal report with Tulsa police regarding the issue, but that report was closed after the new checks were cashed.
The Starbucks spokesperson also indicated that Jesse may have accidentally made the tipping error himself on the credit card machine in the drive-thru, but Jesse denied that allegation. "I know how to press buttons. I didn't press that button," he said, claiming instead, "If it wasn't the barista, then it's definitely [Starbucks'] network, which is a really big issue."
Whether the O'Dells have been compensated for their canceled trip is unclear, but the couple wants other prospective Starbucks patrons to monitor their credit card receipts carefully.
"This is something that has caused duress in our family," Jesse said, "and hopefully others don't have to go through something like this."
The family has not decided whether they will ever purchase coffee from Starbucks again.
Like Blaze News? Bypass the censors, sign up for our newsletters, and get stories like this direct to your inbox. Sign up here!