A handful of Planned Parenthood supporters put on quite the show last month at the University of Texas at San Antonio — frolicking upon and mocking pro-life Cemetery of the Innocents display of tiny crosses to memorialize abortion deaths, Students for Life reported.
The April 9 demonstration was in protest of the Students for Life Planned Parenthood Truth tour, Students for Life said, and each protester held a "I Stand With Planned Parenthood" sign.
While it doesn't appear the protesters knocked down or stole any crosses, they had plenty to say — and a video camera documented their declarations.
What did the Planned Parenthood protesters have to say?

One woman was seen running over to the group from a campus building and yelling "I had an abortion!" to a smattering of cheers and applause. As she neared her comrades, she took note of one cross and said, "Look! There's mine right there!"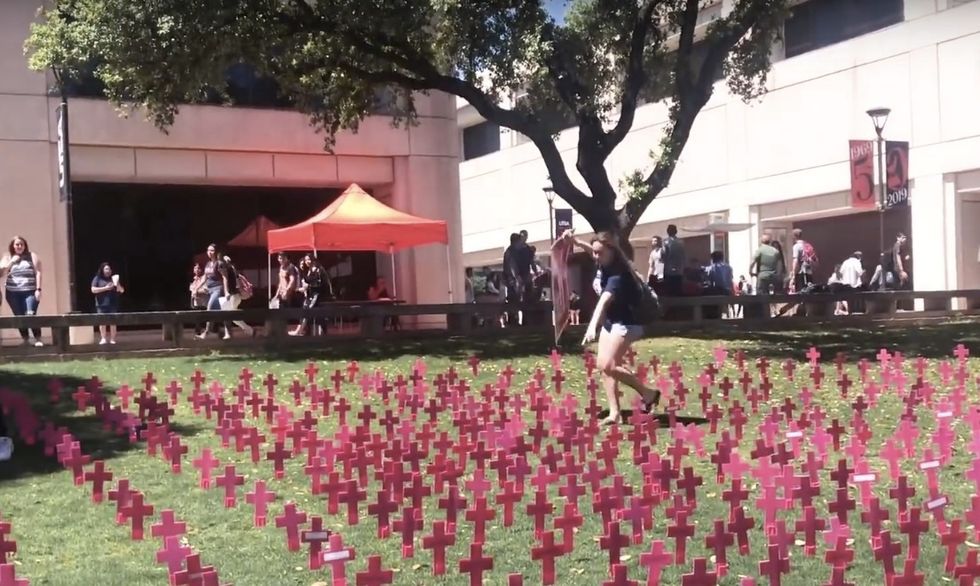 Image source: YouTube screenshot
Another mocked the "fetus graveyard" while another changed the lyrics of iconic 1960s anthem "For What It's Worth" by chanting, "Stop, hey, hey, what's that sound? All the fetuses are in the ground!"
'I had an abortion!' one protester sang in a playground-like taunt.
Other thoughtful statements included:
"I'm so slutty! I got pregnant, so I had to get an abortion!"
"Jesus still loves me, though!"
"I just love to have sex and abort fetuses!"
"I am extremely proud of it!"
"I exercise my right to choose!"
"I love advocating for abortion!"
Sarah Zarr, Texas regional coordinator for Students for Life, noted that one protester "told me I was using my white privilege and 'wasn't allowed to be out there talking about this issue when it affects black women.'"
Here's the clip. (Content warning: One pro-choice F-bomb):
Planned Parenthood Supporters Brag About Their Love Of Abortionsyoutu.be
(H/T: Louder With Crowder)