Leaders of a planned Straight Pride Parade in Boston said they received suspicious letters, which prompted responses from the Massachusetts State Police bomb squad, the FBI, and fire departments, WBZ-TV reported.
The letters were sent in the United States with no return addresses, sources told the station.
Parade organizer Samson Racioppi told WBTS-LD the letter he received was taped shut: "I could hear something shaking ... it was probably bigger than grains of sand, and I was immediately suspicious."
Aww, bless their hearts

Turns out the envelopes were filled with glitter and Bible verses — and signed at the bottom "Happy Pride" in rainbow colors, WBTS added, citing a source tied to the investigation.
One verse was Psalm 86:15: "But you, Lord, are a compassionate and gracious God, slow to anger, abounding in love and faithfulness"; another verse was Matthew 5:44: "Love your enemies, bless them that curse you, do good to those that hate you," the station added.

Not much of a joke
Another organizer John Hugo found a similar letter and called police, WBZ said, adding that a third member of the group also found a letter.
"We, of course, called the police," Hugo told WBZ. "I mean, why would we open something like that? Even if it's nothing ... it's still terrorism as far as I'm concerned because obviously it's meant to intimidate us."
Racioppi added to the station that the envelope he received set off "all of these are red flags for me ... I was immediately alarmed of course."
WBZ added that a similar letter also was sent to Boston City Hall where an employee opened it Monday.

'Legit use of the mail'
The FBI said there's no threat to public safety, WBTS reported, adding that it's working with local agencies to identify the source of the threats.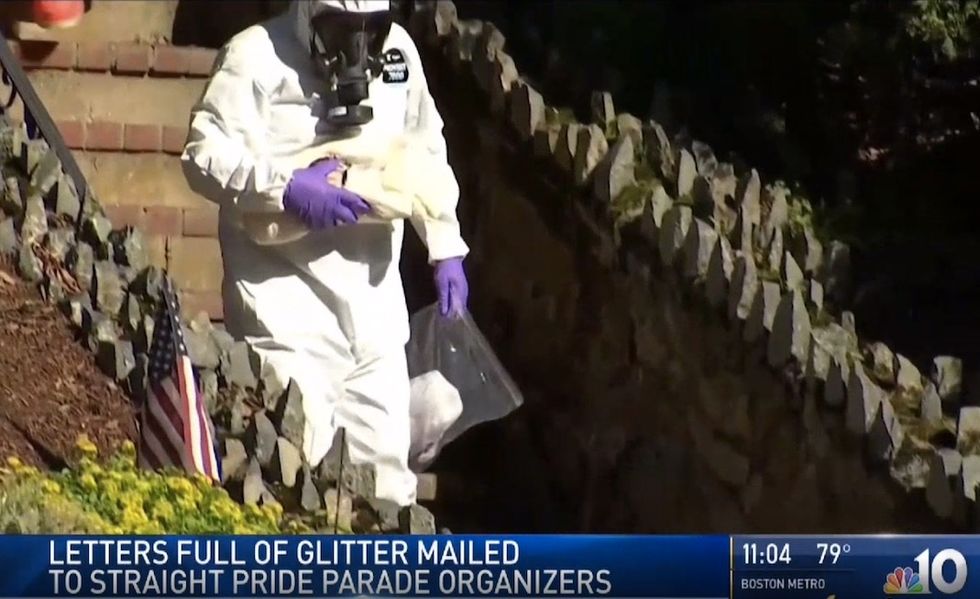 Image source: WBTS-LD video screenshot
However, the letters don't appear to have broken state or federal laws, the station added, citing a law enforcement source.
"Right now we believe this is a legit use of the mail," the source noted to WBTS.
'It will make us more determined'
As you might guess, the group behind the Straight Pride Parade — Super Happy Fun America — has received its share of hate mail, and leaders' addresses have been posted on the internet, Hugo told WBZ.
But Racioppi told WBTS that the suspicious letters and related static won't derail the Aug. 31 event.
"If anything, it will make us more determined," he said.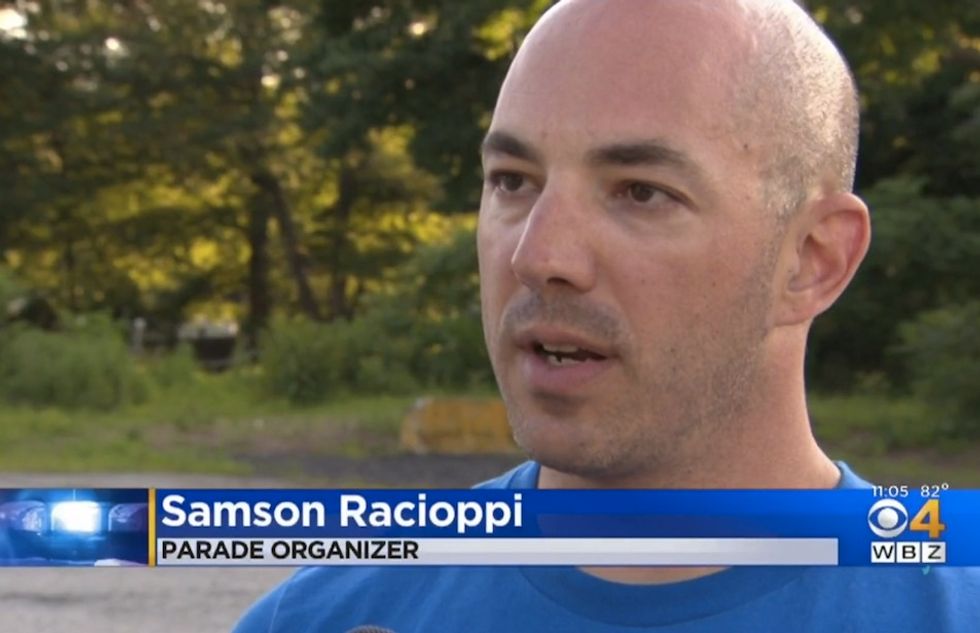 Image source: WBZ-TV video screenshot
"We're a sexual orientation just like many others," Hugo told WBTS. "We don't hate anyone. We just want to have our own celebration just like everybody else has a right to. All people from all communities are welcome, so long as they show mutual respect."
More from WBTS:
While its organizers say they are serious about bringing the parade to Boston, the parade has been widely mocked as a stunt — it was announced at the start of LGBTQ pride month, and its many vocal opponents have argued that straight people haven't suffered the same years of oppression that prompted the widespread LGBTQ pride celebrations.
As it happens, gay political provocateur Milo Yiannopoulos — no friend of leftists or the LGBTQ crowd — is supposed to be the parade's grand marshal.
The office of Boston's Democratic Mayor Marty Walsh said the city can't stop the parade "based on an organization's values," Walsh spokeswoman Samantha Ormsby told the Boston Herald, adding that Walsh "will not be attending these events."