An Oklahoma mother isn't too happy after her 14-year-old son was handcuffed this week at Alice Robertson Junior High in Muskogee and taken away by an officer in front of his friends — and all for missing too much school, KOTV-DT reported.
"It's ridiculous that they feel threatened by a 14-year-old child that hasn't done anything to anybody," the mother, who went only by Stephanie, told the station.

Stephanie added to KOTV that her son was "embarrassed" after being taken to Muskogee's Child Intervention Center.
"He comes out and the first thing he says is, 'Mom, my wrists hurt.' … and I said, Why? And he said, 'The handcuffs were tight,'" she told the station.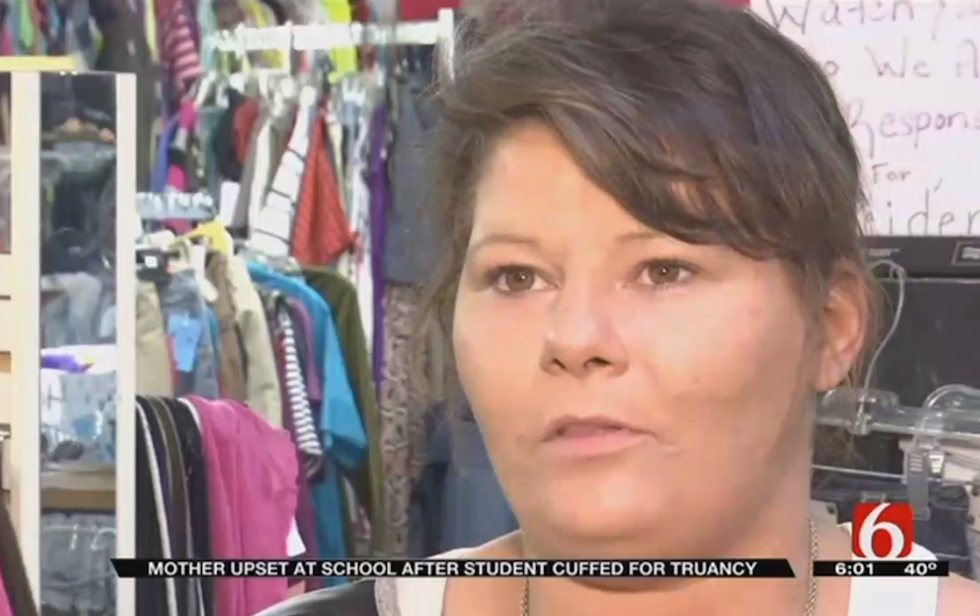 Stephanie, the student's motherImage source: KOTV-DT video screenshot
Stephanie told KOTV her son hasn't missed all the days the school claims, but the district countered that it only does something like this in an extreme case.

"This is a last resort," Muskogee Schools spokesman Steve Braun told the station. "This is the last thing we want to have happen."
Braun told KOTV tickets are issued only after a student misses four or more days of school in a four-week period: "We want our students to be in school. They can't learn if they're not there."
He added to the station that district officials take this kind of action only when they can't reach the parent — and Braun added that reports the student was arrested are false.
"It's more just taken into custody in a sense," Braun told KOTV. "Handcuffing is a safety precaution if they're going to be put into a patrol car."
The district wouldn't say exactly how many days the student missed, the station noted, and the teen's mother was unclear how many days the school said he missed. The district added to KOTV that it plans on working to improve communication with parents to avoid similar situations in the future.
(H/T: EAG News)