A Nashville special education teacher — arrested five times in six months — is now on administrative leave, WSMV-TV reported

WSMV said it obtained arrest affidavits for Mary Wade of Hillwood High School who faces charges of aggravated stalking, harassment, and restraining order/order of protection violations.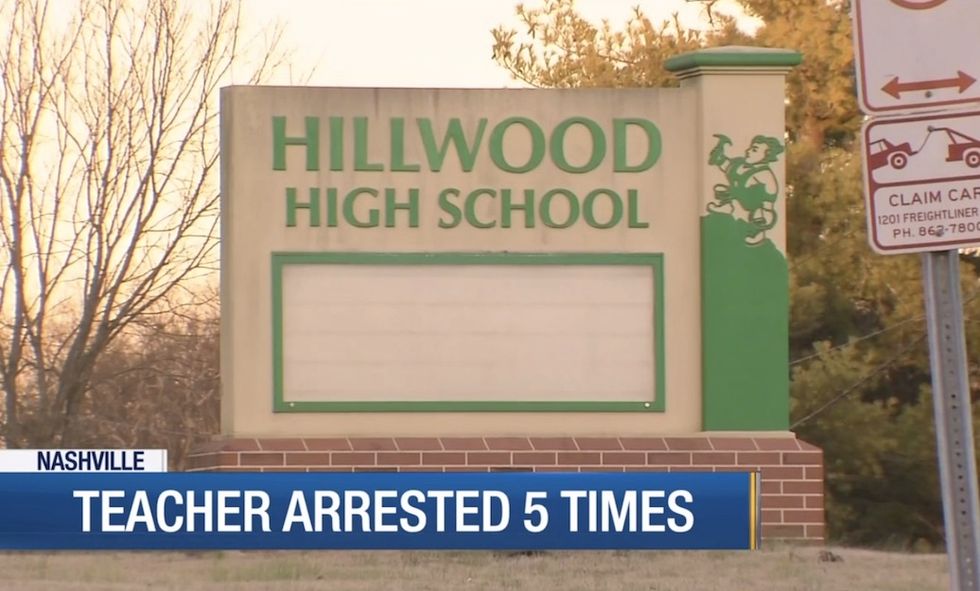 Image source: WSMV-TV video screenshot
What are the details?

Wade and her husband are separated, WSMV said, citing the documents, and Wade is accused of repeatedly violating her husband's order of protection.
The documents also state Wade sent her husband death threats, harassed him on social media, and attempted to contact him through blocked numbers and fake Facebook accounts, WSMV reported.
WZTV-TV reported that the charges against Wade date back to June 2018, and that her most recent aggravated stalking charge indicates she's accused of calling her husband's work asking if he was employed there and saying police were on their way to arrest one of their employees. The station added that she posted a photo of her husband to Instagram during one of their court proceeding saying he failed to protect her.
Wade continued to teach at Hillwood High after her arrests last year, WZTV reported, citing information from police and Metro Public Schools.
The school district said Wade has been working there since 2014, WSMV reported, and that it's the district's understanding that she's been placed on leave at the school level before but couldn't give details about the reason.
What do parents have to say?
"You would expect that a professional that deals with children and parents would try to keep a clean record," parent Erica Munsell told WSMV.
"Five times in six months is a lot," mother Sharon Shride told WZTV. "She should have learned her lesson the first arrest, and she's a role model, so what she does outside of the school does affect the children, it's not secret, whatever's hidden is gonna come out in the light eventually."
Parent Ana Garcia — who has a child in the high school's special education program — added to WSMV that she was "shocked" by the news.
"We need these kids safe in our school, and we don't need people like that in our school," Garcia added to the station, noting she's glad to learn the school knows about the charges and that Wade is now on administrative leave.
But not everyone felt similarly.
"It seems like it's a personal thing between her and her husband or ex-husband, and I don't see how that involves the school or any children," grandfather Lennie Minter told WZTV. "A lot of people get demonized and things said about them, make a big mountain out of it, and a lot of times it's not about anything."

(H/T: EAGNews)