Citing concerns over left-wing threats of violence, the Dartmouth College Republicans indefinitely postponed a policy talk on the need for border security and New Hampshire's opioid crisis, NHJournal reported.
What are the details?
Republican U.S. Senate candidate Corky Messner was slated to speak Tuesday on "Building a Wall Against Drugs: The Need for Border Security to End the Opioid Crisis," the outlet said.
"The security risk has outpaced our capacity to handle the potential protests. Given the reaction and the subject matter, and the threats against our members, we're facing a security problem bigger than we can handle," Daniel Bring, chairman of the Dartmouth College Republicans, told NHJournal. "There's a large contingent of radical leftists on campus who have descended on events in the past in order to shut down speech they don't agree with. They pound on doors, rush the podium and harass the speakers. The backlash has been so great, we're not prepared to say we will have the necessary security."
Bring added to the outlet that group members have received specific threats and alerted campus security and Hanover police: "It's not just a single comment here or there; it's the wider situation and the threat of radical, intense protests."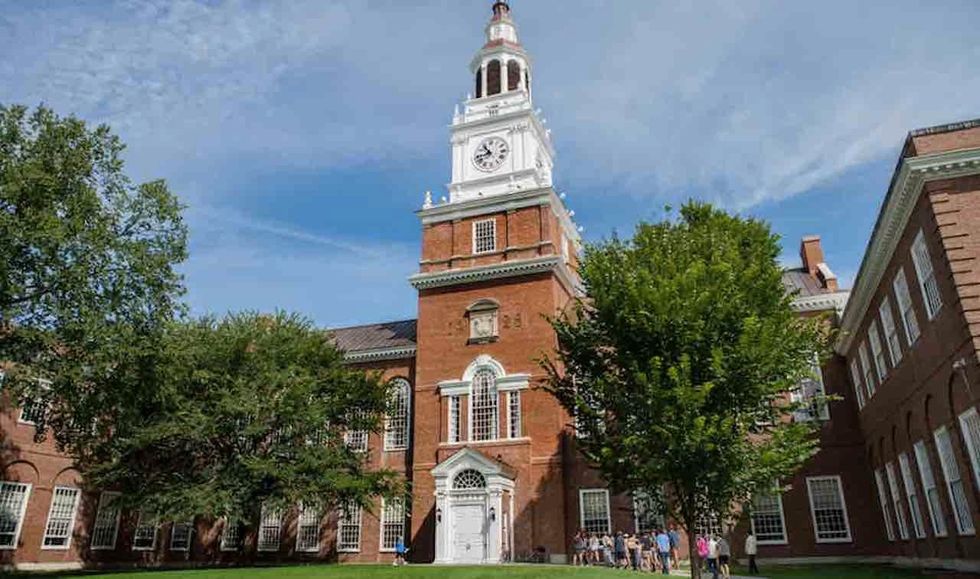 Dartmouth College, Hanover, New HampshirePhoto by: Education Images/Universal Images Group via Getty Images
Griffin Mackey, secretary of Dartmouth College Republicans, told NHJournal that members heard threats directed toward the group as well as Messner.
"We don't know if they were serious or not, but our first priority has to be an event that's safe and where people who want to hear our speaker feel welcome," Mackey said.

Mackey added to the outlet that he was concerned about tactics College Democrats have used in the past, noting that when conservative author David Horowitz spoke in 2018, College Democrats showed up with laptops, sat in the crowd, logged on to porn sites, and cranked up the volume. "I'm not kidding," he said.
What did Messner have to say?

Messner told NHJournal that he's frequently "encountered situations where the healthy exchange of ideas is discouraged by those who apparently feel threatened by even the existence of opposing viewpoints" and that "the situation at Dartmouth College is the most egregious example I've encountered of this intellectual intolerance. Thanks to the efforts of those agitators who disagree with the planned event topic — the mere topic itself, mind you — we are denied the right to assemble, the right to listen to others' viewpoints — to even express ourselves. Ironically, freedom of speech is demonized at an institution of higher learning, where expression and exploration of ideas should be exalted, not stamped out."
No sympathy from College Democrats
"When the College Republicans encounter pushback for hosting racist events, they cry censorship," Katie Smith, communications director for Dartmouth College Democrats, added to the outlet. "It is not censorship to call out racism when you see it. We encourage everyone to use their right to free speech to voice their opinion on the matter."
In addition, NHJournal said College Democrats issued a statement denouncing the "xenophobia and racism" of the talk, saying they "unequivocally condemn this illegitimate excuse for a 'policy talk.' We won't stand for the racism and anti-immigrant policies propagated by Corky Messner and endorsed by the Dartmouth College Republicans."
What did other opponents of the talk have to say?
"The College Republicans can — and I cannot stress this enough — f*** off," a class of 2023 member tweeted, the outlet said.
"I say Dartmouth Twitter should band together and jump the College Republicans for that email/event. I'm sure none of them can fight," another commenter tweeted, adding an invitation to a progressive counter-event, NHJournal said.
Anything else?
The New Hampshire Federation of College Republicans issued a statement calling the threats "an insult to the First Amendment," the outlet said.
"The right to freedom of speech and thought is a unique value in our society that is increasingly under attack from the far left, especially on our college campuses," the statement continued, according the NHJournal. "This type of behavior should not be tolerated by Dartmouth College or its administration — it's time for colleges and universities to stand up and denounce this type of egregious behavior by their extreme left students."