Transgender activist Jessica Yaniv — a biological male who identifies as a female — is pushing for LGBTQ "topless" swim parties for children as young as 12 at pools run by a Canadian town. And one of the stipulations is that parents and guardians are barred from attending.
One proud lesbian. I'll never give up fighting for human rights equality. #LGBTQoftwitter https://t.co/sKyjJ0Um39

— Jessica Yaniv (@Jessica Yaniv) 1560723400.0
You might recall Yaniv filed over a dozen complaints against salons that refused to wax the activist's male genitalia. In addition, Twitter permanently banned a free-speech activist who called Yaniv a "fat ugly man" amid an online spat.
What are the details of the proposed 'topless' swim parties?
Yaniv petitioned the Township of Langley in British Columbia to allow the "topless" LGBTQ swim parties at three municipal pools. Here's a document detailing the request from the township's website: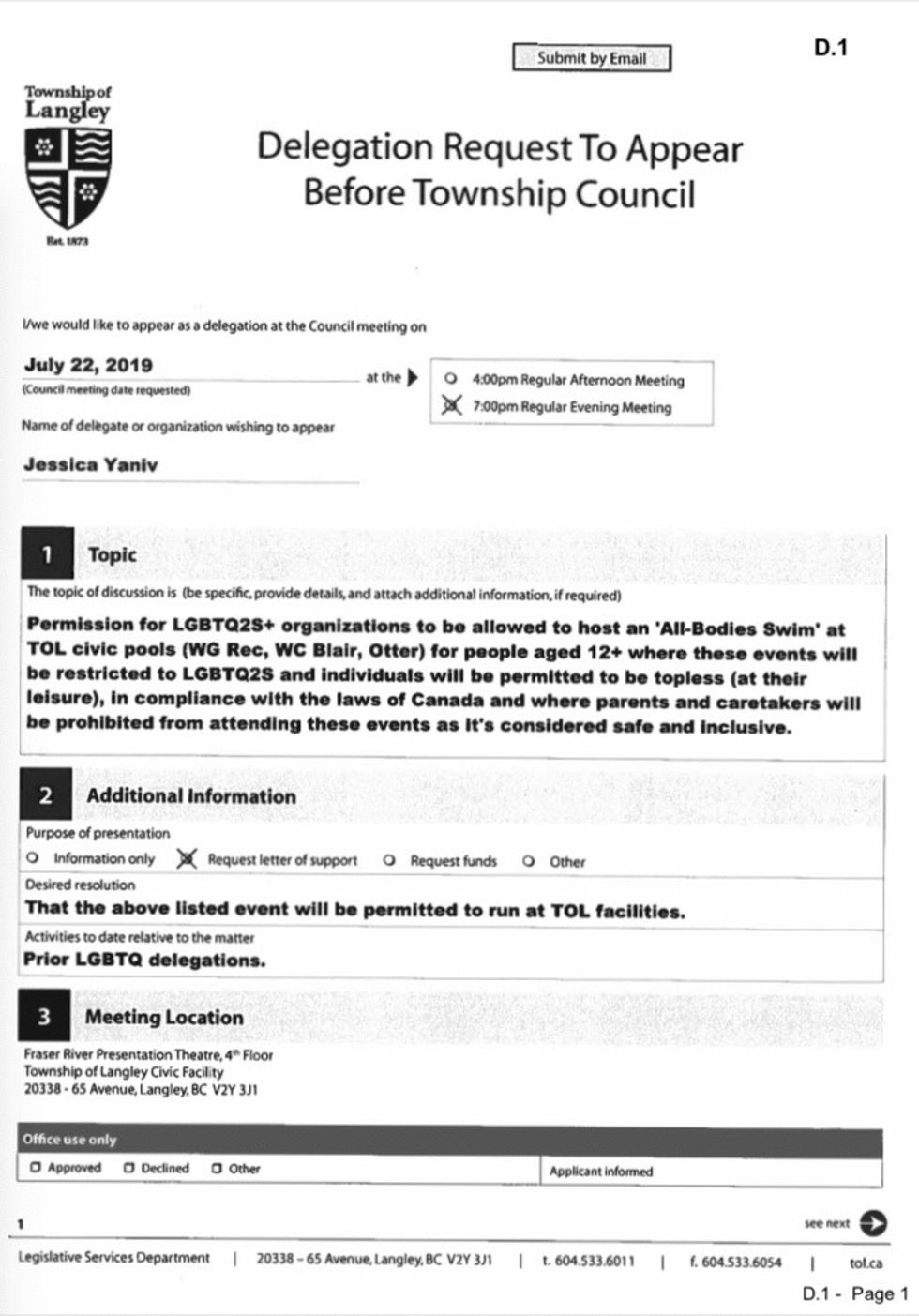 Image source: Township of Langley
The paperwork indicates the "All-Bodies Swim" is for "people aged 12+" and "restricted to LGBTQ2S." In addition, the document adds that "individuals will be permitted to be topless (at their leisure)" — which, as you can guess, likely isn't as much of an issue for males as it would be for females.
The document also says "parents and caretakers will be prohibited from attending these events as it's considered safe and inclusive."

What happened at the meeting?
While Yaniv's delegation wanted to appear before the township council Monday night to get permission to hold the "All-Bodies Swim" events, TheBlaze on Tuesday confirmed with a council member that the matter was postponed until September.
How did Yaniv react?
Yaniv didn't seem upset by the decision, tweeting that the postponement "gives me more time for ammo!"

What did others have to say?
Observers on Twitter didn't seem thrilled by Yaniv's "topless" pool parties for kids:
"Good on you for using the trans community to shield your perverted desires. Don't worry, fathers like me save up on ammo too."
"Separating 12 y/o children from their parents at a topless bathing event? Sounds like the design of a sick pervert, not an activist for trans rights!"
"You truly could possibly the worst human-being I've been fortunate enough never have had the displeasure of meeting. I hope you get professional help; whether it's voluntary or court mandated will likely only be a matter of time."
"Disgusting predatory individual."
"I wish i still lived in BC! What parent in their right mind, would EVER allow their 12 or any age near this disgusting grooming event! Do what u want with consenting mature adults! Stop 'including' children!"
Anything else?
A similar pool party was set to take place earlier this month but was shut down due to "community response," which led organizers to conclude "we can no longer offer a safe and comfortable environment for the youth that wished to attend the Youth All-Bodies Swim."