A transgender powerlifter who is a biological male has won a discrimination lawsuit against USA Powerlifting.
What are the details?
JayCee Cooper filed a discrimination claim with the Minnesota Department of Human Rights in 2019 against USA Powerlifting for banning Cooper and all other trans women athletes from participating in women's competitions, KARE-TV reported.
Then Cooper — through Gender Justice — filed a 2021 lawsuit against USA Powerlifting, the station said.
KARE reported that a judge has ruled that USA Powerlifting did discriminate against Cooper.
"I was fed up with the way that I was being treated, I was fed up with the way that my community was being treated, and enough was enough," Cooper told the station.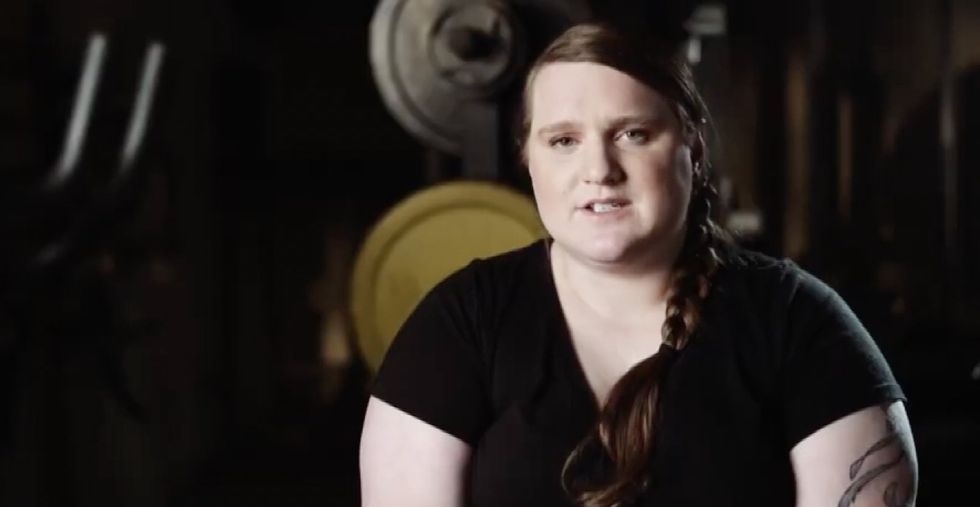 Image source: KARE-TV video screenshot
"I feel mostly relief," Cooper added to KARE. "I think we needed a win here, and it feels good to get that."

The station noted that Cooper said in a 2021 video produced by Gender Justice that "I never even got a chance, you know? No one should have to experience that kind of isolation and othering."
Now what?
The ruling includes a cease-and-desist order on USA Powerlifting regarding all unfair discriminatory practices in relation to sexual orientation as well as a request that the agency submit a revised policy, KARE said.

Cooper added to the station: "After years of experiencing discrimination from USA Powerlifting, and the backlash that has occurred due to that, of course I have complex feelings about the sport. But I think that this win ... is a representation of where we can move forward."
What did USA Powerlifting have to say?
Lawrence J. Maile, president of USA Powerlifting, said in a statement that his organization will be considering "all of our options" in the wake of the judge's ruling, KARE reported.
"USA Powerlifting has been involved in litigation in Minnesota involving participation of transgender women in competitive powerlifting. Our position has been aimed at balancing the needs of cis- and transgender women, whose capacities differ significantly in purely strength sports. We have received a summary judgment decision from the Court finding us liable for discrimination. We respectfully disagree with the Court's conclusions. We are considering all of our options, including appeal," the statement read, according to the station.
Anything else?
In 2019, left-wing U.S. Rep. Ilhan Omar asked Minnesota Attorney General Keith Ellison to investigate USA Powerlifting for banning Cooper, saying in a letter that "the myth that trans women have a 'direct competitive advantage' is not supported by medical science, and it continues to stoke fear and violence against one of the most at-risk communities in the world."
Like Blaze News? Bypass the censors, sign up for our newsletters, and get stories like this direct to your inbox. Sign up here!