For the first time in the history of the National Football League, a pair of brothers faced off against each other in the Super Bowl.
No doubt Travis Kelce — superstar tight end for the Kansas City Chiefs — was happier than his brother Jason Kelce — superstar center for the Philadelphia Eagles — given the Chiefs bested the Eagles in a 38-35 thriller Sunday night.
But with their mom and dad in attendance, you'd have to figure there were deeper things on the brothers' hearts and minds after the game — and you'd be correct.
As it happens the Kelce brothers launched a popular podcast this past season — "New Heights with Jason & Travis Kelce" — during which they provide "next-level access to life in the league as it unfolds" once a week.
On Wednesday's episode they sure delivered, shedding light — and some tears — on how they felt about their parents being in Phoenix for the big game.
"The moment I saw Mom is when I got really emotional because, man, it was so awesome," Jason Kelce said before pausing to compose himself.
But it was no use — tears for both brothers were on their way.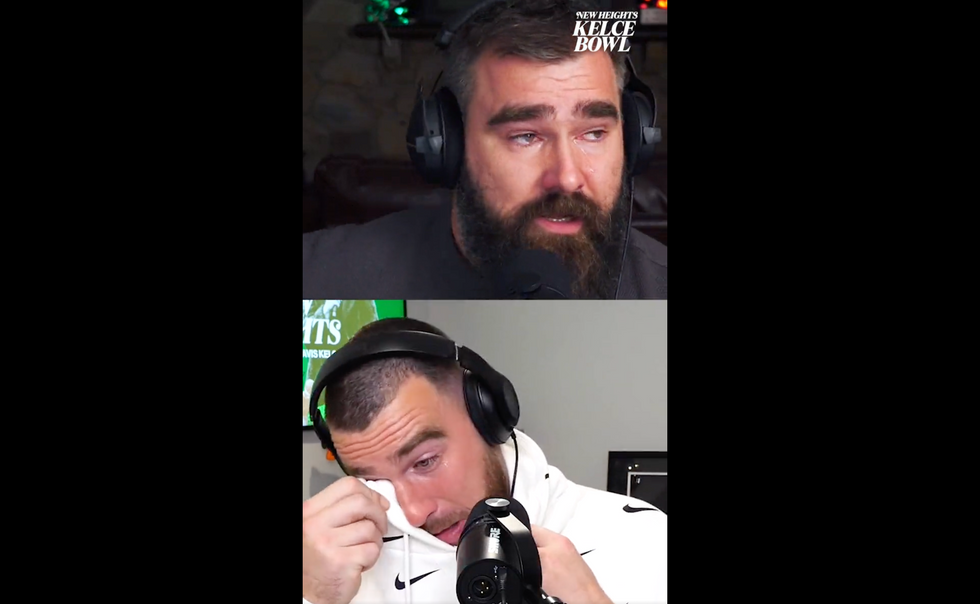 Image source: Image source: Twitter video screenshot via @newheightsshow
"It was awesome ... she was on top of the world for a week," Jason Kelce continued before Travis Kelce added a tearful, "She was the heavyweight champ, man."
"She was on top of it, and she shined the whole time, man, and that was the coolest part," Travis Kelce continued. "Mom, you absolutely killed it. Dad, you've been killin' it."
"Yep," Jason Kelce agreed, adding that "it was just so cool, man, to see ... her get to celebrate in that with us."
"Yeah, I'm with you, brother," Travis Kelce added.
"It was an awesome moment. Just so happy for her, and just so happy that she got her moment, and Dad got his," Jason Kelce continued.
"Ironically, you lose a Super Bowl, and you're crying after the game, and they're not tears of sadness; they're tears of joy," Jason Kelce said.
Here's the clip:
The Kelce brothers are two years apart in age; Jason is Travis' older brother. They both played football for Cleveland Heights High School in Ohio as well as for the University of Cincinnati — and they both were drafted to NFL teams. In addition, they both have played for Super Bowl-winning teams: Jason with the 2017 Eagles and Travis with the 2022 and 2019 Chiefs. It's widely acknowledged in sports-talk circles that Jason is a lock for the Hall of Fame one day — and that Travis likely will join him there, too.
Like Blaze News? Bypass the censors, sign up for our newsletters, and get stories like this direct to your inbox. Sign up here!