Fake news was being distributed to commuters in and around the nation's capital Wednesday.
No, really.
Liberal activists passed out thousands of trumped-up print copies of a phony Washington Post newspaper that looked "strikingly similar" to the real one but it was dated in the future. The paper was filled with fake news about President Donald Trump.
"The print papers — dated May 1, 2019, and looking strikingly similar to actual copies of The Post — were filled with anti-Trump stories, which also appeared on a website that mimicked the official Post site," the Washington Post reported.
The Post tweeted a statement just before 10 a.m. after it caught wind of the situation.
"There are fake print editions of The Washington Post being distributed around downtown DC, and we are aware of a website attempting to mimic The Post's. They are not Post products, and we are looking into this," the newspaper wrote.
Who published the fake paper?
A liberal activist group called The Yes Men claimed responsibility for fabricated newspaper and website. The website went offline Wednesday afternoon.
The group, which described itself as "trickster activist collective," issued a news release about the stunt.
Andy Bichlbaum, one of the Yes Men co-founders, told the Post that the newspaper was meant to provide ideas on ways to support Trump's impeachment.
"The idea was a newspaper from the future and how we got there — like a road map for activists," he said.
What did the fake newspaper say?
"Unpresidented. Trump hastily departs White House ending crisis," the newspaper's spurious top headline read.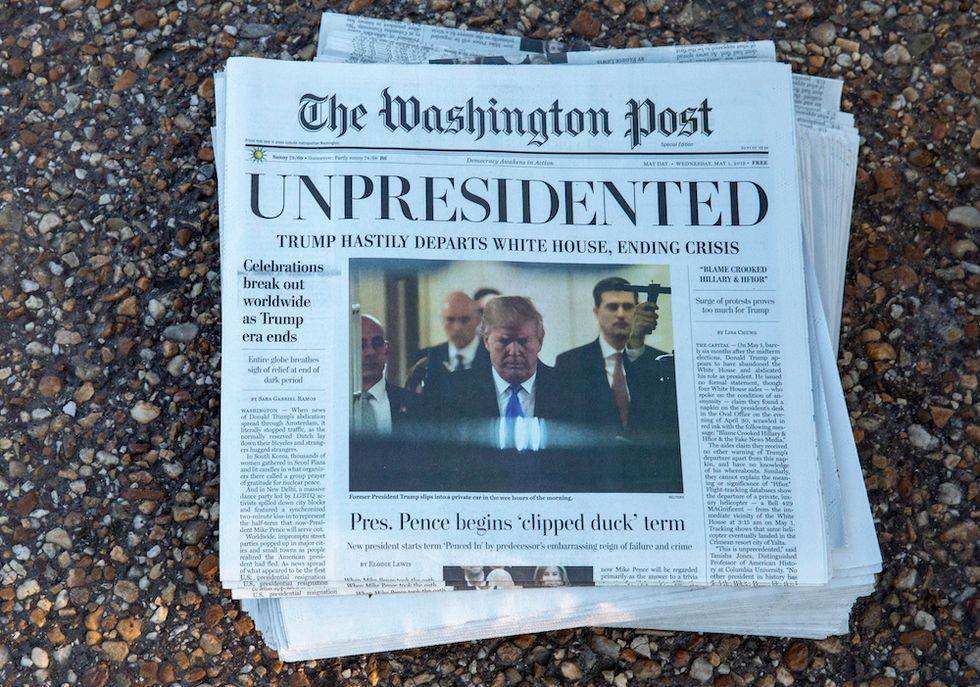 Activists Distribute a fake edition Of The Washington Post.
Tasos Katopodis/Getty Images for Yes Labs
The lead story claimed that Trump had written his resignation on a napkin in the Oval Office before leaving for Yalta, the Crimean resort that was the site of a meeting of Allied leaders during World War II, according to the Washington Post.

The newspaper included a false story about Vice President Mike Pence being sworn into office.
How much did it cost to print the fake paper?
Bichlbaum told the Post that it cost about $40,000 to create the mock print newspaper and website. The organization raised $36,000 from its mailing list, he added.
The group distributed about 10,000 of the 25,000 copies it printed.
Bichlbaum said that the group, which is a collaboration between him and author-activists Onnesha Roychoudhuri and L.A. Kauffman, created a fake copy of the New York Times after President Barack Obama was elected in 2008.
It featured stories that depicted liberal activists putting pressure on the Obama administration.