© 2023 Blaze Media LLC. All rights reserved.
Two San Francisco prosecutors quit their jobs to join recall effort against their former boss — far-left socialist DA Chesa Boudin
Chesa Boudin's election as San Francisco's district attorney in 2019 garnered cheers from his far-left fans, given Boudin's long history of left-wing activism — including a stint working for the late Venezuelan socialist dictator Hugo Chavez.
Oh, but there's much more:
His parents were with the Weather Underground and spent time in prison for murders carried out on behalf of the radical, terrorist organization. Indeed, socialist magazine Jacobin describes Boudin as "the child of revolutionaries."
While Mom and Dad were behind bars, other Weather Underground members helped raise Boudin — and he noted to Jacobin that Weather Underground bomber Bill Ayers and his wife Bernardine Dohrn were his "adoptive parents."
After his election to the DA's chair, Boudin declared that under his leadership, San Francisco — already battling filth and crime on its streets — wouldn't prosecute quality-of-life crimes such as public urination and public camping, or even prostitution.
Just two days into his term, Boudin fired seven prosecutors — many of whom were tough on crime.
And San Francisco's crime problem has only gotten worse, as crooks now brazenly enter stores and shoplift in plain sight, often while video runs. They also bust-out vehicle windows and snatch property in broad daylight. Indeed, things are so bad now that some city residents have hired private security to patrol the streets and protect their families.
Backlash has commenced
It may come as no surprise even in far-left San Francisco that there's an effort underway to recall Boudin, and KTVU-TV reported that two prosecutors left their jobs in the D.A.'s office so they could volunteer their time with the recall to get their now former boss out of office.
Prosecutors Brooke Jenkins and Don du Bain recently quit their posts under Boudin, the station said, and cited his lack of commitment to crime prosecution as their reasons.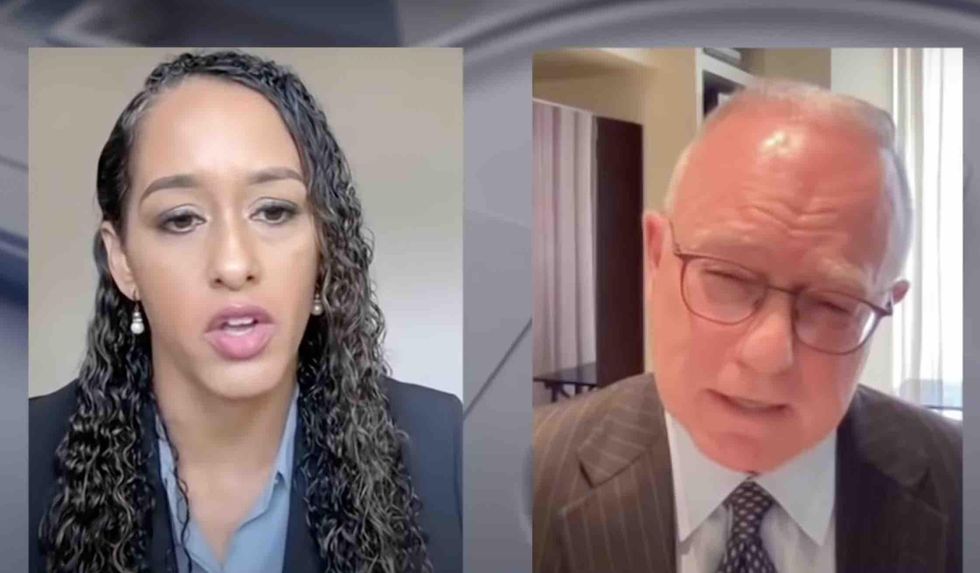 Brooke Jenkins, left, and Don du Bain, right. (Image source: YouTube screenshot)
Jenkins and du Bain said Monday they also believe Boudin is putting the safety of San Francisco's residents and visitors at risk, saying his leadership has resulted in releasing criminals without rehabilitation, after which they commit crimes again, KTVU reported.
"He has proven that his policies and approach is anything but progressive," Jenkins said, according to the station, adding that "to the contrary, his approach has been extreme and radical, and as a result we have seen crime increase, justice wane, and lives be lost."
More from KTVU:
Du Bain accused the district attorney of disregarding laws that he doesn't like. "I have lost my confidence in Chesa Boudin to serve as our elected district attorney, because I've concluded that he selectively enforces the laws of the State of California according to his own political priorities," said the former assistant DA.

Du Bain formerly worked as a prosecutor in the DA's domestic violence unit. Jenkins was a prosecutor in the homicide unit.

The two were among at least 50 lawyers from the DA's office who quit or were fired since Boudin became district attorney last year.
What did Boudin have to say?
Boudin's office answered back, the station said, by saying "we are disappointed that former staff members have chosen to politicize their departures and spread misinformation about DA Boudin, specific cases, and the hard work of our dedicated prosecutors and staff."
KTVU noted that the statement added that "all criminal cases are complex and certainly there may be disagreements on process, but twisting those disagreements for obvious political purposes does nothing to make our city safer or improve the pursuit of justice."
Anything else?
Recall organizers submitted 83,000 petition signatures to the city's Department of Elections last week, the station said, which noted the number is about 32,000 more than required.
City officials have 30 days to validate those signatures, KTVU reported, adding that if they're certified, a recall election will be held sometime next year.
Two SF prosecutors who quit their jobs at DA's office join Boudin recall effortyoutu.be
Want to leave a tip?
We answer to you. Help keep our content free of advertisers and big tech censorship by leaving a tip today.
Sr. Editor, News
Dave Urbanski is a senior editor for Blaze News.
DaveVUrbanski
more stories
Sign up for the Blaze newsletter
By signing up, you agree to our
Privacy Policy
and
Terms of Use
, and agree to receive content that may sometimes include advertisements. You may opt out at any time.