The University of Alabama announced that Jamie R. Riley, assistant vice president and dean of students, resigned "by mutual agreement" last week, the school's student newspaper reported.
Riley's resignation Thursday came after images of past tweets from Riley resurfaced — one of which tied the American flag and police to racism and another that said white people can't experience racism, the paper said.
Chris Bryant, assistant director of the Division of Strategic Communications, added in his statement regarding Riley's resignation that neither he nor the university "will have any further comments," the paper said.

What did Riley's tweets say?
"The [American flag emoji] flag represents a systemic history of racism for my people," Riley wrote in a September 2017 tweet. "Police are a part of that system. Is it that hard to see the correlation?"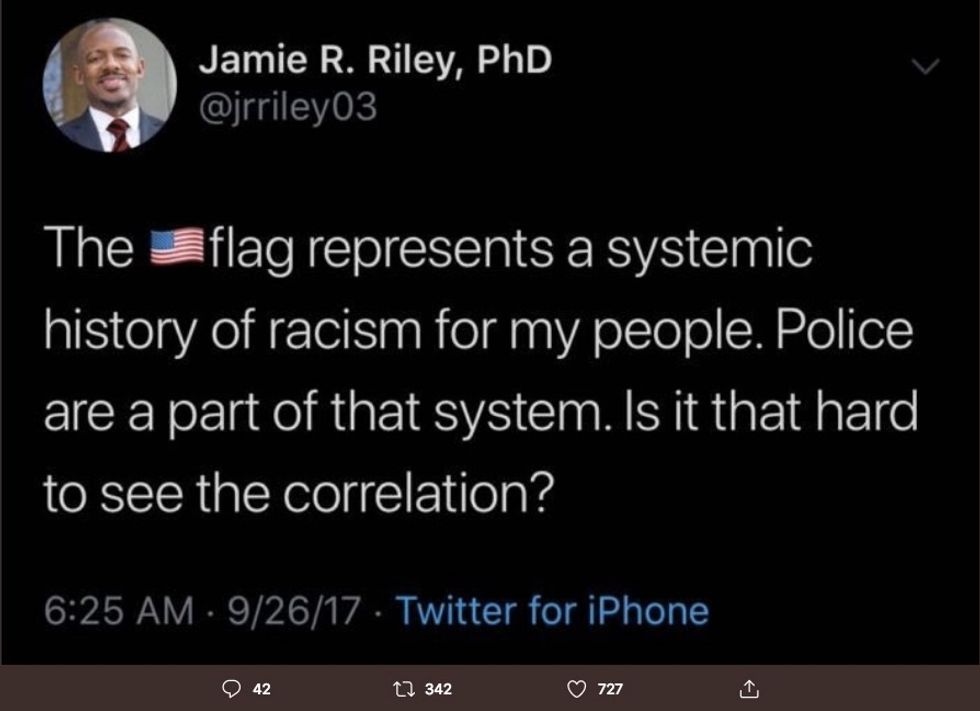 Image source: Twitter
Riley noted in an October 2017 tweet that white people have "[zero] opinion" on racism because they cannot "experience racism."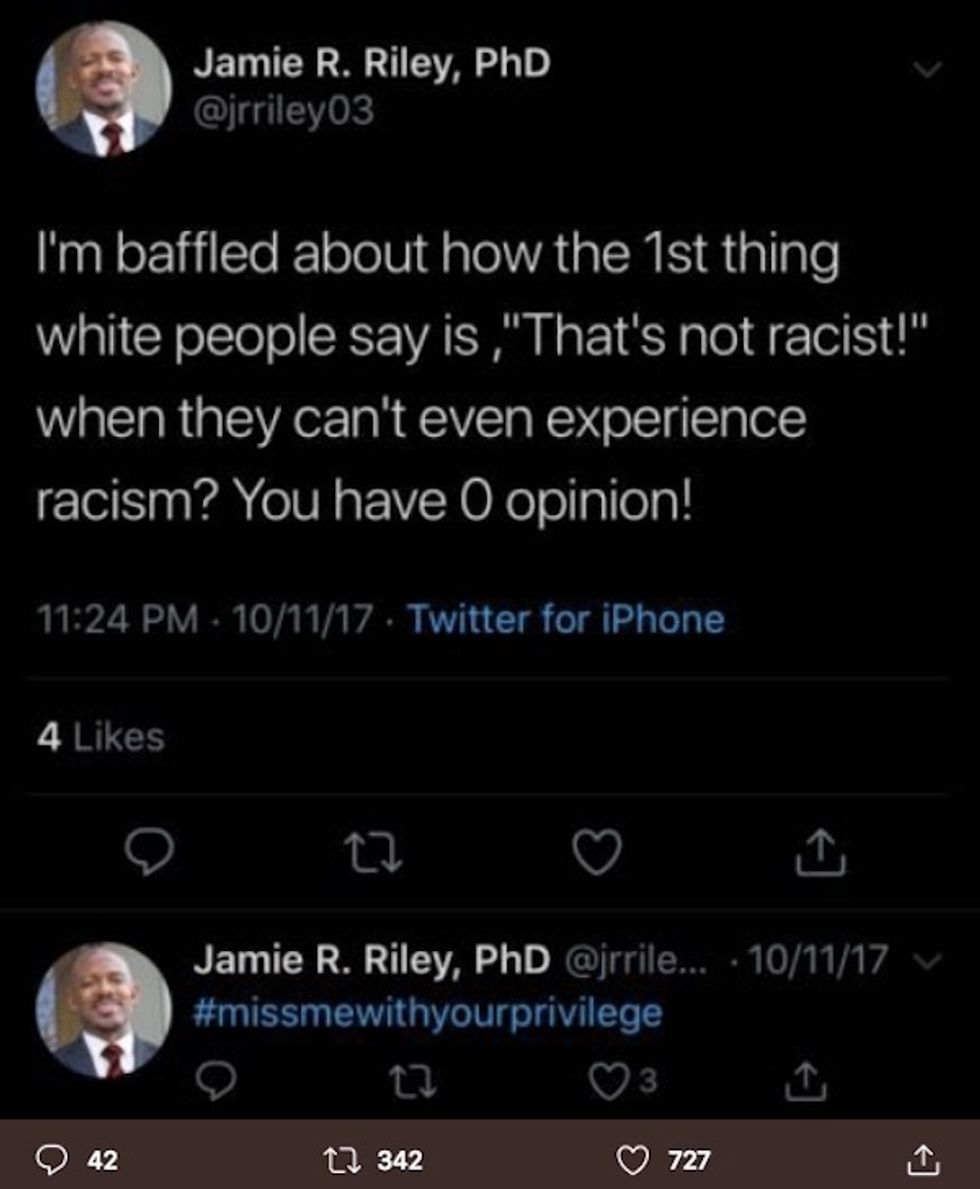 Image source: Twitter
"I'm baffled about how the first thing white people say is, 'That's not racist!' when they can't even experience racism," Riley wrote. "You have 0 opinion!"
More from the paper:

Riley was named to the position on Dec. 13, 2018 after a national search and he began serving on Feb. 25, 2019. Before gaining the position at the University of Alabama, Riley served as the executive director and chief operating officer of Alpha Phi Alpha Fraternity, Inc. He also served in student affairs and diversity and inclusion roles at institutions including Johns Hopkins University, The University of California-Berkeley and Morehouse College.
What did others have to say about Riley's resignation?
Ben Shapiro, editor-in-chief of The Daily Wire, on Friday tweeted that despite his disagreement with Riley's tweets, he doesn't believe he should have lost his job. Shapiro also criticized the left, saying it's responsible for creating the "ugly rules" in a "world they've built" — presumably a culture in which social media mobs regularly ruin people's lives over expressed opinions — that it now also must live by.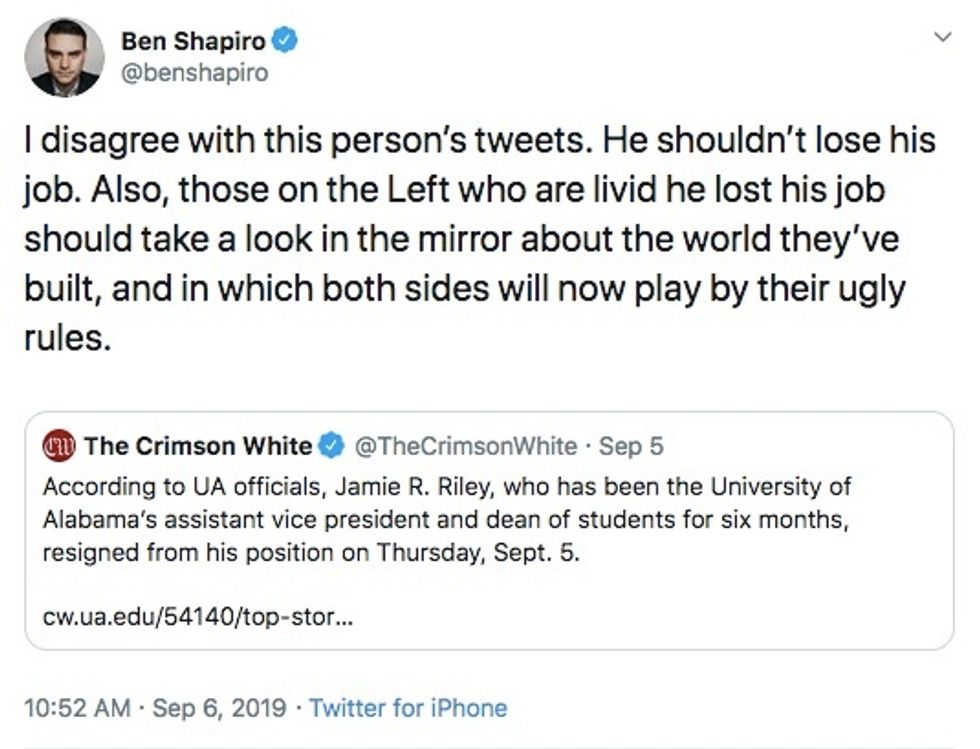 Image source: Twitter
Unite for Reproductive & Gender Equity (URGE) UA — a sexual and reproductive justice advocacy student organization — told the UA student paper Friday that it's "extremely disappointed" about Riley's resignation.
"URGE UA is deeply saddened to see Dr. Riley leave the university, as he was always extremely supportive of our mission every time he interacted with our organization," the organization's statement said, the paper reported. "His views and experience as a black man working at a predominantly white institution were incredibly valuable to the University of Alabama; we are extremely disappointed that the University led him to feel that resigning was the best decision."
The URGE UA statement also said the college "has shown [at] various times that it encourages its students and faculty to exercise their freedom of speech; however, this situation seems to be a contradiction to those occurrences."
The group also said students should "not back down in the face of opposition" and that "we do not stand for injustice, and we will not be silent about any sort of wrongdoing at UA."
(H/T: Campus Reform)