Customers at a 7-Eleven just outside Bangkok, Thailand, put their shopping for Snickers bars and Slurpees on hold while a 6-foot-long monitor lizard more or less took over the store Tuesday.
What are the details?
Metro reported that the giant reptile came from a nearby canal and made its way into the convenience store.
Cellphone video of the jaw-dropping invasion showed the lizard at first attempting to open a door in the refrigerated section: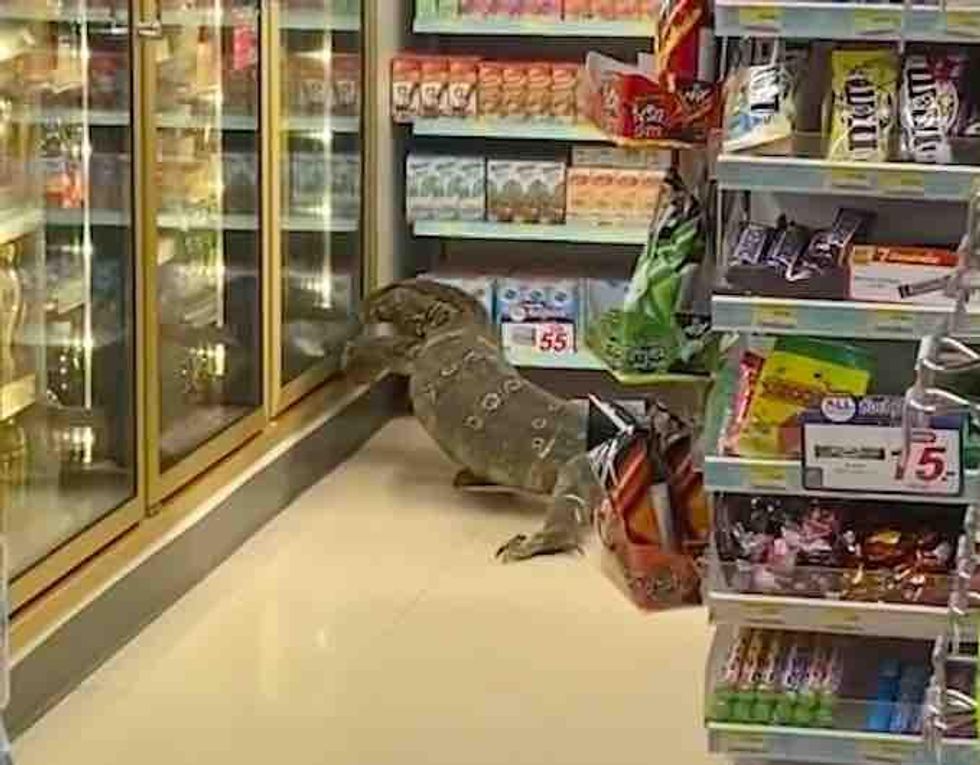 Image source: YouTube screenshot
Nothing doing.
But the creature was undeterred and proceeded to scale a nearby shelf, displaying its massive size in the process: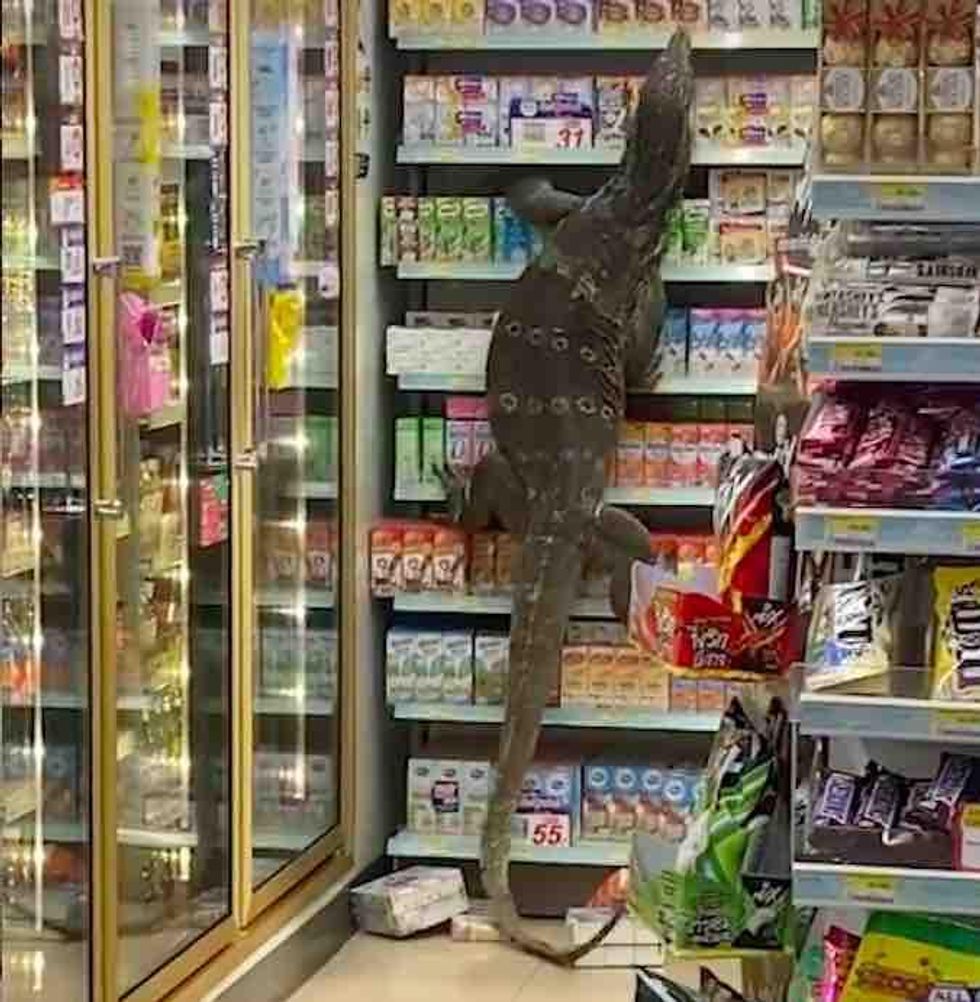 Image source: YouTube screenshot
This was no gecko.
But believe it or not, there wasn't much screaming from customers — in fact, the most prominent reactions sounded like oohs and aahs with smatterings of laughter as the lizard climbed all the way to the top of the shelf and flicked its tongue: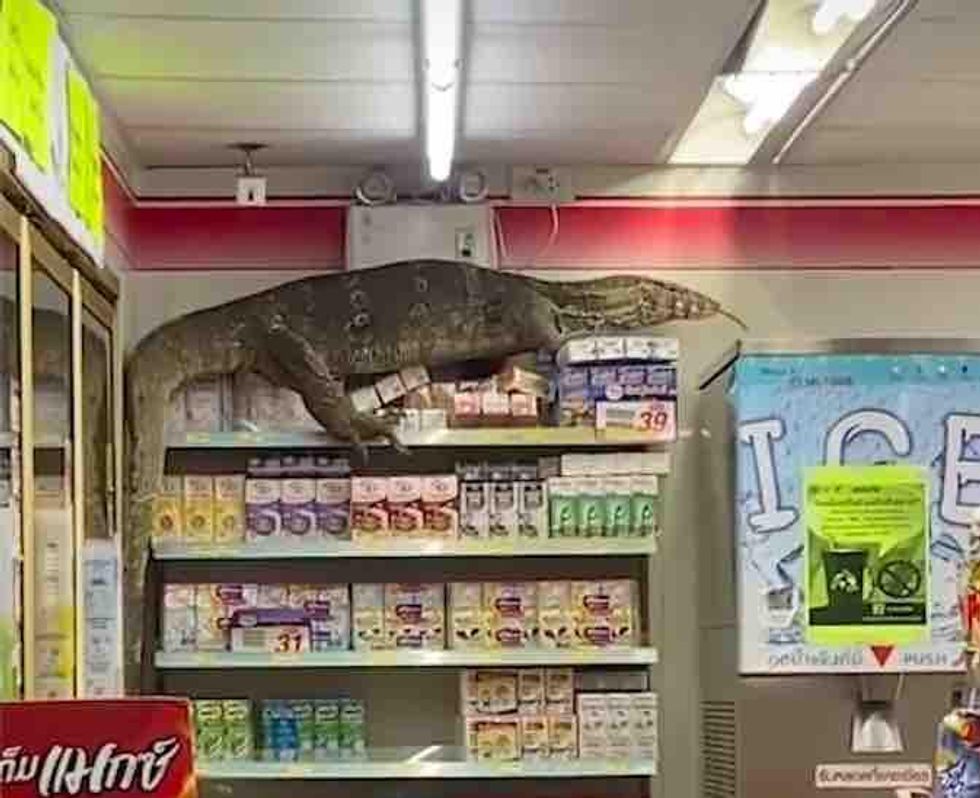 Image source: YouTube screenshot
The lizard reportedly stayed atop the shelf next to the soft-drink machine for an hour, Metro noted.
How did the store handle its surprise visitor?
A store employee called police, the outlet said, and officers arrived with reptile handlers to snare the lizard after lunchtime.
"The rescue team arrived and chased it away," an employee noted to Metro. "But they didn't catch it; it just ran away into the bushes. I've never seen a monitor lizard that big in my life, so it was a surprise for one to come in the shop. There's a forest behind the store, so we think it came from there."
Drink denied!
Narumpa Tangsin recorded video of the lizard, the outlet said.
"I only stopped at the shop to buy some food and then saw the huge monitor lizard inside," Tangsin told Metro. "I wanted to buy a drink, but the animal was too close to the drinks aisle. They're dangerous animals, especially when they're angry, so I stayed back and recorded it on my phone."
The outlet said the lizard didn't take any food from the store and that it may have been struggling to find meals outside after months of dry weather with little rain.
Metro said Asian water monitor lizards live in canals and ponds in large cities in Thailand, where they feed on fish, snakes, frogs, and scraps of food from humans.
Monitors can be aggressive when threatened and have a mildly venomous bite that sometimes carries harmful bacteria, the outlet added, but do not tend to attack humans. Metro noted that some types of monitor lizards are kept as pets and are calm around humans.
The Honolulu Zoo said monitors — even small ones — can lash out with their tails upon the "slightest provocation." The zoo added that the reptiles "will devour anything they are capable of dismembering and gulping down."
Bon appétit.
HUGE Monitor Lizard Destroys Supermarket Shelvesyoutu.be