A passenger in Miami International Airport was caught on cellphone video Tuesday throwing a computer monitor at a gate agent, tossing equipment to the ground, and being arrested for aggravated battery, WSVN-TV reported.
What are the details?
The 25-year-old woman and her kids were flying from Alabama to New York City and had a layover in Miami, police told the station.
But at one point, she couldn't find her two children, who had walked off to use the restroom, police added to WSNV.
"Once the subject noticed the children were not with her, she became irate and began to scream, demanding the gate agent to find her children," police added in a statement to Fox News.
With that, the woman — who was at American Airlines Gate D-39 — tossed keyboards and ripped a boarding pass reader from a counter, the station said.
The gate agent in the background of the video screenshot below — wearing a headband with reindeer antlers — also felt the heat.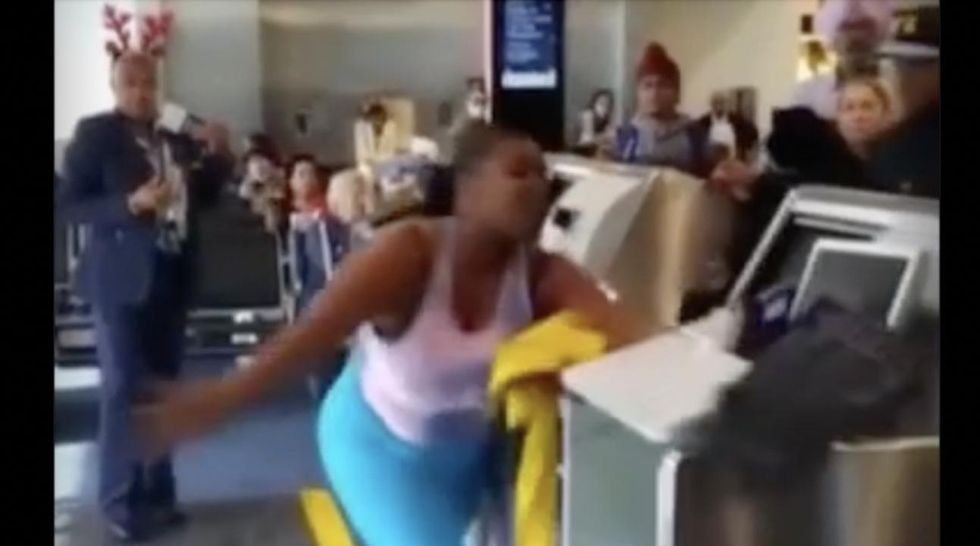 Image source: YouTube screenshot
A different video camera angle shows the woman grabbing a computer monitor and throwing it at the gate agent and striking her in the shoulder, WSNV added.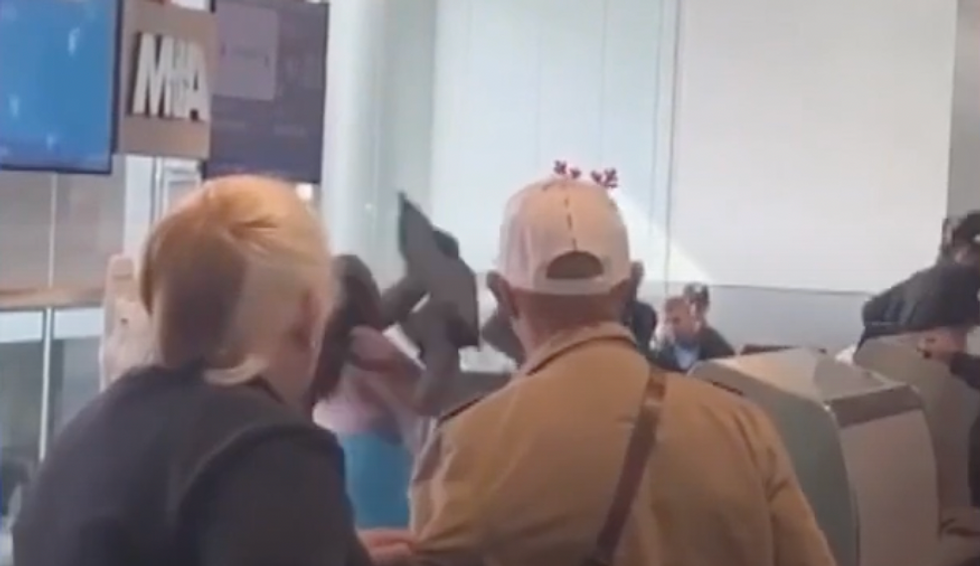 Image source: YouTube screenshot
"She went into a panic mode," a witness told the station. "That's what happened."
A passenger reacting to the video told WSNV that "clearly she has anger issues" while another exclaimed, "Oh, my God! Why would she do that?"
Police told the station American Airlines' property damage amounted to around $10,000.
Help arrives
Nearby officers with U.S. Customs and Border Protection held the woman until Miami-Dade police officers arrived, the station said.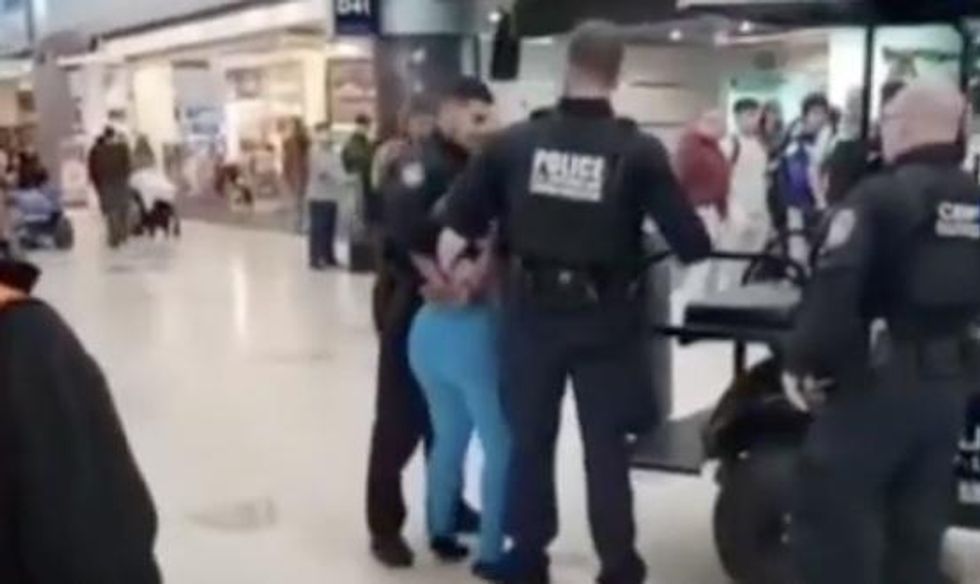 Image source: YouTube screenshot
The woman — identified as Camilia McMillie — was booked into jail later that night on charges that include aggravated battery, WSNV said, adding that she was being held on a $13,000 bond.
Police added to Fox News that the Florida Department of Children and Families is assisting McMillie's children.
The American Airlines employee — presumably the antler-wearing worker hit by the flying computer monitor — was said to be OK with some bruising on her right shoulder area, the station said.
What did American Airlines have to say?
"Acts of violence against our team members are not tolerated by American Airlines, and we are working closely with law enforcement in their investigation," AA spokesperson Derek Walls told WSNV.
The station added that throughout the pandemic, "violent encounters on planes and at the airport have soared."
Readers of TheBlaze may recall almost exactly one year ago when a brawl erupted inside Miami International Airport, culminating in a police officer pulling his gun on an advancing mob — one member of which, angry over a delayed flight, fought and even bit the officer on the head.
Woman arrested after assaulting American Airlines employee at MIAyoutu.be