© 2023 Blaze Media LLC. All rights reserved.
Video captures moment emergency slide falls from United Airlines plane. It landed in a Chicago neighborhood.​
Surveillance video captured the moment Monday when an emergency slide fell from a United Airlines plane not far from Chicago's O'Hare International Airport. The slide landed in a neighborhood.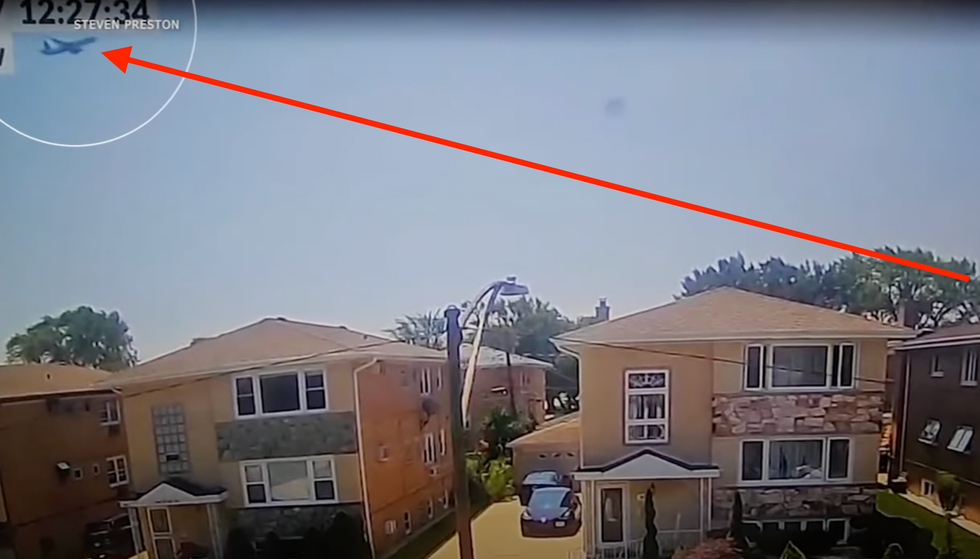 Image source: YouTube screenshot
Image source: YouTube screenshot
What are the details?
The slide was from a Boeing 767 from Zurich to Chicago, WLS-TV reported, and it landed with such force that it dented a home's downspout and damaged roof shingles.
Chicago police told the station the slide landed in the 4700 block of North Chester Avenue on the city's northwest side; there were no injuries.
Patrick Devitt told WLS he was on his way home from work when his son and father-in-law were having lunch in the kitchen and heard a loud boom around 12:15 p.m.
The slide had hit the home, causing damage to the roof shingles, downspout, and a kitchen window screen, the station said. Devitt's father-in-law walked outside, saw the slide, and alerted his son-in-law, WLS said.
Devitt told the station he dragged the slide from his backyard to the front of the home — and was just relieved nobody was injured.
"I'm stunned a little bit," he told WLS. "I'm just glad that everybody is safe and okay. Just, just seeing that in my backyard, like wow. This really happened. It fell off of an airplane and landed in our backyard."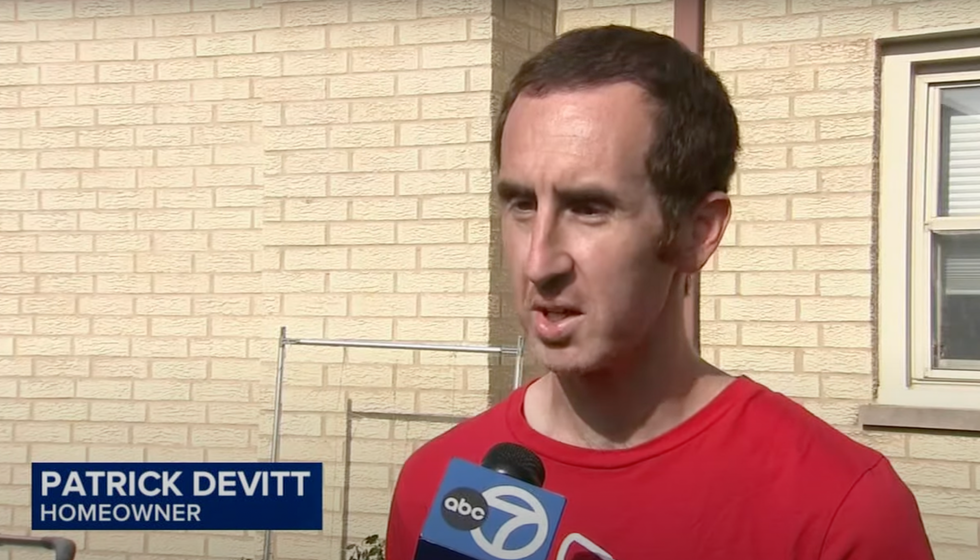 Image source: YouTube screenshot
Soon 911 was called, WLS said, and Federal Aviation Administration officials arrived at the scene within a half hour.
The FAA said an O'Hare maintenance crew noticed a slide was missing apparently from the plane in question, the station said.
What's more, the homeowner said two United representatives came by the house Monday afternoon to retrieve the slide, WLS reported.

The station said while such incidents are rare, it isn't the first time a Boeing 767 lost a slide: It happened in 2016 in Phoenix near Sky Harbor Airport and in 2019 in Boston near Logan Airport.
Exactly how the slide fell from the plane is still being investigated, WLS said.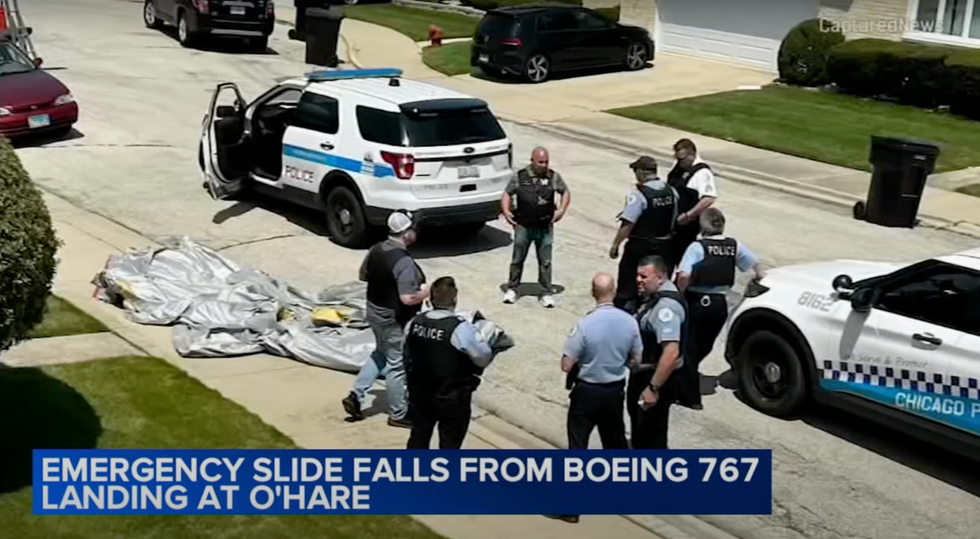 Image source: YouTube screenshot
"This is really going to trigger some pretty major investigations. This was not a bird strike or something that's routine," DePaul University Professor Joe Schwieterman told the station. "It's a rare instance that could have caused fatalities on the ground or even affected the stability of that airplane when it was landing."
A Boeing spokesperson referred all questions to United and the FAA, according to WLS, which added that United said it's working with its team to figure out exactly what happened.
The station said authorities didn't immediately provide further information.
CAUGHT ON CAMERA: Emergency slide falls from plane, lands in backyardyoutu.be
Like Blaze News? Bypass the censors, sign up for our newsletters, and get stories like this direct to your inbox. Sign up here!
Want to leave a tip?
We answer to you. Help keep our content free of advertisers and big tech censorship by leaving a tip today.
Sr. Editor, News
Dave Urbanski is a senior editor for Blaze News.
DaveVUrbanski
more stories
Sign up for the Blaze newsletter
By signing up, you agree to our
Privacy Policy
and
Terms of Use
, and agree to receive content that may sometimes include advertisements. You may opt out at any time.