Owners of a San Francisco camera store fought back against a trio of teenage smash-and-grab robbers Monday — and even though the crooks used hammers in the fight, they all ran off apparently without any merchandise.
What are the details?
The teens walked into the Chinatown store around 3:20 p.m. and asked about the price of a camera, KPIX-TV reported, adding that they hung around for about three minutes and then departed.
The station said they returned about 30 minutes later — and weren't interested in a transaction.
"All of a sudden, they pulled out a hammer, and they started trying to smash the glass," shop co-owner Sergio told KPIX.
Problem was, the cases behind the counter are plexiglass and wouldn't break, the station said, adding that one glass countertop case did shatter.
Surveillance video shows one of the store owners grabbing what appears to be a bat or a rod, and he approaches the crooks, two of whom swing hammers at Sergio and the other co-owner.
"One of the guys up there is trying to hit my partner with a hammer," Sergio told the station. "I run, and I try to grab a bat that I have. Try to protect myself and my business here."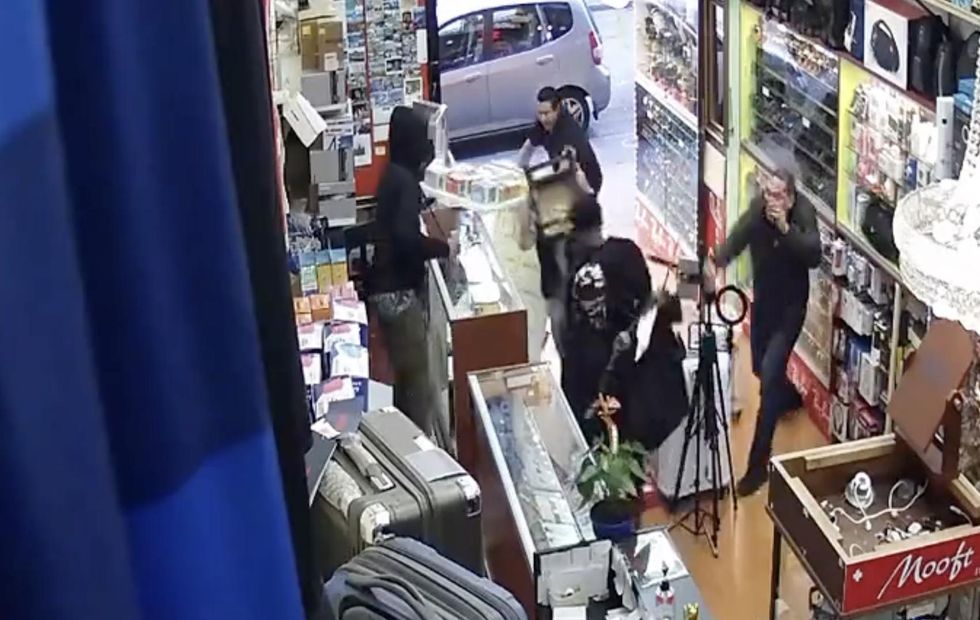 Image source: Twitter video screenshot via @DionLimTV
KPIX said a neighboring business owner ran over to help and was hit in the head with a hammer, after which he needed 10 stitches.
"One of the guys, they put the pepper spray in my eyes," Sergio added to the station. "The other guy is trying to hit me with a hammer, and I'm trying to protect myself."
After about a minute the attempted robbery and hammer attack were over, KPIX said. Video shows the trio running out of the trashed store, apparently without any merchandise.
The station said the store co-owners have been in the camera business for 27 years, but now they're nervous about coming in to work.
"We don't know them – but they know us because we work over here seven days a week," Ariel, the other co-owner, told KPIX.
Sergio added to the station, "After this, I'm worried, and I'm scared – because God forbid if they come back. Hopefully they [are] not gonna come back. But if they come back with a gun, what happens?"
Anything else?
KPIX said groups — including the Chinatown Volunteer Coalition — were patrolling the streets Monday night, which is a common sight since the spike in anti-Asian attacks.
"They're worried because the police might not be there in time," one of the volunteers, who declined to share his name for privacy reasons, told the station. "Even when they are there, they don't know what could be done."
KPIX said the volunteer explained that robbers often pretend to be interested in an item at first and then return later with bad intentions.
"Sometimes people are deterred just by seeing sheer numbers, so there have been cases where we have seen someone look like they were going to attack or do something that's criminal, but because they saw us or other people around, they chose not to," the volunteer added to the station. "Sometimes we have to yell."