© 2023 Blaze Media LLC. All rights reserved.
White House quietly makes safety, comfort accommodations because of Biden's old age: Report
The White House is quietly making new accommodations to protect President Joe Biden from stumbling issues related to his old age.
On numerous occasions in recent months, Biden has tripped or stumbled while scaling the stairs to board Air Force One. The most infamous, and scary, falling incident came last month when he crashed on stage at the Air Force Academy commencement.
To preserve Biden's safety during his old age, the president's advisers have made two key changes in recent months, Politico reported.
First, they steer him to use a smaller staircase to board Air Force One; not the large, 26-stair case that presidents typically use, but a smaller, 14-stair case that enters the belly of Air Force One. More from Politico:
While many Biden advisers POLITICO contacted would not comment publicly on the change, two privately acknowledged an intentional shift to steer the 80-year-old president to the lower stairs more often to make his travel easier and limit the possibility for missteps.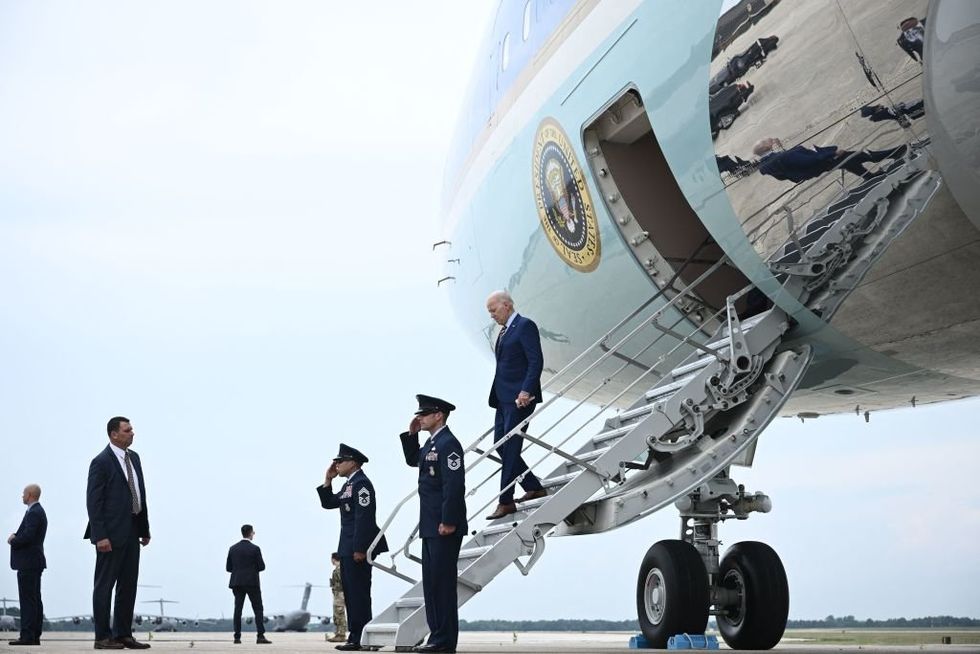 BRENDAN SMIALOWSKI/AFP via Getty Images
Second, advisers are encouraging Biden to wear sneakers instead of dress shoes, which Politico described as "another concession to comfort necessitated by age."
A White House official, however, downplayed the significance of Biden using the smaller staircase to board Air Force One.
"There are a series of factors that go into the logistical decision-making on this, including weather, what kind of airport we're landing at and whether there is a formal greeting planned for the tarmac where we expect that press will want an official photo at the bottom of the tall stairs," the official told Politico. "There's not one hard and fast rule — it is a decision made on a variety of factors in a wide range of settings and circumstances."
The changes come after the White House publicly acknowledged that Biden uses a CPAP machine while he sleeps because of sleep apnea. The admission was made after reporters noticed indentions on Biden's face left by the CPAP mask.
While Biden's age is a clear political liability, as polls repeatedly show, it's a good sign the White House staff is taking precautionary measures to care for the safety of our 80-year-old commander in chief.
Like Blaze News? Bypass the censors, sign up for our newsletters, and get stories like this direct to your inbox. Sign up here!
Want to leave a tip?
We answer to you. Help keep our content free of advertisers and big tech censorship by leaving a tip today.
Staff Writer
Chris Enloe is a staff writer for Blaze News
chrisenloe
more stories
Sign up for the Blaze newsletter
By signing up, you agree to our
Privacy Policy
and
Terms of Use
, and agree to receive content that may sometimes include advertisements. You may opt out at any time.