The curious case of alleged grocery store racism incident that ignited a firestorm of controversy — involving Georgia state Rep. Erica Thomas and Eric Sparkes, a Latino Democrat — took a new twist Monday.
One of four people who witnessed the incident revealed to the Atlanta Journal-Constitution that he does not remember Sparkes telling Thomas to "go back" where she came from despite Thomas doubling down on her accusations Monday.
"I'm not going to say that wasn't said, but I don't remember hearing it," witness Derrick Tompkins told the AJC. "I'm going to leave it at that."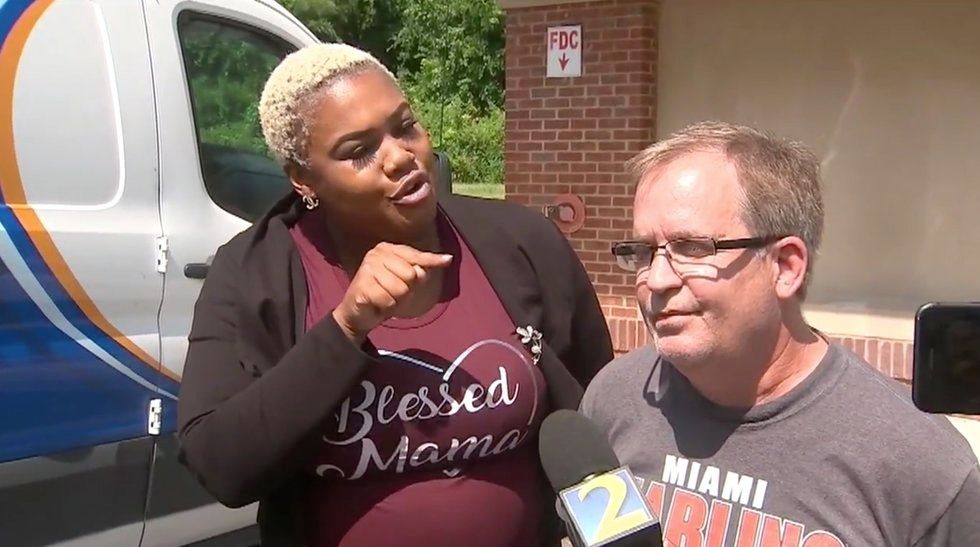 Thomas confronts Sparkes outside the Publix over the weekend while news cameras rolledImage source: WSB-TV screenshot
Thomas held a news conference Monday during which she again claimed Sparkes told her to "go back," despite backtracking just two days earlier.

"I want to make sure everyone knows I'm not backtracking on my statement or retracting anything I said," Thomas said Monday.
Over the weekend, Thomas equivocated on her initial claims, telling WSB-TV: "He said 'Go back,' you know, those types of words. I don't want to say he said, 'Go back to your country,' or 'Go back to where you came from.' But he was making those types of references is what I remember."
Still, Thomas' lawyer, Gerald Griggs, was adamant Monday that Thomas is a victim.
Griggs told the AJC that Publix has video footage corroborating Thomas' account of what happened, and that he's directed witnesses to be prepared to testify about the incident in court.
"This is not a 'He said, she said.' This is a 'She said, with evidence.' This should never have happened," Griggs told the AJC.
Police are investigating the incident, which took place Friday when Sparkes reportedly became irate because Thomas was in an express line with too many items. Investigators have obtained the surveillance footage and interviewed four witnesses. Publix is cooperating with authorities, although it's not clear if the surveillance footage will be released.
Meanwhile, Sparkes is also digging in his heals, telling the AJC he is exploring legal responses to what he says are defamatory accusations by the Democratic lawmaker.

"I am in the process of exploring with attorneys a defamation lawsuit against her," said Sparkes, who added that he is a Cuban American — and a Democrat.
Sparkes admitted to calling Thomas a "b***h." He remains adamant, however, that he did not tell her to "go back."