Life plus 10 years now means that a brutal child murderer and rapist gets to be released at age 49. But for the victims, there are no parole boards, clemencies, "compassionate releases," or Kim Kardashians to publicize their case and bring justice for their lost souls.

Fifteen-year-old Sarah Jayne Jamison of Lynchburg, Virginia, will remain 15 years old forever. She never got to graduate from high school or college, get married, have children, and bring joy to her family. She was brutally raped and strangled to death in a premediated murder committed by Gregory Joyner, who was 16 at that time, on May 5, 1988.
But while Sarah's life was cut short, Joyner was able to survive in order to advocate for himself and for others to advocate on his behalf. Rather than getting the death penalty, he was given a life sentence plus 10 years. But in today's common core-style math in Democratic Gov. Ralph Northam's Virginia, Gregory only had to serve 32 years and is now out on parole.
Last November, Gov. Northam's new appointees to the parole board, who have been releasing violent criminals left and right, agreed to parole Joyner on April 2. He now lives in Petersburg, Virginia, under supervised parole and is on the sex offender registry.
During the 1989 investigation and trial, Joyner confessed to strangling Jamison to death and then burying her body in the woods, which police only found two weeks later. The medical examiner believed she was also raped, but due to the decomposed state of her body, they only had enough evidence to convict him on attempted rape. Hence, the 10 years tacked onto the life sentence. However, now Joyner will be able to live a normal life at 49, while Sarah had her entire life stolen from her.
Before Northam stacked the parole board with pro-criminal, anti-victim leftists, Joyner was denied parole in 2017 and 2019 due to his "extensive criminal record, history of violence, and release at the time would diminish the serious nature of his offenses."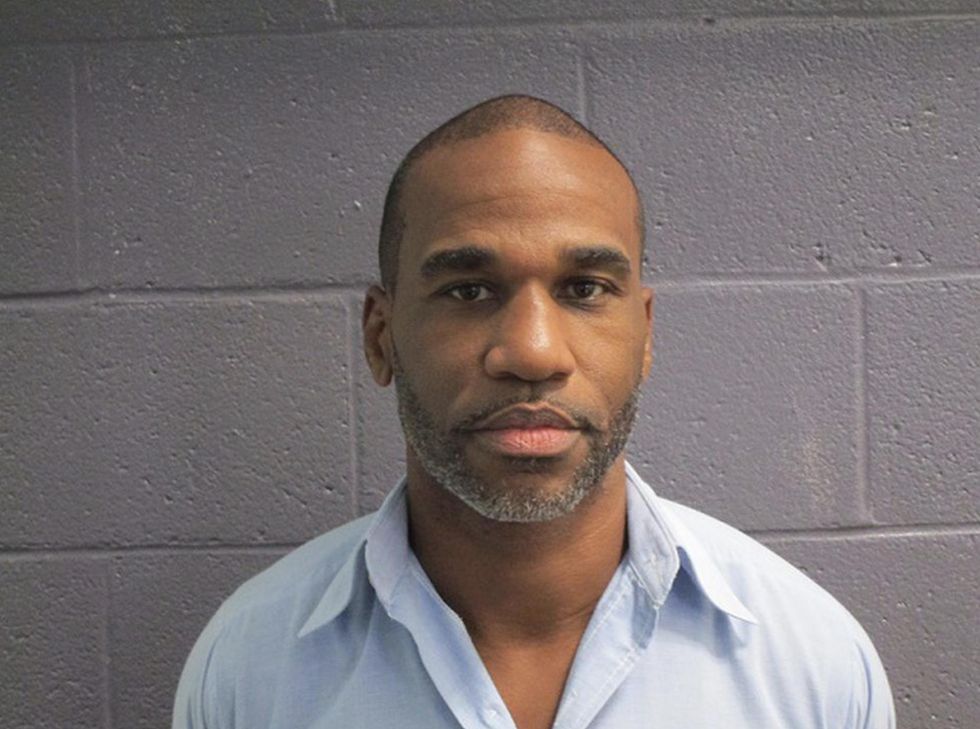 Gregory Joyner (Image source: VDOC screenshot)
Imagine being the family of Sarah and now losing out on any closure over 30 years later. Expressing the sentiments of so many forgotten victims' families, her father, Dell Jamison, released the following statement: "When Joyner murdered Sarah it was for life. Why should he be released after only serving a part of his life? His sentence was for punishment, not rehabilitation; therefore he still has 30 or 40 years left on his sentence. His release is a big mistake. He is also a registered sex offender. If he was sentenced today, he would never get out of prison. Joyner has not expressed remorse to my knowledge. When he was photographed going to trial for the murder and rape of Sarah, he smiled and said 'get my good side.' He needs to stay in prison for the good of the community."

"Joyner has never publicly expressed remorse or sorrow for what he did to Sarah," said Commonwealth's Attorney for the city of Lynchburg, Bethany Harrison. "As a matter of fact, I read through the transcripts of his interviews with police officers from the late '80s. He said he doesn't feel remorse, or emotion or sadness like normal people. It really was quite chilling to go back and read those transcripts."
What was advertised just a few years ago as a movement to release phantom "non-violent, low-level offenders," has now turned into an obsession to release some of the worst murderers who are elderly or even middle-aged, with no regard for finality in justice for the victims' families. Northam's parole board has released a number of murderers, including cop killers. Among the 95 released by the five-person parole board last March were 35 people convicted of murder, some of them the most brutal murders in recent memory.
The trend of parole boards releasing murderers is growing throughout the country. This is why it's so important to reinstitute the death penalty and expedite its implementation for clear-cut murderers. We essentially no longer have the death penalty in this country, which gives the worst criminals time to chip away at their cases and eventually achieve some sort of clemency.

For all the debate over the death penalty in this country, we don't carry out many executions. There have been over 800,000 homicides in this country since the black-robed masters "allowed" us to continue our constitutional heritage of capital punishment for murderers, in 1976. But despite that number, just 1,500 individuals have actually been executed in 43 years.
The numbers have declined dramatically in recent years, as only about 20 have been executed per year in recent years, down from near 100 in the 1990s. Now, the executions have essentially ground to a halt outside of Texas and a few other states, with just one execution so far this year.
Even for the few who are ultimately executed, it takes so many years to carry out that it has almost no deterrent value. As Justice Stephen Breyer noted in a 1999 case, "Our Constitution was written at a time when delay between sentencing and execution could be measured in days or weeks, not decades." I'd settle for even a few months.
Yet as of 2017, according to the Bureau of Justice Statistics, the average death row inmate spends 20 years and three months in prison before execution from the time he is sentenced to death. That is up from about six years in 1984 and just days during the time of our Founding.
Even the worst mass shooters remain alive for years, and the longer they linger, the more likely the execution will be canceled altogether. The only way to ensure that murderers are brought to justice is to give them the same outcome as their victim in the timeframe envisioned by our founders. But that would require policymakers to actually start caring about the victims again.