Just how big a mismatch is there between the people of Wyoming and their elected representatives? The majority of elected Republicans in the "more conservative" House believe that schools should be able to forcibly mask your children while teaching kindergarteners about sexuality and homosexuality. Oh, and they believe you have a constitutional right to a castration procedure but not to freedom from forced experimentation with vaccines. Indeed, "mask 'n groom" is not only the mode of education in San Francisco, but will be in every red state if Republican voters don't wake up and start focusing on what their state legislatures are doing.

Senate File 117, the Parental Rights in Education Act, is the sort of legislation one would expect to pass nearly unanimously in Wyoming. It simply bars public schoolteachers from needlessly offering lessons on sexuality. It only applies to grades K-3. The bill passed out of the Senate Education Committee 4-1, then even passed the more liberal Senate 18-12 in January. Yet RINO House Speaker Rep. Albert Sommers, the same man who passionately argued to continue teaching gender studies and queer theory at the University of Wyoming, has been holding the bill in his desk for almost a month.
On Tuesday, Rep. Jeanette Ward (R-Casper) forced a vote to suspend the rules in an effort to dislodge the bill from the speaker's hold and send it to the House Agriculture Committee. "My constituents have been asking what the status of this bill is and requesting that we try to remove it from the Speaker's desk," she said in a statement. "The issue of parental rights is clearly prominent in our time. Other states have passed similar laws, and the people of Wyoming have asked for this. We owe it to them to hear this bill."

Shockingly, the motion was voted down 34-27 by Wyoming House Republicans. Half of Wyoming House Republicans could not even stand behind the proposition that 6-year-old kids should not be groomed with sexual identity ideas.

Well, what's worse than teaching kids about castration? Actually performing it on them. Fast-forward to Senate File 144, which would ban castration of minors. It sailed through the Senate Labor, Health, and Social Services Committee unanimously and passed the Senate 26-5. Indeed, similar bills have sailed through legislative bodies in Tennessee, Utah, Mississippi, and South Dakota, and many more are expected to pass it before the end of the session.
But once again, "San Fran" Sommers was holding it in the House. He finally agreed to assign it to a committee, but bizarrely chose the Appropriations Committee rather than Labor, Health, and Social Services. Well, we know why. Appropriations is chaired by liberal Rep. Bob Nicholas (R-Cheyenne), who helped defeat it 5-2 with a "do not pass" recommendation.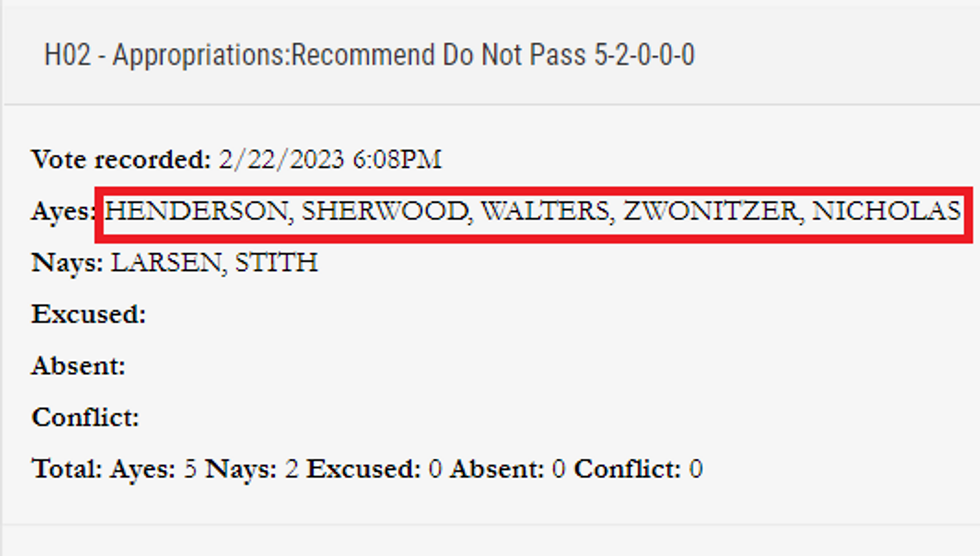 Shockingly, during the hearing, Nicholas asserted that the bill was unconstitutional because the Wyoming constitution grants people a right to health care autonomy. This is the same man, along with his other colleagues, who defeated the bill (HB66) protecting bodily autonomy and voted to keep mask and vaccine mandates in Wyoming. All five who voted against banning castration voted for coerced mask and vaccine mandates:

They also voted against a bill (HB143) barring CDC and WHO public health mandates in the state.

So let's get this straight: You have a right to access castration services but no freedom from someone forcibly injecting experimental products into your body and covering your breathing holes?!
Incidentally, Article I, Section 38 of the state's constitution allows the legislature to "determine reasonable and necessary restrictions" on a person's "right to make his or her own health care decisions." In the perverted conscience of Wyoming's RINOs, masking and gene therapy are reasonable and necessary, but banning castration is not.
All over the country, we have red states with barely any presence of official Democrats, but they are populated by Republicans who are equally debauched. Unless Republican voters pay more attention to the legislative affairs in their own back yards, we won't have any red states in which we can take refuge when blue states turn full fascist.