In this clip, BlazeTV host Ben Ferguson explained shocking new statistics that show migrant households in this country use nearly twice as much welfare as native-born American households, and he highlighted the $70,000 price tag that falls on the shoulders of every American taxpayer.
According to the Center of Immigration Studies, "63 percent on non-citizen households use some form of public welfare compared to just 35 percent of native-born American households. Now, of course, the 63 percent included both legal and illegal immigrants," Ferguson reported.
More from the Center for Immigration Studies:
Among the findings:

In 2014, 63 percent of households headed by a non-citizen reported that they used at least one welfare program, compared to 35 percent of native-headed households.

Welfare use drops to 58 percent for non-citizen households and 30 percent for native households if cash payments from the Earned Income Tax Credit (EITC) are not counted as welfare. EITC recipients pay no federal income tax. Like other welfare, the EITC is a means-tested, anti-poverty program, but unlike other programs one has to work to receive it.

Compared to native households, non-citizen households have much higher use of food programs (45 percent vs. 21 percent for natives) and Medicaid (50 percent vs. 23 percent for natives).

Including the EITC, 31 percent of non-citizen-headed households receive cash welfare, compared to 19 percent of native households. If the EITC is not included, then cash receipt by non-citizen households is slightly lower than natives (6 percent vs. 8 percent).

While most new legal immigrants (green card holders) are barred from most welfare programs, as are illegal immigrants and temporary visitors, these provisions have only a modest impact on non-citizen household use rates because: 1) most legal immigrants have been in the country long enough to qualify; 2) the bar does not apply to all programs, nor does it always apply to non-citizen children; 3) some states provide welfare to new immigrants on their own; and, most importantly, 4) non-citizens (including illegal immigrants) can receive benefits on behalf of their U.S.-born children who are awarded U.S. citizenship and full welfare eligibility at birth.
What else?
Trump addressed the issue in a tweet and calling it ridiculous, and added that this problem had been a reality for years.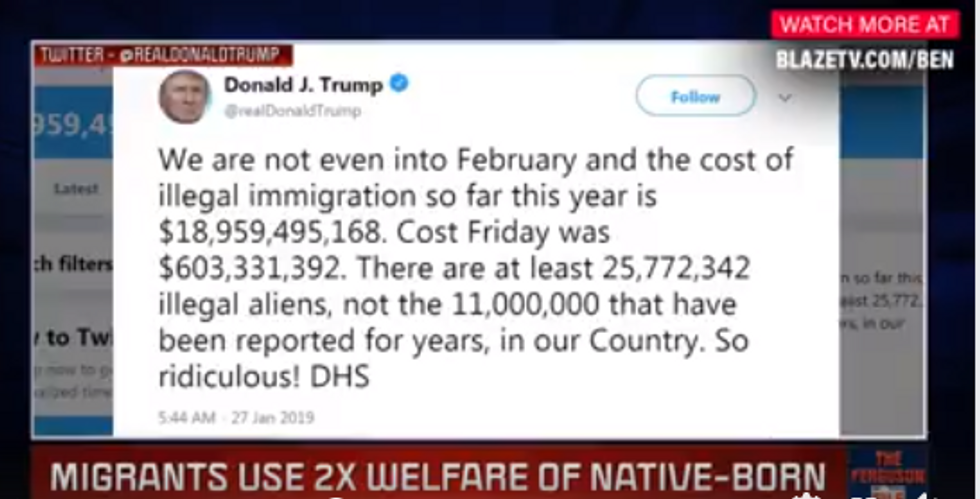 Image Credit: Twitter screen grab
Click here to watch the full episode.
Want more from Ben Ferguson?
To enjoy more of Ben's bold and honest news updates, free of liberal spin, subscribe to BlazeTV — the largest multi-platform network of voices who love America, defend the Constitution and live the American dream.