On Tuesday's episode of "The News & Why it Matters," Sara Gonzales, Stu Burguiere, Grant Stinchfield, and Aaron Colen discussed the new controversy surrounding Rep. Ilhan Omar (D-Minn.) and her alleged marriage to her brother.
In this clip, the panel addressed a now-deleted tweet Omar posted wishing her father a Happy Father's Day. In the tweet, she referred to her dad as "Nur Said."
Why is this significant? Omar's father, brother, and ex-husband all share the same last name, the panel explained.
"Glenn did a chalkboard on this whole Ilhan Omar marriage thing because, for someone who claims to be Muslim, she is pretty lax on this marriage, relationship thing," Sara said.
Stu explained that because of the potential crimes that may have been committed, Americans have a right to know whether or not Omar married her brother. He added that if Omar broke the law, there are more significant implications surrounding the vetting process used by the Democratic Party in Minnesota.
If you would like to learn more about Ilhan Omar and her confusing family tree, click here.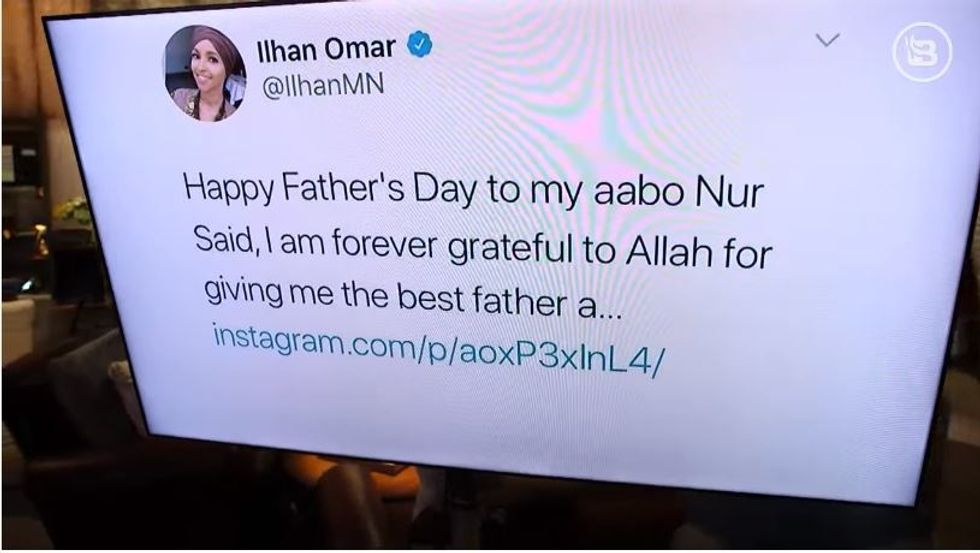 Image source: BlazeTV screenshot
Watch the video below for more details.

Use code NEWS to save $10 on one year of BlazeTV.

Want more from 'The News & Why It Matters'?
To enjoy more roundtable rundowns of the top stories of the day, subscribe to BlazeTV — the largest multi-platform network of voices who love America, defend the Constitution and live the American dream.