On Monday's episode of "Pat Gray Unleashed," Pat Gray and Keith Malinak highlighted actress Alyssa Milano and her tweet that called for a #SexStrike over the weekend.
Milano, 46, took to Twitter on Friday, calling on her feminist sisters to unite under #SexStrike and join her in fighting against the recently passed "heartbeat" bill that was signed into law by Georgia Gov. Brian Kemp (R). The new law prohibits doctors from performing abortions once a heartbeat is detected.
Click here to watch the full episode.
"Friday night, we had some powerful 'tweetage' from Alyssa Milano," Pat began. "She is such an incredible activist and such a powerful strong person ... she had a brainstorm, a 'thought shower' if you will, that was second to none."
Milano's tweet said: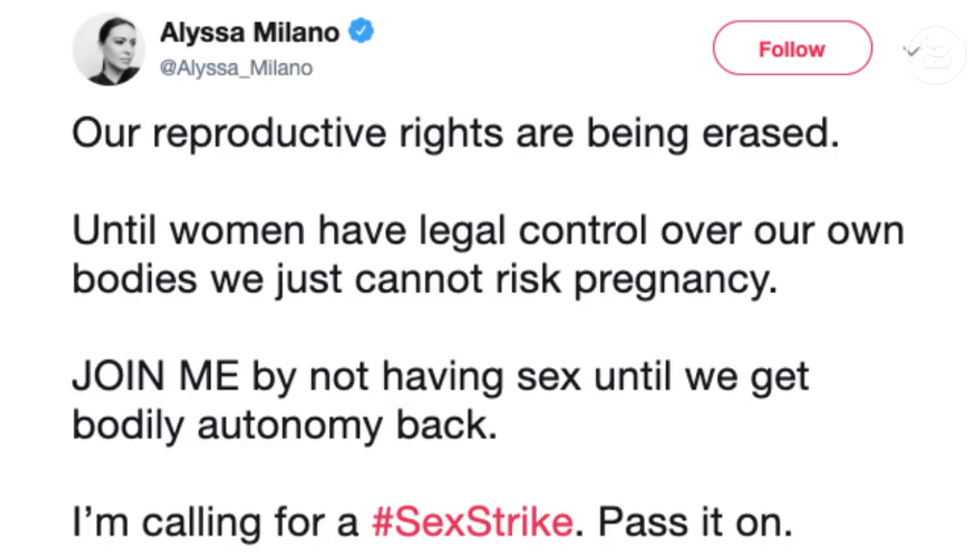 Image source: Twitter screenshot
According to Pat, Milano hadn't taken into consideration that her tweet effectively made the pro-life argument that conservatives had been making for years.
"She played right into the hands of the pro-life movement. I mean, how long have we said that, if you don't want to get pregnant, then don't have sex?" Pat asked. "Huh, what a concept."
Pat read some of the best replies to Milano's tweet. Watch the video below for details.
Download the podcast here.
Want more from Pat Gray?
To enjoy more of Pat's biting analysis and signature wit as he restores common sense to a senseless world, subscribe to BlazeTV — the largest multi-platform network of voices who love America, defend the Constitution and live the American dream.