CNN's Chris Cuomo is getting desperate. Last night the TV host channeled Alex Jones, perhaps in a bid to increase his humiliating ratings, and floated a nutty theory that Trump may be signaling to followers of QAnon. Trump "has his people at his rally that look for the number 17 as signs of truth," Conspiracy Cuomo said on his show. "Q is the 17th letter in the alphabet."
That is full blown conspiracy. It's not even close to "news," so CNN can stop with the "facts first" nonsense.
QAnon is an anonymous online figure (or possibly figures) who maintain claims to a top-level security clearance and pertinent information on the deep state and administration.
Cuomo, of course, pulled the famous—and cowardly –CNN technique of  "Oh, I'm not saying this certifiably insane thing, I'm just asking it!" Stelter knows all about it. Cuomo said, "I hope he didn't use that number for [QAnon]." But perhaps he did. Just perhaps, perhaps! That was the suggestion when he added: "He hasn't always used the number 17," which implies there was some ulterior motive aside from the fact that Mueller's team has, well,  17 people on it.
Cuomo quoted a Twitter user Q-17 !!!!!!!!! who (before deleting the tweet) pointed out to Cuomo that Trump changed from 13 to 17 angry Democrats. "He knew exactly what he was doing when he tweeted out the number … You were right, right on the money," Q-17 wrote.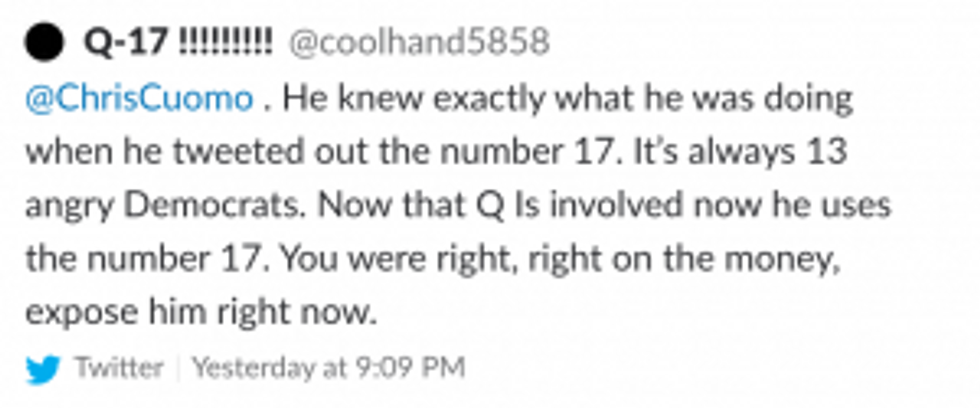 Cuomo responded "I can't believe it. I feel you on the change but that would be some dark arts I don't think trump uses."
You really think Trump picked 17 for q folk? I can't believe it. I feel you on the change but that would be some da… https://t.co/4ng2CeI6N4

— Christopher C. Cuomo (@Christopher C. Cuomo) 1533174488.0
Then why would he talk about it on his show? That's like saying "I'm not saying the Earth is flat, but I gotta be honest, the ground seems pretty flat to me and you can't see past the horizon!"
Yeah dude, that sounds like you're entertaining the idea.
So I called Cuomo out for his shameless conspiracy-mongering:
A CNN host actually suggested that Trump is secretly signaling to #QAnon by referencing "17 Angry Democrats."… https://t.co/b18LmdFrQV

— Jon Miller (@Jon Miller) 1533177979.0
He then used his phony non-denial denial as ammunition to accuse me of lying:
Wrong! I said that they would take it that way. I actually answered a tweet with same question by saying i don't th… https://t.co/cAXXxrRnth

— Christopher C. Cuomo (@Christopher C. Cuomo) 1533180813.0
I didn't lie, Cuomo. I literally showed a video of what you said and I quoted you directly. If that's a lie, it's only because you said it.
The longer CNN tries to masquerade as news, the worse off we are as a country. And with Jim Acosta refusing to accept any blame for the animosity between the press and the people, it's clear they have zero self-awareness as an organization that more resembles a paranoid YouTube channel than an actual news network.
#mc_embed_signup{background:#fff; clear:left; font:14px;}
/* Add your own MailChimp form style overrides in your site stylesheet or in this style block.
We recommend moving this block and the preceding CSS link to the HEAD of your HTML file. */