Here we go again: Obama announced today a new round of commutations for drug traffickers in federal prison. He added another 102 to his jailbreak legacy, taking the total number of clemencies during the course of his presidency to 775. Obama has now pardoned more than three times as many federal prisoners as his previous six predecessors combined.
Sadly, Republicans are all on board with Obama's jailbreak agenda. Even the much-vaunted conservative vice presidential candidate, Mike Pence, bragged about being a proponent of so-called "criminal justice reform" during his debate with Sen. Tim Kaine, D, Va. (F, 0%). Well, when you incentivize the behavior by validating it instead of publicly shaming Obama for legislating through his commutation power, we will see more of this behavior. Watch for this to become a weekly occurrence during the final three months of his presidency.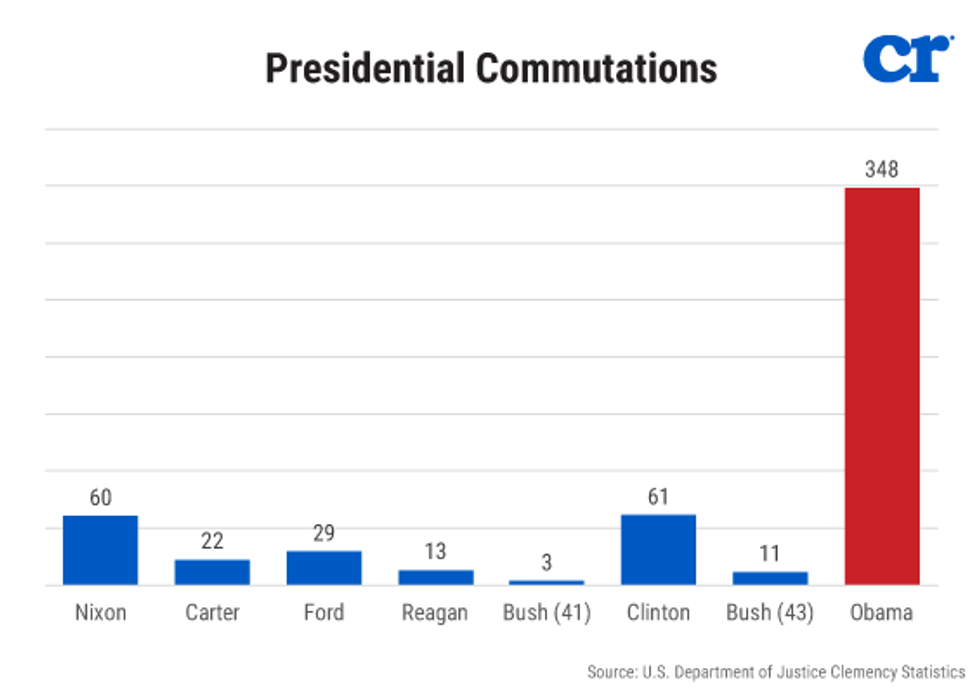 As we've noted many times before, almost all of the individuals in federal prison for drug trafficking are inherently violent. And as always, these charges are often plead down after being arrested for more serious offenses. Among the individuals who received a commutation under today's order, a quick scan reveals that 15 of them were convicted of firearms charges, including using a firearm in the furtherance of drug trafficking. This is something obfuscated from Obama's press release. If Republicans actually stood for law and order, they could use this as a superlative rhetorical jujitsu against Obama when he calls for tougher laws on law-abiding gun owners. But alas …
Moreover, the Justice Department is already in the process of releasing over 46,000 federal prisoners, roughly one-fourth of the entire federal prison population, in one of the largest prison releases in American history, even without counting Obama's commutations. And in FY 2014, 28.5% of all drug trafficking offenders already escaped the mandatory minimum via the existing safety valve. Why does Obama feel such a sense of urgency to add more people to the list? And how can he use the clemency power, which was designed for individual and unique circumstances, not ad hoc legislating from the White House in an effort to overturn an entire section of the criminal code he doesn't like?
Is there any wonder why violent crime is spiking for the first time in 23 years? California has already tried what Obama, Republicans, George Soros, and the Koch brothers are attempting to do on a federal level and it has failed miserably. Property crimes and violent crime rose sharply after passage of Prop 47 in 2014, which reduced penalties retroactively for drug and property crimes and led to the release of thousands of criminals on top of the 30,000 already released as a result of a court ruling a few years earlier.  Shoplifting is now rampant in the Golden State. And remember, state convicts are, on average, not as violent as those sitting in federal prisons.
Public safety and concern about rising crime is truly a consensus issue, particularly for swing voters in the suburbs. Yet, Republicans refuse to hang this around the necks of their Democrat opponents, and in fact, agree with this jailbreak agenda. No wonder Obama has a 55% approval rating. Republicans are letting him get away with the breakdown of safety and security.