In the U.S. Naval Academy's Memorial Hall hangs a large replica of a flag emblazoned with a hallowed command, memorializing a time-honored naval tradition.
The flag bears the last words of Capt. James Lawrence, uttered to his crew as he lay dying in a naval battle during the War of 1812. Those words, "Don't give up the ship," have since become an enduring motto for every midshipman.
As a midshipman (1954-1958), Senate Armed Services Chairman Sen. John McCain (R-Ariz) had this message of command responsibility seared into his consciousness—as have the co-authors, one of whom was his classmate. The memory of Capt. Lawrence's charge to his crew may well be what motivates McCain to seek an answer to a question haunting him—and us—today.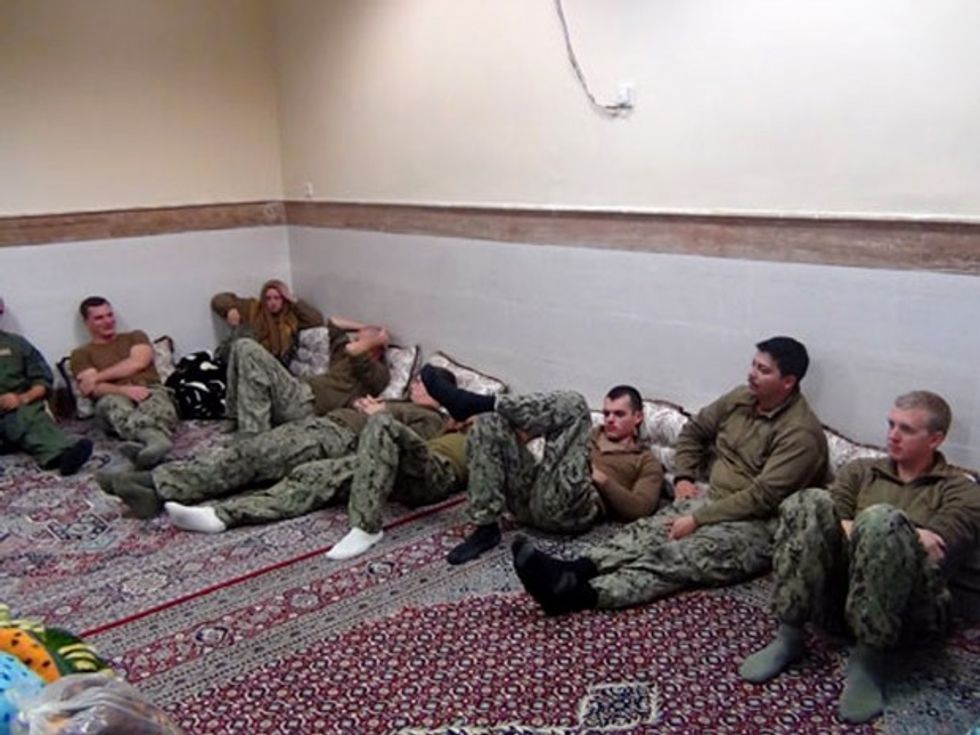 This picture released by the Iranian Revolutionary Guards on Wednesday, Jan. 13, 2016, shows detained American Navy sailors in an undisclosed location in Iran. Iranian state television is reporting that all 10 U.S. sailors detained by Iran after entering its territorial waters have been released. Iran's Revolutionary Guard said the sailors were released Wednesday after it was determined that their entry was not intentional. (Sepahnews via AP)
Another midshipman, graduating 53 years after McCain, Lt. David Nartker, 27, also understood this tradition. Nartker commanded the two U.S. Navy riverine command boat flotilla with 10 sailors, captured by Iran on Jan. 12, 2016 after mechanical and navigational problems left them stranded in Iranian waters.
Under maritime law, these boats were distressed vessels, giving immediate rise to a duty by others to render assistance. Their Iranian "rescuers" did not, instead treating them as enemy combatants, forced to kneel at gunpoint, hands behind their head. Betraying a two-century old tradition, Lt. Nartker surrendered his flotilla without firing a shot.
The question haunting McCain is "why?" He seeks an answer from President Barack Obama as well as Iranian accountability for their actions.
The incident disturbed McCain on several counts: how could it happen without appropriate monitoring by higher command to avoid it; why did Lt. Nartker abandon naval tradition by surrendering his command; why did Nartker apologize for accidental entry into Iranian waters when maritime law stood on his side; why has the only White House response to Tehran's transgressions been to praise the release of our sailors without challenging the humiliating treatment rendered them—evidence of which they then broadcast worldwide; etc.
As Obama continued to drag feet on investigating the incident, McCain threatened to subpoena the sailors for congressional testimony to ascertain the facts should an investigation not be forthcoming by March 1.
The threat worked. Although McCain was briefed on interim findings, the White House will not release a detailed report for 30-60 days.
McCain was definitely unhappy with the findings, as reflected by a March 8 email statement to one of us:
"The facts confirm what has been clear from the beginning: that Iran's behavior was a blatant violation of international law and centuries of maritime tradition. It is time for Administration officials who praised Iran's illegal behavior to repudiate their past statements, affirm basic legal principles, and defend the character and reputation of our sailors from continued Iranian smears."
While responsibility for this incident goes far up the chain of command, Tehran performs the role of pirate, blackmailer and extortionist.
Facts reveal the sailors were under immense pressure before they departed—given only 24 hours preparation for the Kuwait-to-Bahrain trip. Of three boats available, only one worked; parts from the third were cannibalized to make the second operable. A 240 nautical mile transit—twice the normal distance—involved coordinating an at-sea re-fueling, further complicated by a late departure due to faulty communications gear.
A transit taking the boats close to waters controlled by a less-than-friendly nation mandated employment of strict monitoring and an emergency rescue plan if communications were lost. Neither apparently was done.
What was the flotilla's mission and why such urgency to complete it under these difficult circumstances?
It may seem incredulous the boats could suffer navigational, mechanical and communication failures simultaneously, but they did. While giving rise to suspicions of U.S. Navy incompetency, it also suggests possible Iranian chicanery, explaining why they seized sailors' cell phones, laptops and GPS devices as well.
Was Nartker even briefed about Iran's propensity to provoke international incidents?
That same day, Tehran menacingly flew a drone directly over a U.S. aircraft carrier in the Persian Gulf.
In December 2011, the Iranians captured a U.S. RQ-170 stealth drone, using GPS hacking to "fool" it into landing in Iran rather than at a U.S. base in Afghanistan. Was the flotilla similarly duped?
In 2007, Iran had taken captive 15 British sailors—in internationally disputed waters.
As two Iranian boats approached the flotilla, a U.S. sailor waved a wrench in the air to communicate repairs were being conducted. As other Iranian boats arrived, repairs were completed. Although the flotilla had greater firepower than the Iranians, Nartker inexplicably surrendered. While unclear when this decision was made, it should have been accompanied by an immediate order for crewmembers to toss laptops, cell phones and GPS devices overboard. By not doing so, Iran now boasts it has extracted 13,000 pages of information from these various electronic devices. To add salt to our already humiliating wounds, Tehran announced intentions to build a memorial of the capture.
Iran's actions in boarding U.S. vessels, capturing crewmembers and confiscating property—while not meeting the definition of piracy as the perpetrators were not privateers—were the same government-sanctioned actions to which American seamen were subjected during the early 19th century Barbary wars of North Africa. Two centuries have only changed the pirates' country of origin.
As Obama boasted our sailors' release was a win for his "smart diplomacy," he ignores subsequent blackmail and extortion threats Iran's leadership makes.
Having already released humiliating footage of the sailors' captivity, including one sailor shown crying, an Iranian admiral reports even more embarrassing footage exists and may be released later at Iran's wont, should America provoke it. Additionally, he threatens release of private information taken from various laptaps and cellphones, claiming it too to be embarrassing.
Meanwhile, the Iranian captors involved were awarded "medals of conquest" as a parade was held in Tehran mocking the capture.
Capt. Lawrence honed his fighting skills against Muslim pirates when defending one's ship was an honorable act. Centuries later, under a president who nurtures a sense of surrender, it is not.
–
TheBlaze contributor channel supports an open discourse on a range of views. The opinions expressed in this channel are solely those of each individual author.