There was an episode of the TV comedy "That 70's Show" where the group goes out for a night on the town, only to watch as the bouncer allows just one of them into the club.
That one—of course—was Donna, the group's attractive female.
And that, my friends, is what's known as a double standard.
The concept behind a bouncer is crowd control, and to a certain extent that's exactly what they do. But we all know a secondary function of theirs is to (just like valets park the nicest cars right outside the restaurant) pack the club with gorgeous people. Meanwhile, the "subpar" specimens are stuck waiting in the line outside.
See the double standard? You're all paying customers—but that doesn't necessarily mean you're all getting in.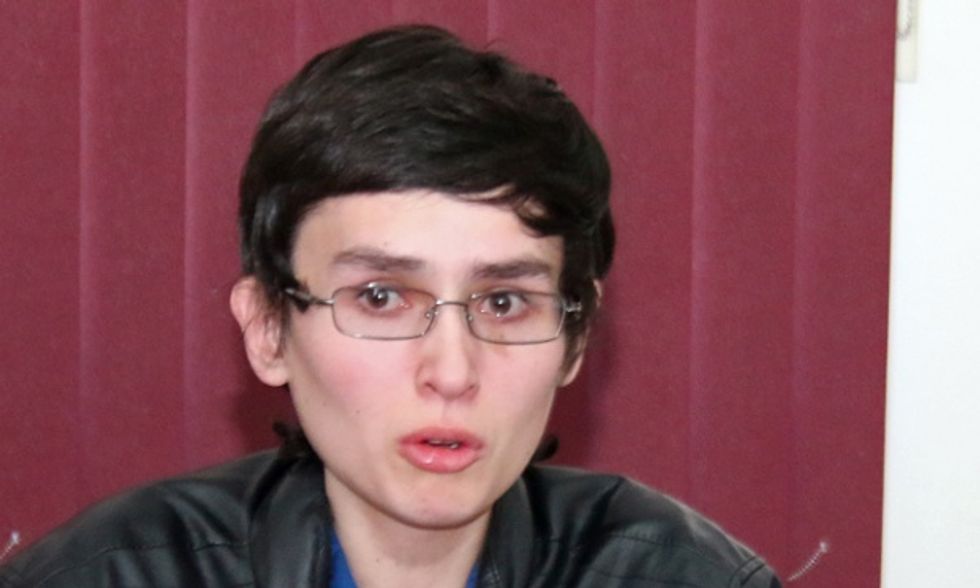 In this May 2, 2014, file photo, Jose Chua Lopez, left, holds hands with his mother, Myra Lopez Martinez, during a news conference in Hermosillo, Mexico. Family and friends raised thousands of dollars to send Jose Chua Lopez to the prestigious Mayo Clinic for an urgently needed heart and liver transplant. But the 20-year-old Mexican born with a heart defect has twice been turned down for a U.S. visa, and relatives and his doctor say his life is in danger. (AP Photo/El Imparcial)
Let's expand this a little bit and talk about immigration. (Believe it or not, there's a connection!)
Meet Jose Chua Lopez.
He's a 20-year-old Mexican national, the son of a green card holder in Arizona, and a former tourist visa holder.
He's also incredibly sick.
And, up until just this past month, the State Department had twice denied him a visa to legally travel to the United States for treatment at the Mayo Clinic.
Lopez was born with a significant heart defect. Moreover, as Fox News Latino reports, "his liver has also been damaged and he needs a heart and liver double-transplant, a procedure that is not performed in his home country."
This visit to the Mayo Clinic, which has already agreed to see him, is only to evaluate his condition to determine if he can be put on an organ donor list.
[sharequote align="center"]While people beg for legal admittance, our government rewards those who break the law.[/sharequote]
And, since the only pass the State Department could be bothered to finally grant was a 90-day humanitarian parole, Lopez likely faces another battle in order to remain near the Mayo Clinic while on the donor waiting list. He needs to not only get on the list, but also needs to obtain permission to extend his stay for as long as he needs to wait on the list.
He's got quite the uphill battle.
Now, don't get me wrong. While I feel immensely for this young man, and I certainly hope he gets the treatment he needs, let me be clear: no one has a "right" to a visa or a pass to enter the United States.
As a sovereign nation, it is not only our right, but our duty to be selective about who we let into the country, and why.
But here's what's got me fired up about Lopez's case.
While we watch this young man fight tooth and nail to come into the country legally and on a temporary basis to obtain care for which HE plans to pay—we simultaneously watch as tens of thousands flood the southern border, demand to be allowed to stay here despite the laws they've broken, and then receive aid from the government—on the taxpayer's dime.
And our government welcomes them gladly.
Boys await medical appointments in a holding area where hundreds of mostly Central American immigrant children are being processed and held at the U.S. Customs and Border Protection Nogales Placement Center on Wednesday, June 18, 2014, in Nogales, Ariz. (AP/Ross D. Franklin, Pool)
That's right.
As the Washington Times recently pointed out, illegal crossings (particularly those of children) are at their highest rate since this past summer's surge. In fact, "fiscal year 2015 is shaping up to mark the second-biggest surge on record."
And why wouldn't they? The president has made it abundantly clear that the United States' borders are open for the taking—and that some form of amnesty awaits those who evade the law long enough.
After all, since the administration's policy has been to release these illegal aliens into the United States versus deporting them on the spot, they're disappearing into the fabric of the country. The Washington Times again points out that "Congressional Research Service told Congress in late March that 62 percent of the children failed to show up for their cases before immigration judges from July through February."
And now, the State Department under this administration has proposed a plan that would make entry even easier: flying children up from South America on your tax dollars.
This action, meant to reunite families, is being described as "a safe, legal, and orderly alternative to the dangerous journey that some children are currently undertaking to the United States."
(Though, wasn't it the parents themselves—still in Central America—who were placing their children in the hands of smugglers and likely traffickers, despite the obvious dangers? But I've digressed.)
Under this program, parents in the United States (who must supposedly have some kind of legal status) with minor children still living in Central America could apply to have the government fly their children up, and then subsequently receive benefits like "free education, food stamps, medical care, and living expenses."
Keep in mind, however, that just because these parents now possess some kind of legal status doesn't mean they didn't break the law in the first place to get here. After all, based on this administration's actions, that's not a far-off possibility.
Do you see the double standard yet?
While people like Jose Chua Lopez get in line and beg for legal admittance into this country, our government rewards those who break the law.
And it's not just Lopez. Plenty of people are denied visas (tourist and otherwise) every day, despite providing every possible shred of evidence that their intentions are honorable. I know—I've got a relative who was once denied a tourist visa, and was given absolutely no explanation at all.
So, I've got a theory. I've proposed it before—and I'd like to put it forth again: votes.
And let's be honest. People like Jose Chua Lopez don't represent a possible future voting bloc, because they're not intending to stay permanently.
The millions of illegal aliens who have flooded the borders over the years, however, do.
Those votes can come in the form of loopholes that this flimsy amnesty plan creates (whereby illegal immigrants could "improperly register and vote in elections") or through an eventual path to citizenship—where the loopholes wouldn't matter.
After all, as House Judiciary Committee Chairman Bob Goodlatte (R, Va.) wrote in a letter to Department of Homeland Security Secretary Jeh Johnson, "your Department's recent changes to this deferred action program seem to be a sneaky attempt to place potentially hundreds of thousands of unlawful immigrants on a path to citizenship."
Let's go back to "That 70's Show" for a moment. Donna got in, while Eric, Hyde and Fez got left out in the cold—because Donna's pretty and the boys…aren't. And it's in the club's interest for someone like Donna to be seen inside.
Law-abiding people are denied their requests for entrance into the United States, while we welcome law-breakers with open arms.
And it's in this administration's (and the Democrat party, for that matter) interest to build a voting bloc.
Think about that the next time you hear our president and his party talk about how we need to approach this in a (emphasis mine) "reasoned, thoughtful, compassionate" fashion.
Is it really about compassion?
Mary Ramirez is a full-time writer, creator of www.afuturefree.com (a political commentary blog), and contributor to The Chris Salcedo Show (TheBlaze Radio Network, Saturday, from noon to 3 p.m. ET). She can be reached at: afuturefree@aol.com; or on Twitter: @AFutureFree
–
TheBlaze contributor channel supports an open discourse on a range of views. The opinions expressed in this channel are solely those of each individual author.