In today's world, professional athletes are polarizing figures. Not a day goes by, it seems, that another skilled professional finds him or herself in the news for questionable life choices. It is that side of athletes that we are bombarded with by the media on a daily basis.
Friday evening, my wife and I were able to experience a different side of athletes – specifically Cincinnati Bengals quarterback Andy Dalton.
He wasn't connecting with AJ Green in Paul Brown Stadium or signing autographs during a night out on the town. Instead, he was spending his Friday night at Crossroads in Florence, Kentucky for "The Royal Prom" with his wife, Jordan and young son. The prom was presented by Young Life Capernaum Ministries and supported by a group of local churches and organizations who partnered to host the event for more than 350 friends of all ages with disabilities, free of charge.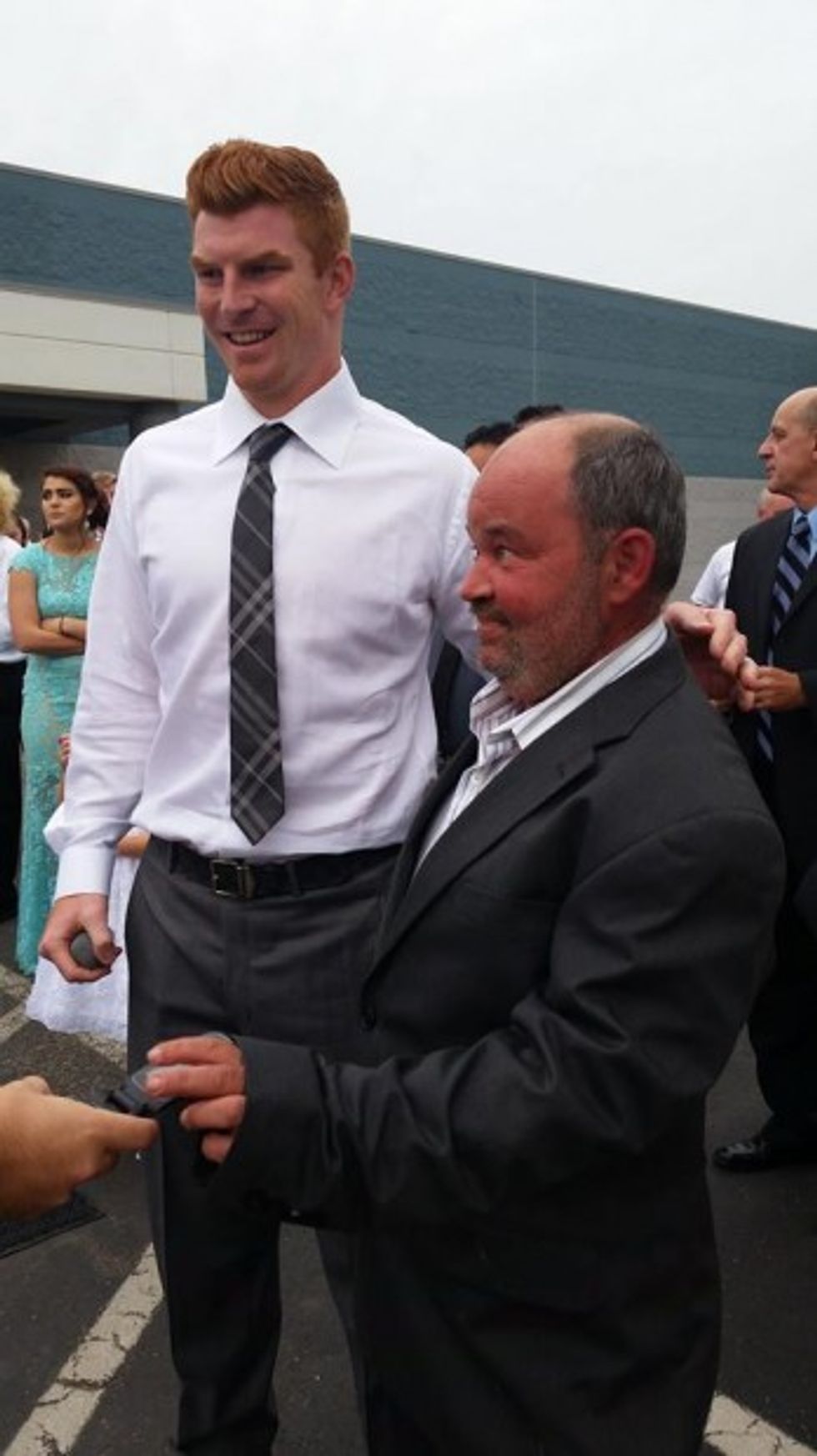 Andy Dalton greeting guests at "The Royal Prom" on Friday September 25, 2016. The event was hosted by Young Life Capernaum Ministries and held at Crossroads in Florence, KY. (Andy and Jordan Dalton Foundation)
I spent an hour watching Dalton embrace and interact with the event's treasured guests. There was a kindness and gentle nature in him that is hard to find in today's world as he embraced every one of the 300 guests as though each was the sole reason he was in attendance - ensuring each and every individual was given his undevided attention.
This event wasn't a nuisance for Andy and Jordan; it was an honor for them, and you could see it in their faces. Their hugs were sincere and their smiles were genuine.
Dalton's actions at "The Royal Prom" were not particularly newsworthy to those who are familiar with the Andy and Jordan Dalton Foundation, as the family has become a staple with their philanthropic endeavors throughout Cincinnati. Their love and support for those in need throughout the Queen City have become as synonymous as Andy's number 14 Bengals jersey.
"We have a platform where a lot of people look up to us and we have a chance to reach a lot of people," Dalton explained. "We feel like if we can give back, that's what we are called to do. So we've been fortunate to do a lot of really cool things and touch a lot of people's lives … We feel just blessed to be in the position we are in to be able to help people."
Creating a foundation has almost become a rite of passage for athletes today – an expectation, not necessarily a passion for all. However, for Dalton, his foundation has become a life mission. As he explains, while many look at the Daltons as the ones who are changing lives, it is the children and their families that are leaving a lasting impact on Andy, Jordan and the Queen City.
"To see everything that they're going through, especially being a dad [myself] now, seeing the struggle of the kid and what they have to go through – I mean, it's hard to see. But the fight they have, it's what really touches you. I feel, like I said, just fortunate to be able to give back – and they keep giving to us as well with the fight they live with," he said.
It is evident through Dalton's commitment to others that his faith has played a large role in the work he and Jordan are doing throughout Cincinnati.
"I wouldn't be where I am without my faith," Dalton said as a smile creeped across his face. "God has given me so many things along the way – a lot of stuff that I had no control over. God's had his hand in everything I've been able to accomplish."
Having the opportunity to observe Andy and Jordan at "The Royal Prom" had a profound impact on me – one that I truly did not foresee. After being thrust onto a NFL stage that often results in stardom and inflated egos, Dalton instead set forth on his life down a different path – one of servanthood and selflessness.
It isn't every day that a person can say they saw the love of God in the actions of a professional athlete, but Friday I saw just that. He may be a famous NFL quarterback on the surface, but at his core Andy Dalton is a true servant of Christ.
I used to believe that Andy Dalton deserved better than the city of Cincinnati, but now I see that he and Jordan are the vessels of grace and love this city desperately needs.
–
TheBlaze contributor channel supports an open discourse on a range of views. The opinions expressed in this channel are solely those of each individual author.