This time, the land of Tintin and Jacques Brel got hit by bombers that killed 31 and injured more than 250. And just like the attacks in Paris, it was a disaster waiting to happen thanks to a virtual disarmament of the population.
True, one of the terrorist acts was a suicide bomber and there wasn't much to be done. Nevertheless, there is still one suspect at large and he could have been stopped had just a few people had access to weapons.
Unfortunately they can't because their government stopped them from defending themselves.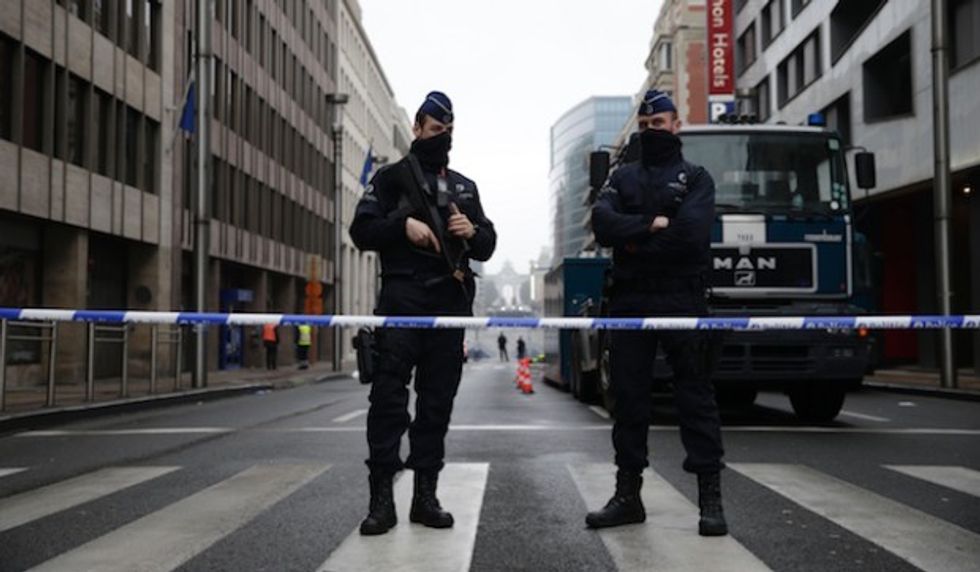 Belgian police officers stand guard near Maelbeek - Maalbeek subway station in Brussels on March 23, 2016, a day after triple bomb attacks in the Belgian capital killed about 35 people and left more than 200 people wounded. A series of explosions claimed by the Islamic State group ripped through Brussels airport and a metro train on March 22, killing around 35 people in the latest attacks to bring bloody carnage to the heart of Europe. AFP PHOTO / KENZO TRIBOUILLARD
The Federal Justice Service prohibits civilian possession of many weapons, including those "for military purposes" like automatic firearms, defensive spray and even brass knuckles. Unless, of course, you are in the police or have special permission because you are a weapon smith or a museum. If you dare to violate the law, you could be fined 25,000 € (over $35,000) or spend five years in prison.
Those that want to have "regular" weapons like a revolver need to "know how to use it appropriately and have a good reason to possess one." If they do, they must abide a ton rules, which include:
Not living with an adult that opposes having a firearm in the house
Obtaining permission from the local governor
Having a medical certificate attesting the eligibility of the demander
Wanting a weapon of one of six motives (including hunting, collecting or facing an "objective" risk to one's life)
The decision can take up to four months – more if there are "good reasons." Even the local sheriff has to pitch in to agree or not on the deliverance of the permit. Then would-be gun owners also have to pass theoretical and practical exams.
While these laws would certainly be a liberal's wet dream, they simply mean that citizens are easy preys to Barbarians who don't care about human life. And they can't even count on the European Union to defend them. The European Parliament, citing the Paris attacks, want to restrict firearms even more than before.
Like American liberals, they believe that these new restrictions can stop criminals from acquiring weapons. Fortunately sane European deputies like Gilles Lebreton dare wondering how, among others, shortening the duration of permits would make people safer. Or why putting more restrictions could decrease the number of terrorist acts.
Let's hope that his questioning will make good sense prevail. Otherwise even Charles Martel won't be able to repel the present tsunami of immigration coming from the Middle East, whose mores are completely antagonistic to Western values. And gun "sense" people will have the blood from the death of civilization on their hands.
–
TheBlaze contributor channel supports an open discourse on a range of views. The opinions expressed in this channel are solely those of each individual author.