A Los Angeles Superior Court issued a temporary restraining order on Tuesday that prohibits the Center for Medical Progress from releasing a video purporting to show three high-ranking officials from StemExpress, a company based in Placerville, at a restaurant in May.
StemExpress supplies human tissue, blood and other specimens to researchers once it acquires the baby parts from a provider such as Planned Parenthood.
The Center for Medical Progress leader, David Daleiden says that StemExpress is using "meritless litigation" to cover up what he claims is an "illegal baby parts trade."
A company spokesman from StemExpress said that the company is "grateful its rights have been vindicated in a court of law."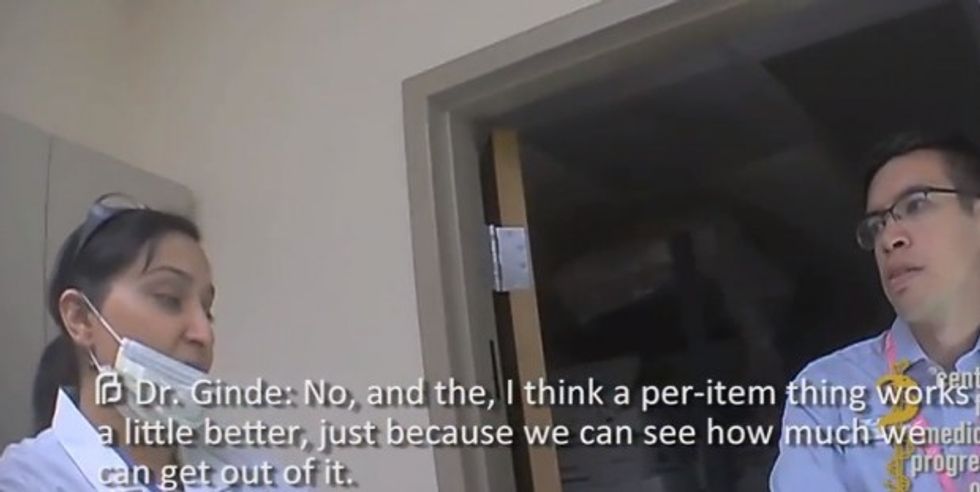 Screenshot
Having jumped the gun by expressing victory, StemExpress has actually not been exonerated since a hearing will not even be held until August 19.
In recent days, The Center for Medical Progress has released several "unflattering" videos that accuse Planned Parenthood of making a profit for selling fetal tissue to researchers.
More recently, a phlebotomist and former "procurement technician," Holly O'Donnell, once an employee of StemExpress, can be seen in a video describing the horror she felt when she had to sort through recognizable baby body parts at the company's facility.
Among other things that can be heard in the video, O'Donnell states that employees of StemExpress were reprimanded for failing to produce enough specimens because "Planned Parenthood" needs compensation.
"The harder and more valuable the tissue, the more money you can get," O'Donnell can be heard saying.
O'Donnell also recalls in the video seeing baby parts in "pie dishes" at her employer's facility and being instructed by her trainer to describe the body parts contained in the dish. O'Donnell claims that she picked up a "leg" and then "passed out" from what she had just witnessed.
We've been told, however, since the release of all of the videos by The Center for Medical Progress that Planned Parenthood has done nothing wrong to violate federal law by "selling" body parts.
In fact, remember when Planned Parenthood president Cecile Richards said that the undercover videos were nothing more than "a three year well-funded effort by the most militant wing of the anti-abortion movement" that had been "highly-doctored" and done to "entrap" doctors?
This photo shows the Planned Parenthood at 2226 E Central Ave. in Wichita, Kan.  AP Photo/The Wichita Eagle, Mike Hutmacher
If Planned Parenthood has done nothing wrong and StemExpress has violated no laws in its relationship with Planned Parenthood, then what would cause StemExpress to be so concerned about the alleged restaurant meeting with The Center for Medical Progress personnel in May that it would find it necessary to seek an injunction?
Temporary restraining orders are typically granted if the requesting party feels they will suffer immediate irreparable damage before a hearing can be held to adjudicate the matter.
The Center for Medical Progress claims that this is StemExpress' second attempt at obtaining a restraining order.
If StemExpress felt the information contained in the upcoming video was defamatory this would be an appropriate legal reason to seek redress by preventing the videos' release.
However, what could be defamatory about innocently receiving baby parts from Planned Parenthood and then turning around and providing these same body parts to researchers? StemExpress displays its mission prominently on its website.
StemExpress' website indicates that it is "a company that supplies human blood, tissue products, primary cells and other clinical specimens to biomedical researchers around the world to fuel regenerative medicine and traditional research."
What could the video possibly have captured alleged employees of StemExpress saying or doing that would have caused them harm if released?
Whatever it may be, the company felt it necessary to post a statement on their website regarding their accusations of Daleiden and The Center for Medical Progress.
The organization's website states that they are accusing The Center for Medical Progress and its leader of violating California's anti-wiretapping under California Penal Code section 632 which is part of the so-called "Invasion of Privacy Act" making certain kinds of eavesdropping a crime.
Shutterstock
Eavesdropping under this code seems to make it a crime if you use an electronic device to overhear or record a private conversation while you are overhearing a private conversation between people who may not know you are there.
Prior released videos have shown those from the Center for Medical Progress speaking directly to those that are allegedly Planned Parenthood employees or employees of StemExpress.
At no time thus far, have the videos released depicted any conversations without members of The Center for Medical also being part of the conversation.
Therefore, if the currently unreleased video with StemExpress is similar in nature to past videos that have been released by the videographers then the current video would most likely show an inclusive conversation between the videographer and StemExpress officials. If true, then the definition of eavesdropping while being recorded without knowledge has not been met.
However, until the court hearing is conducted, we won't know how StemExpress will prove that an "eavesdropping" occurred in violation of the code.
At this point, it would seem to me that the Center for Medical Progress could consider releasing the "transcript" of the purported restaurant meeting without the video, if the temporary restraining order only places an injunction against the release of a video. However, it could be argued that this violates the "spirit" of the injunction.
In any event, The Center for Medical Progress should seek legal advice from their attorneys before taking further legal action.
While a video can show graphic details that a transcript cannot, words can be just as damaging.
I'm sure StemExpress would argue, however, that there are no concerns about their company's appearance in the video rather, they are merely preventing the release of the video because it was recorded without their knowledge or permission which again may not support a claim of "eavesdropping" in and of itself.
In the meantime, if the transcript is not released, then the public will just be left to speculate until the August 19 hearing about what could be so bad that a company refuses to allow the public to see a video involving its high ranking officials.
–
TheBlaze contributor channel supports an open discourse on a range of views. The opinions expressed in this channel are solely those of each individual author.