United Kingdom Prime Minister David Cameron's remarkable speech against the "poison" of extremism is the most forceful call in recent memory by a Western leader to counter Islamist extremism at home, in both its "violent" and "non-violent" forms.
The speech derides the political correct multiculturalism that has tied the hands of law enforcement and gagged the mouths of British society. The question is whether British "values," as articulated by Cameron, have the moral power to unify Britain and conquer extremism. Moreover, his discussion of "freedom" mistakenly suggests that individual rights come from the government, not the other way around. America should reflect on Cameron's propositions and have its own discussion.
British Prime Minister David Cameron speaks during a media conference after an EU summit in Brussels on Friday, June 27, 2014.  AP Photo/Yves Logghe
Cameron rightly argues that "free speech" is no justification for inciting violence, even by so called "non-violent" Islamists. Non-violent extremists, whether Islamist or neo-Nazi, are often the principal recruiters for violent extremists. Cameron observes, "like any extreme doctrine, it is subversive. At its furthest end it seeks to destroy nation-states to invent its own barbaric realm. And it often backs violence to achieve this aim…"
Cameron goes on to give a good description of the elements of any extremist ideology: "hostile to basic liberal values such as democracy, freedom…actively promotes discrimination…privilege one identity to the detriment of the rights and freedoms of others...based on conspiracy [such as] that the Jews exercise malevolent power..."
Unlike other Western leaders, Cameron recognizes that Islamist extremism cannot be divorced from its roots in the religion of Islam. "These extremists are self-identifying as Muslims…it is an exercise in futility to deny that. And more than that, it can be dangerous. To deny it has anything to do with Islam means you disempower the critical reforming voices…"
The conflict is what I have called elsewhere a war of ideas, a struggle over values, ideology, and identity. Cameron's goal is to "defeat extremism and at the same time build a stronger, more cohesive society." He will publish a "Counter-Extremism Strategy" later this year, but what are the "principles" and "values" that underlie the strategy and are they strong enough to fight all forms of extremism?
The prime minister proclaims, "our strongest weapon: our liberal values…We are all British. We respect democracy and the rule of law. We believe in freedom of speech, freedom of the press, freedom of worship, [and] equal rights regardless of race, sex, sexuality, or faith. We believe in respecting different faiths but also expecting those faiths to support the British way of life. These are British values…underpinned by distinct British institutions. Our freedom comes from our Parliamentary democracy. The rule of law exists because of our independent judiciary. This is the home we are building together."
Is this enough?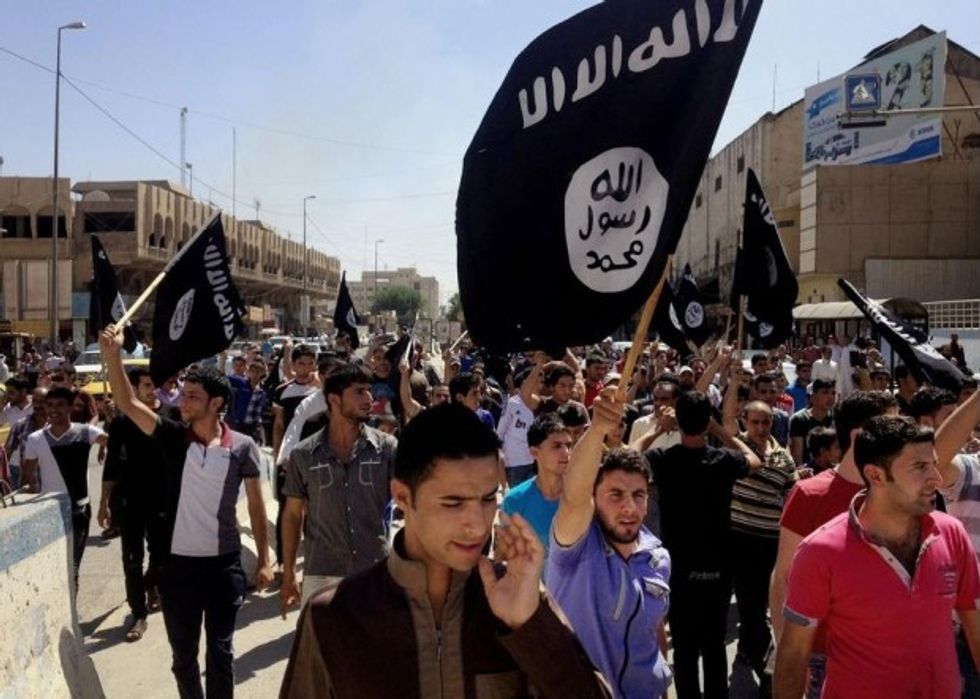 In this Monday, June 16, 2014 file photo, demonstrators chant pro-Islamic State group slogans as they wave the group's flags in front of the provincial government headquarters in Mosul, 225 miles northwest of Baghdad, Iraq. (AP Photo, File)
It is not clear that Prime Minister Cameron's values are adequate to the task of fighting Islamist extremism. That is because, in his rendering, it appears that a "live and let live" ethic of personal license is the new golden rule. These values do not seem to be based in anything more fleeting than the postmodern moment. Moreover, if freedoms come from government, then why can't the groups impose a new definition of freedom?
It is clear that the majority of Britons do respect democracy and the rule of law. However, law and democracy are not ends in and of themselves. The purpose of representative government and the rule of law is to recognize the inherent worth of individual people within society, to protect them from those who would violate their inalienable rights. Democracy is designed not simply to provide voice to the people, but more importantly, be a check on the centralization of power so that it does not become tyrannical. Freedom does not come from democracy, and the rule of law does not come from an independent judiciary—democracy and law-abiding government agencies are the institutionalized expression of freedom, law, and justice.
A second problem, particularly when dealing with Islamists, remains. Where do these values originate? Are these freedoms and equal rights moral categories in and of themselves? Where do they originate?
In the British case there is a rich story to be told that weaves the struggle for human liberty, since at least the Magna Carta, with a set of Judeo-Christian principles valuing human life and essential morality applicable to all people (e.g. Thou shalt not murder). This is important because the Islamist counter-narrative does make arguments about where the values of Islamic State, the Muslim Brotherhood, Al Qaeda, and their ilk come from. As numerous scholars like Bernard Lewis, Peter Mandaville, and other report, Islamists argue that their values are the transcendent principles associated with God and Scripture.
Prime Minister Cameron's speech is far more thoughtful than anything provided by other Western leaders in recent years, and it is noteworthy that he is advocating a concrete, actionable government strategy for combating extremism. May it be rooted in the immutable values of Western civilization, including respect for the individual human rights of all within the context of modern society.
Eric Patterson, Ph.D. is Dean of the Robertson School of Government at Regent University. He is the author or editor of 11 books, including "Debating the War of Ideas" (with John Gallager).
–
TheBlaze contributor channel supports an open discourse on a range of views. The opinions expressed in this channel are solely those of each individual author.