If you found the story of Planned Parenthood selling infant body parts contemptable and appalling this article is for you. If, however, you thought it represented just another day in paradise don't bother reading on. You won't get it.
Prior to Independence Day one of Matt Walsh's readers asked him if he could write something upbeat for Fourth of July to remind us of just how great America is. Matt in turn, wrote a brilliantly articulate article as to all the reasons why he felt our country wasn't great.
Selling body parts of aborted babies would have definitely made the list.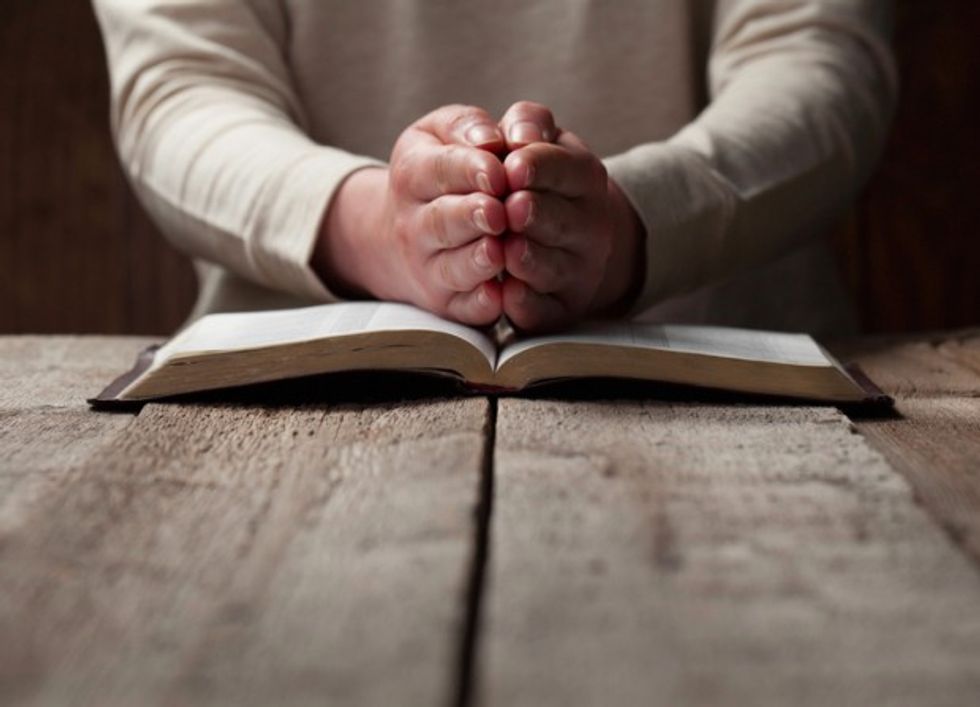 Photo credit: Shutterstock
I must admit, however, as I read through his article I found it quite depressing. Don't get me wrong, it needed to be said. What's missing is the fact that there are a large number of Americans who are in direct opposition to at least most, if not all the things Matt listed—and many more would be if they had any clue any of it was happening. What they don't know is what they can do about it.
So, for those of you who, like me, wake up every morning wondering just how much worse can things get, let me introduce a little perspective.
The Book of Judges in the Bible tells of one of the darkest times in the history of God's chosen people. The Israelites had turned against God and his commandments to the point where the law was completely ignored. Anarchy, debauchery, murder and treachery abound. The entire book of Judges is distressing right up to the last chapter describing just how horrible things were. But then, on the very next page, is the Book of Ruth which begins, "In the time of the Judges."
What a powerful message of hope that is!
Ruth was a ray of light in a dark, dismal time. She didn't crawl under a rock and hope things would get better. She didn't look to someone else to solve her problems. She didn't join the darkness or allow it to overtake her. She simply decided to be good, and spread that goodness in her own little sphere of influence. I doubt Ruth knew how many millions would be touched by her example of pure love. But someone felt her story powerful enough to include it in the Bible and I'm glad they placed it where they did.
My purpose in sharing this story is not to say "things have been bad before and they'll be okay again." To be honest, I don't know if things will be "okay" again. It all really depends on us.
There are a couple of things we can take from Ruth's story. First, it demonstrates that no matter how bad things get, we, individually, can stand for truth and promote goodness. Second, it shows how a seemingly insignificant life can have a powerful influence for good.
Building a nation is like planting a garden. It begins with the seeds we plant in the hearts of our children. The harvest is simply the result of the seeds we planted. If our children are being raised with the belief that killing babies is a woman's right; and the remains can be discarded at a woman's discretion because it came from her body, why would we expect any different outcome than a woman flippantly discussing the sale of infant body parts over a casual lunch, between bites of romaine lettuce?
Neil Postman, in his book "The Disappearance of Childhood," writes, "Children are the living messages we send to a time we will not see."
What message do we want to send? Do we want to send one that reflects Matt Walsh's list of our current state, or do we want to send something better? I, for one, hope for much better.
Another interesting thing about the Book of Judges is that those dark ages began just one generation following the Golden Age of Joshua. We are never more than one generation away from abandoning everything we hold dear; everything that makes us a free, virtuous and prosperous people. The only way to prevent this from happening is for every generation to teach its children well.
The generational change works both ways. That's the good news! If we can go from good to bad in one generation, then we can go from bad to good in one generation too. If we don't like what America has become, we are only one generation away from completely turning it around. It all depends on the seeds we plant in our children's hearts. But we need to remember we aren't the only ones planting seeds.
We can't assume our children are being taught the same principles and standards in government schools that we are teaching them at home. In fact, we should assume the exact opposite because that is usually the case. It'd be like the Jews fighting against the oppression of the Roman Empire and then sending their children to Roman schools to be taught. It makes no sense. I'm not suggesting a mass exodus from government schools (although it certainly couldn't hurt) but I am saying we need to be at least as much an influence in our children's lives as everyone else is. If we aren't we may not like the results of the harvest.
I can't really blame Planned Parenthood for what they're doing. After all, it is the fruits of the seeds we planted for generations.
"Perhaps," suggests KrisAnne Hall, "our job is not necessarily to win this fight, but to prepare the ground, to make the soil fertile, and sow the seeds so that liberty may thrive when the battle is done."
If we don't like the fruits of the last four decades, it's time to plant new seeds.
Kimberly Fletcher is the author of WOMEN: America's Last Best Hope and the president and founder of HomeMakers for America Inc. The views in this article are solely of the author and not representative of HomeMakers for America Inc.
–
TheBlaze contributor channel supports an open discourse on a range of views. The opinions expressed in this channel are solely those of each individual author.