I turned on the TV a few nights ago, and to my delight ABC was showing the annual "A Charlie Brown Christmas" program.
I watched with my four children, telling them how I used to watch the show when I was a child. We watched as Linus recited the Bible passage found in Luke 2 and clearly answers Charlie Brown's question, "What is Christmas all about?"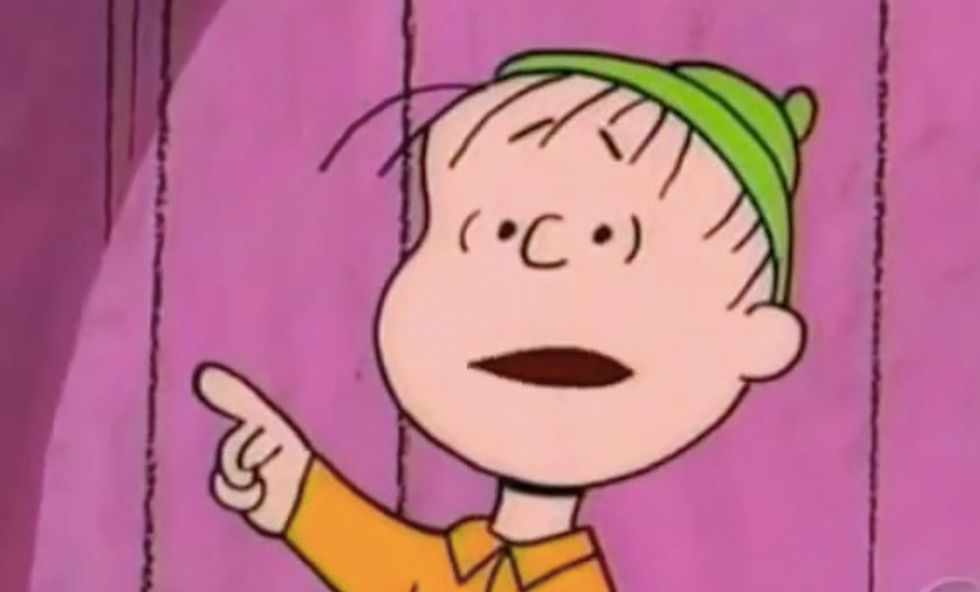 Linus explains the true meaning of Christmas (YouTube)
As a Christian who celebrates the birth of Jesus on Christmas, I am always so happy to hear the true meaning of Christmas eloquently displayed through this timeless movie. Today it seems that any reference to Jesus and Christianity are scrubbed from our culture. It was refreshing to hear Scripture so clearly quoted on network television. It seems due to its nostalgic position, the scene is widely accepted, even in our secular culture.
In fact most of the nostalgic Christmas traditions are thanks to Christianity. Some are frustrated to hear "Happy Holidays" at businesses rather than "Merry Christmas," but each of those businesses, whether they know it or not, give a silent nod to Christianity.
Santa Claus
Santa Claus himself is derived from St. Nicholas, who was born March 15, 270 A.D. in Patara – now known as Turkey — and is arguably one of the most popular European Saints. He was well known for his passion and Christian faith. He was also associated with many miracles - even several resurrection stories! He was imprisoned for his faith in God, but was later released due to the growing popularity of Christianity.
St. Nicholas was wealthy due to an inheritance received from his parents at an early age. St. Nicholas gave away his inherited fortune to the poor and sick. Perhaps we get the idea of giving presents at Christmas from stories of St. Nicholas' generosity. In one story, three sisters were destined to become slaves due to their lack of funds for a dowry. It is said that when St. Nicholas heard of the family's plight, he gave their father three bags of gold to pay for the girls' dowries.
Over the centuries, the idea of Santa Claus has morphed from multiple legends, including Father Christmas, Père Noël and Sinterklaas. However, its origin was a Saint who believed in God and was so passionate about Him that he was imprisoned for Him. Santa Claus is more than a symbol of Christmas; he is a symbol of generosity and faith in God.
The Christmas Tree
Christmas trees originated in Germany in the 16th century when Christians began placing decorated trees in their homes. The evergreen tree was evidence of life in the midst of the winter, and represented Jesus Christ, who they believed was born in the winter. It is said that Martin Luther was the first to add candles to his tree. Alongside these trees stood wooden pyramids of candles, representing the Light of the World.
The practice of displaying evergreen trees grew in popularity in the 17th and 18th centuries, and now millions of families bring a symbol of everlasting life and salvation into their homes each Christmas.
The Candy Cane
In 1670, a choir master at Cologne Cathedral in Cologne, Germany, wanted to keep the children quiet during the living Nativity scene on Christmas Eve. He asked a candy maker to create a new candy to pacify the children. In order to justify giving candy to children during a Christmas celebration, he added the hook to resemble the staff of the shepherds who visited the Christ Child. While the peppermint flavor and red stripe were added in America, it remains a widely accepted and nostalgic Christmas candy and pays homage to Christ's humble birth.
Despite culture's best attempts, you cannot take Jesus Christ out of Christmas unless you cancel the holiday itself. No amount of censoring our speech can erase the history of the foundation of this holiday. When you see a Santa Claus, decorate your Christmas tree, eat a candy cane or even watch "A Charlie Brown Christmas," remember that Jesus is the origin of all these nostalgic traditions. He truly is the reason for the season!
–
TheBlaze contributor channel supports an open discourse on a range of views. The opinions expressed in this channel are solely those of each individual author.