On January 11, dozens of world leaders marched in Paris at the same time as millions of French to support free speech in the wake of the terrorist attack on satirical magazine Charlie Hebdo. These leaders weren't joined by high-ranking U.S. officials like President Barack Obama or Vice President Joe Biden, which had many people upset.
They shouldn't be.
Having the president at a free speech rally would have been the epitome of hypocrisy. True, Uncle Sam doesn't violate human rights as much as some of the leaders that marched, but he doesn't stand for complete free speech either – i.e. that isn't a threat to anyone's life or property.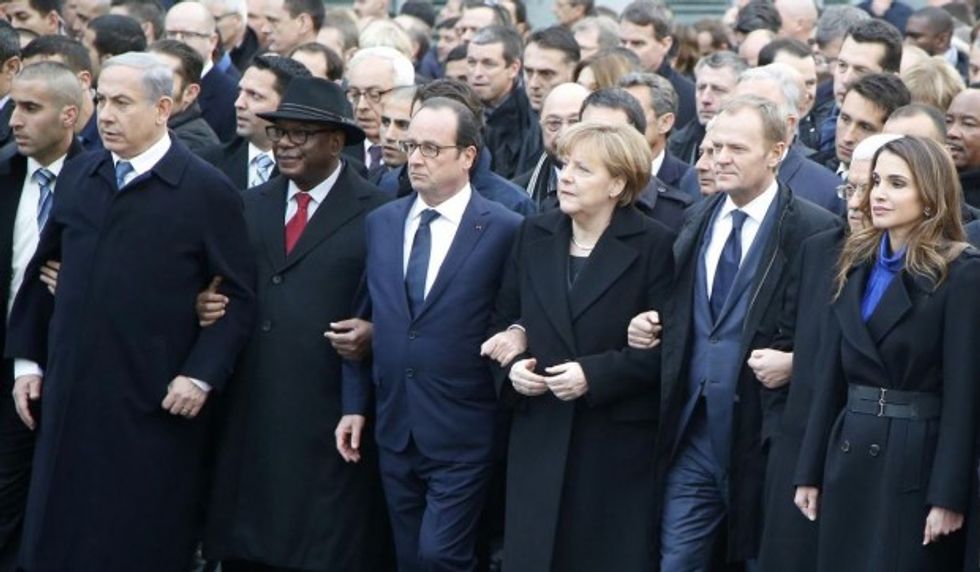 From left, Israeli Prime Minister Benjamin Netanyahu, Malian President Ibrahim Boubacar Keita, French President Francois Hollande, German Chancellor Angela Merkel, EU president Donald Tusk, Queen Rania of Jordan march in Paris, France, Sunday, Jan. 11, 2015. Thousands of people began filling France's iconic Republique plaza, and world leaders converged on Paris in a rally of defiance and sorrow on Sunday to honor the 17 victims of three days of bloodshed that left France on alert for more violence. (AP Photo/Michel Euler) 
Just two years ago, Obama said before the United Nations that "the future must not belong to those who slander the prophet of Islam."
How can one "slander" the most important figure of a religion that permits stoning for sexual intercourse outside of marriage or killing women that have "spoiled" their family honor? Muslims have brought this "slandering" upon themselves by doing nothing to stop these barbaric acts. Christianity and Judaism have both gone past the Dark Ages of unreason; Islam needs to do it too.
Also two years ago, the president put pressure on Internet distributers to pull "Innocence of Muslims," a movie that supposedly triggered the Benghazi attacks. Sorry to inform you, "sir," but that movie is protected by the First Amendment. As controversial as it may be, it doesn't call for anyone's murder and its censorship in the U.S. is (very likely) unconstitutional.
This isn't the first time a movie is censored in order not to "offend."
Fitna, a highly controversial and graphic (be warned) pamphlet created by Dutch politician Geert Wilders, stirred a lot of outrage from Muslim countries. It also prompted reactions from "free" country leaders, who condemned the movie. It even got Wilders a travel ban to the United Kingdom for fear of stirring interfaith violence.
Has Prime Minister David Cameron, who was at the Paris rally, made any apologies for such blatant attempt to censor free speech? Would he have supported a travel ban for the Charlie cartoonists?
Speaking of two-tiered free speech, French President François Hollande was one of the worst hypocrites of the rally. Indeed, Étienne de la Boétie would mourn at the sad state his country is in right now.
For example, it is a crime to claim that the Holocaust didn't happen. While certainly questionable from a historic point of view, such "crime" is akin to the Inquisition condemning scientists that said that the Earth is round and revolving around the sun. Ears might get hurt, but no one is killed.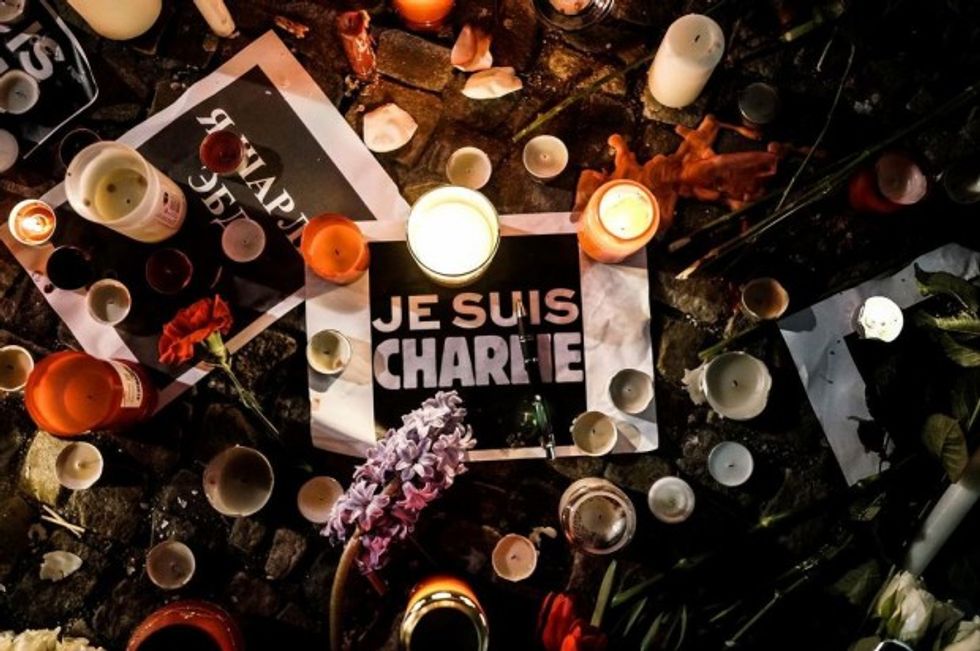 Papers with 'I am Charlie' displayed are left near candles at a vigil in front of the French Embassy following the terrorist attack in Paris on January 7, 2015 in Berlin, Germany. Twelve people were killed including two police officers as two gunmen opened fire at the offices of the French satirical publication Charlie Hebdo. (Carsten Koall/Getty Images) 
This law, along with many "hate speech" laws in France, have landed controversial humorist Dieudonné in a lot of trouble. Nine times did local/regional authorities try to censor his show because they were afraid for public security – they were ultimately successful. Sure, he accuses Jews of pretty much every ill on the planet and seems to have a pretty crude racist humor.
In other words, censoring him at first might seem a sensible thing to do as he utters controversial things. But once the precedent has been made, censorship/call for censorship can only grow wider.
In the U.K. people go before courts for quoting Sir Winston Churchill's "Islam in a man is like rabies in a dog," while saying that most drug dealers are Black and Arab Muslims can earn its utterer over $10,000 in fines in France for "incitement to racial discrimination."
In short, #JeSuisHypocrite was the perfect hashtag for the politicians' rally. Most (if not all) of them are from countries that censor one aspect of free speech or the other. Not having President Obama there actually did him honor as his administration is a terrible bully of free speech, from marginalizing a news network it doesn't like to "slandering" the Supreme Court for not limiting campaign contributions.
–
TheBlaze contributor channel supports an open discourse on a range of views. The opinions expressed in this channel are solely those of each individual author.