It was the moment of the Republican debate hosted by the Fox Business Channel last night.
Sen. Ted Cruz (R-Texas), in an attempt to connect with voters in rural states, such as Iowa, criticized real estate mogul (and quintessential New Yorker) Donald Trump for "embod[ing] New York values," adding, "Not a lot of conservatives come out of Manhattan."
Trump, in a truly brilliant and possibly heart-felt move, lowered his voice and delivered a serious blow to Cruz by pointing to the resilience of New York City in the wake of the terrorist attacks that hit the city on Sept. 11, 2001.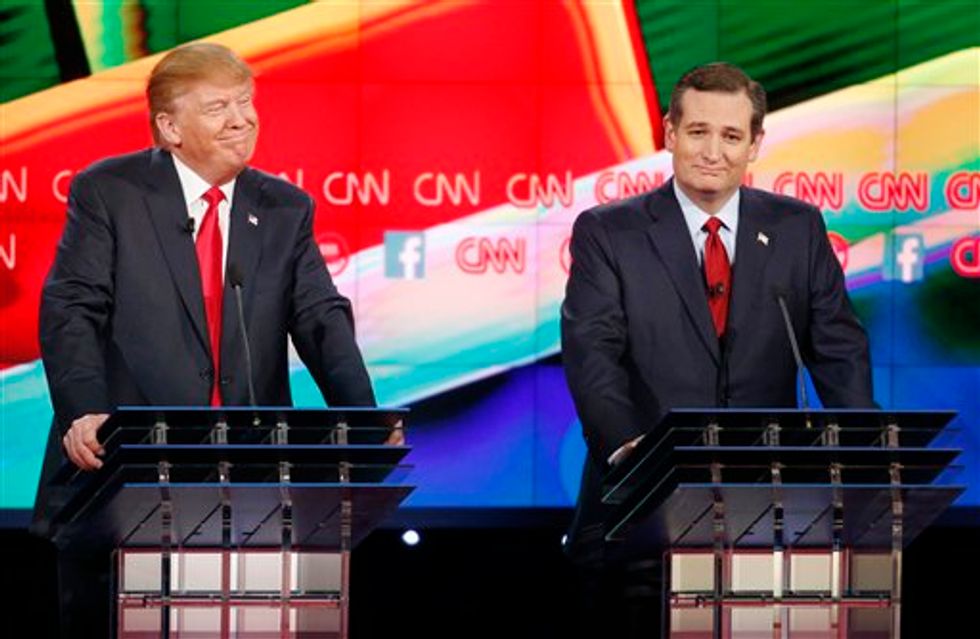 Donald Trump, left, and Ted Cruz react during a debate in December in Las Vegas. (AP/John Locher) 
"I saw something that no place on Earth could have handled more beautifully, more humanely than New York," said Trump. "The people in New York fought and fought and fought. We saw more death and even the smell of death and it was with us for months."
Many have speculated, including Fox News pundit Megyn Kelly on her show The Kelly File, Cruz' remark was not an off-the-cuff gaffe, suggesting the Cruz campaign has been testing a very similar remark with Iowa voters in recent weeks.
Media personalities and political commentators immediately jumped on the Trump bandwagon, attacking Cruz for his remark about New Yorkers. Pictures of firefighters and police offers standing in the rubble of the World Trade Center buildings in 2001 exploded across social media with the hashtag "NYValues."
The New York Daily News, in another desperate attempt to be relevant, ran the headline, "Drop Dead, Ted" on the front page, alongside a picture of the Statue of Liberty directing an obscene gesture toward Cruz.
Even conservative commentators who like Cruz criticized him for his remarks. Jedediah Bila, a Fox News host and analyst, wrote, "Sorry, I don't defend ignorant statements, even if they come from someone I often agree with. Guess you can chalk it up to my #NYValues."
As a New England native who has lived all over the country, I understand the backlash against Cruz. Contrary to popular belief, there are lots of conservatives in New England and New York; but it's equally true they are vastly outnumbered by liberals, and it's just as valid to say most Americans do see New Yorkers and others who live in the Northeast as having different values than the average person who grows up in Des Moines, Iowa or Oklahoma City.
Independent data actually seems to vindicate Cruz' comments. According to a story run, quite ironically, by the New York Daily News, a poll of 1,600 Americans conducted by Business Insider in 2013 revealed, "[n]ot surprisingly," New York was considered to be "both the rudest and most arrogant state."
In a Huffington Post article about the same poll, writer Inae Oh, acknowledges the survey results about New Yorkers is "[s]hocking no one."
Admittedly, the word "values" encompasses more than just how people are treated, but is anyone really going to argue New York politics, especially in New York City, is reflective of what the rest of the nation experiences? This is a city that elects politicians who want to tax sugary drinks, that actually tries to throw stay-at-home moms (who are also Iraq War veterans) in jail for having handguns that would be considered legal in almost every other state, and New York is a state that has long supported providing additional rights and benefits for gay couples.
Whether you agree or disagree with those policies, it's clear New York is definitely not like most of America. That's not to say New York is a bad place to live; it's definitely not. New Yorkers have a lot to be proud of, but Cruz' comments are, generally speaking, in line with what much of America thinks about New York.
As a Northeasterner, the rage against Cruz seems a bit ridiculous and immensely hypocritical. I can't tell you how many times I've heard New Yorkers and others from the Northeast bash Southerners, and Texans specifically, for "sounding dumb," being a bunch of "backwoods rednecks," and for being gun-obsessed.
As Cruz rightly pointed out, it was President Barack Obama himself who once referred to Americans living in rural America as "bitter" people who "cling to their guns or religion or antipathy to people who aren't like them or anti-immigrant sentiment or anti-trade sentiment as a way to explain their frustrations."
New Yorkers can say they're outraged, but deep in their hearts, they know that more than any other group of people in the United States, New Yorkers often look down on the rest of the nation.
Or, as one proud New York Twitter user put it, "I know, nothing exists west of the Hudson River."
–
TheBlaze contributor channel supports an open discourse on a range of views. The opinions expressed in this channel are solely those of each individual author.